One fun part about sports, and having a dedicated space like this one, is the ability to follow through on somewhat random, totally insignificant thoughts/bits of trivia on any given night, just 'cause.
I always have fun looking through the Lakers uniform number register at Basketball Reference, if only for some of the random names you'll find and to once again confirm D.J. Mbenga is unquestionably the best Laker to ever wear 28. Tonight, I wondered what the best team the Lakers could assemble using only the numbers of guys currently on the roster.
Or, if you prefer, "The All 2, 3, 4, 5, 7, 9, 12, 15, 16, 17, 18, 24, 45, 50 Team."
2
Kenny Carr 1978-1979
Rory Sparrow 1992-1992
Anthony Miller 1995-1996
Derek Fisher 1997-2011
Aaron McKie 2006-2007
This one's easy. No disrespect to Pig Miller, but Fish has this one wrapped up. Though without McKie, the Lakers may never get Pau Gasol, a far more significant contribution than the 29 points he scored in purple and gold.
3
Elmore Smith 1974-1975
Jeff Lamp 1988-1989
Jay Vincent 1990-1990
Sedale Threatt 1992-1996
Devean George 2000-2006
Shammond Williams 2007-2007
Trevor Ariza 2008-2009
Devin Ebanks 2011-2011
Not the strongest number in LAL history. George won some hardware, but barely played in those playoff runs. Threatt was actually a pretty productive player, but during a particularly unproductive time for the franchise. That leaves Ariza, who went to a Finals, won a ring, and might still be here if not for some lousy work from his agent.
4
Joe Hutton 1952-1952
Adrian Dantley 1978-1979
Byron Scott 1984-1997
Frankie King 1996-1996
Ron Harper 2000-2001
Luke Walton 2004-2011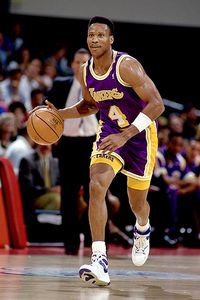 John Soohoo/Getty Images
Byron Scott: Great shooter, key cog in the Showtime dynasty, best #4 in team history.
Only one of these guys has a faction of fans who want his number retired at Staples. And it isn't Frankie King. Easy call for B. Scott.
5
Dick Barnett 1963-1965
Jim McMillian 1971-1973
Tom Abernethy 1977-1978
Jim Price 1979-1979
Eddie Jordan 1982-1982
Duane Cooper 1993-1993
Robert Horry 1997-2003
Ime Udoka 2004-2004
Tierre Brown 2005-2005
Jordan Farmar 2007-2009
Steve Blake 2011-2011
Horry. Or if you prefer, Horry.
7
Marty Byrnes 1980-1980
Kenny Carr 1980-1980
Demetrius Calip 1992-1992
Trevor Wilson 1994-1994
Lester Conner 1995-1995
Derek Strong 1996-1996
Sam Jacobson 1999-2000
Isaiah Rider 2001-2001
Brian Cook 2004-2004
Lamar Odom 2005-2011
Odom in a walk, if only because he rescued #7- at one point merely nondescript- from a serious downward spiral. Jacobson? One of The Logo's worst draft picks. Rider? Yikes. Cook? He'd go on to do a little damage to 43 before being shipped off to Orlando in the Ariza deal. In addition to winning a pair of rings, Odom has provided some much-needed juice to what's supposed to be a lucky number.
9
Jim Chones 1980-1981
Nick Van Exel 1994-1998
Bryon Russell 2004-2004
Chucky Atkins 2005-2005
Laron Profit 2006-2006
Sun Yue 2009-2009
Matt Barnes 2011-2011
Barnes has a chance to make an impact, but he'll have some work to do catching Nick the Quick, who is, statistically speaking at least, among the more productive PG's the Lakers have had. Playing only five seasons in L.A., Van Exel is 10th on the franchise list for assists, 24th in points.
12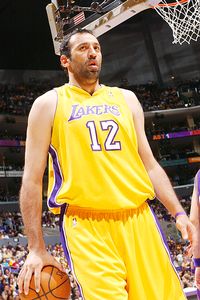 Andrew D. Bernstein/NBAE/Getty Images
Vlade Divac is easily the strongest in a large but fairly random batch of 12's.
Don Smith 1949-1949
Gene Stump 1950-1950
Ed Beach 1951-1951
Howie Schultz 1952-1952
Jim Holstein 1953-1955
Boo Ellis 1959-1959
Gene Wiley 1963-1966
Freddie Crawford 1968-1969
Pat Riley 1971-1976
Don Chaney 1977-1978
Ronnie Lester 1985-1986
Vlade Divac 1990-2005
Jerome Kersey 1997-1997
Derek Harper 1999-1999
Mike Penberthy 2001-2002
Jannero Pargo 2003-2004
Shannon Brown 2009-2011
Vlade in a walk, but apparently 12 was a good one for guys who want to get hired by the organization one day (Riley, Lester). Or, failing that, the Clippers (Chaney). And who among us doesn't have a soft spot for Penberthy, easily the best player Masters College has ever sent to L.A.? Who thrived until opposing teams decided to guard the dude who looked like he'd just stepped out of the crowd?
15
Don Carlson 1949-1950
Kevin O'Shea 1951-1951
Joe Hutton 1952-1952
Howie Schultz 1953-1953
Dick Schnittker 1954-1958
Mel Gibson 1964-1964
Bob Boozer 1966-1966
Hank Finkel 1967-1967
Willie McCarter 1970-1971
Jim Price 1973-1975
Ron Williams 1976-1976
John Roche 1976-1976
Ernie DiGregorio 1978-1978
Ron Carter 1979-1979
Butch Lee 1980-1980
Eddie Jordan 1981-1984
Tony Bobbitt 2005-2005
Ron Artest 2011-2011
Here's a fairly random collection of players. Schnittker was a pretty good player back in the old-timey days, and his name makes me giggle. Gibson did outstanding work in Braveheart, but has since gone off the deep end. Price had one productive season in Los Angeles before heading to Milwaukee. Artest is the best player on the list, but he's been a 15 for nine games. Not enough to unseat Schnittker.
16
Johnny Jorgensen 1949-1949
Bob Harrison 1950-1954
Dick Garmaker 1956-1960
Nick Mantis 1960-1960
John Salley 2000-2000
Pau Gasol 2008-2011
Gasol is the best PF in team history, and a future HOF'er. He'd "win" a lot of numbers, let alone one thin as this.
17
Jim Pollard 1949-1955
Ron Sobie 1960-1960
Rick Fox 1998-2004
Andrew Bynum 2006-2010
This deep into his career, I'm sure a lot of people hoped it would be Bynum. Fox was a key cog in three title teams, but Pollard is in the Hall of Fame. Hard to beat that.
18
Arnie Ferrin 1949-1951
Ray Ellefson 1949-1949
Pep Saul 1952-1954
Don Sunderlage 1955-1955
Bob Carney 1955-1955
Chuck Mencel 1956-1957
Kurt Rambis 1994-1995
Sasha Vujacic 2005-2011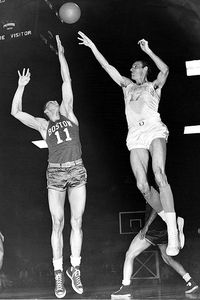 NBA Photos/NBAE/Getty Images
Hall of Fame status makes Jim Pollard the dean of 17's.
He probably won't be around too much longer, but at least Sasha can move to his next team knowing he was the best to ever wear 18. (Rambis wore 31 for the productive part of his time with the Lakers, donning 18 for his final two seasons after returning to Los Angeles, when he played only 76 games combined and averaged about 2.7 points and around the same number of boards.)
24
Dick Schnittker 1954-1954
Walter Dukes 1957-1957
Bobby Smith 1960-1960
Gary Alcorn 1961-1961
Ron Horn 1963-1963
John Wetzel 1968-1968
Keith Erickson 1969-1973
Kermit Washington 1974-1978
Ron Boone 1979-1980
Butch Carter 1981-1981
Adrian Branch 1987-1987
Steve Bucknall 1990-1990
Lloyd Daniels 1995-1995
Fred Roberts 1996-1996
George McCloud 1997-1997
Shea Seals 1998-1998
Jim Jackson 2006-2006
Kobe Bryant 2007-2011
Take every other player on the list, combine their numbers, then multiply by five, and Kobe still wins.
45
A.C. Green 1986-2000
Sean Rooks 1997-1999
Derrick Caracter 2011-2011
Green. Best career, best hair, too.
50
Ed Fleming 1958-1960
Bob Burrow 1958-1958
Steve Mix 1983-1983
Theo Ratliff 2011-2011
Fleming gets the nod on tenure. But if Ratliff wins a ring, he'll OWN 50.