Some teams are greater than the sum of their parts.
Other teams are the Sacramento Kings.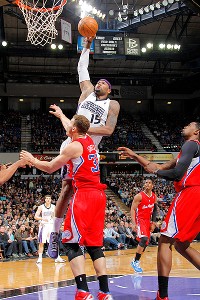 Rocky Widner/Getty Images
DeMarcus Cousins can jump over Blake Griffin, who can jump over a sedan!
They're littered with intriguing, exciting, and athletic components. DeMarcus Cousins oozes potential. Tyreke Evans is as tough to keep out of the lane and off the line as anyone. Isaiah Thomas has shined since entering the starting lineup. Marcus Thornton can score in bunches. Jason Thompson has plenty of athleticism for a near seven footer. Unfortunately, each has his own flaws (Cousins is immature, Evans a marginal shooter, Thornton inefficient and still somewhat one-dimensional, Thomas inexperienced, Thompson short on high-end skills) and put together the package lacks cohesion offensively and any coherence at the other end.
After losing Thursday night to the LAC, Sacramento is 12-23, dead last in the Pacific, exactly where the Kings have finished in four of the last five seasons. Still, all that talent makes them a dangerous opponent -- Sacramento is one of the league's most potent teams in transition -- particularly with Miami coming in Sunday. Can you say trap game?
To get a little more insight into Keith Smart's gang, we hit up Jonathan Santiago, one of the esteemed princes lording over TrueHoop's Cowbell Kingdom, with some questions . . .
1. How has adding Isaiah Thomas to the starting lineup impacted the Kings?
Santiago: The Kings have picked up their pace. In five of the six games Thomas has started, Sacramento has scored 100 or more points. For a team loaded with offensive talent, crossing the century mark has been an issue this season for the Kings. Unlike rookie counterpart Jimmer Fredette and now starting small forward Tyreke Evans, Thomas has always been a point guard and that's led to a seamless transition to the pros.
2. Obviously the win-loss record isn't stellar, but what has changed in the quality of the team's play with the change in coach?
Santiago: Similar to what I said above, they're scoring more points. Coming out of the lockout, this team wasn't ready to play its current uptempo style . Halfway through the season, they're in better condition to run and now they have a true point guard leading their offense who makes faster decisions. Keith Smart is also a good communicator. He understands that coaching is more than just X's and O's and has tried his best to connect with each player on a personal level. I think his team is following his lead by trying to connect with each other off-the-court . The game becomes a lot more fun when you like your teammates.
3. Where is Cousins these days, mentally and on the floor, basketball wise?
Santiago: Basketball-wise, Cousins' numbers speak for themselves. His scoring and rebounding are up this year to 16.8 points and 11.5 rebounds per game. He's recorded 22 double-doubles this season, ranking him one the five best in that category. Cousins still picks up silly fouls, which limits his playing time. But other than that, the Kings center is quietly dominating in Sacramento.
Mentally, he's much better than last year. He's gotten a few technicals from refs based solely on reputation, but that rep is not matching reality so much these days. Since the coaching change, Cousins' teammates have noticed a much less emotional player. Until a misreported exchange with a cameraman in Dallas, Cousins was coming out of his shell with the media. He has a personality and wit that rivals Dwight Howard's and Shaquille O'Neal's. But he hasn't shown it as much lately because of incidents where the media has burned him unfairly.
4. How has the news with the arena impacted the team? Any sense of greater stability?
Santiago: The team is elated that they're staying. But off -court matters are the least of their concerns right now. The arena news has caused more of a stir in the community and rightfully so. The region rallied together last year when the Kings were all but gone to Anaheim. The community still knows there's much work to be done. This Tuesday, city council will vote whether to approve the agreed-upon financing plan between Sacramento, the Maloofs and arena-operator AEG. If passed, then the city will move onto the next phase of negotiating and leasing off its downtown parking assets to raise a substantial portion of money to build the proposed arena.
5. What are three things the kings must do to win Friday?
Santiago: Play fast. The Kings are at their worst in the half-court when they wait until10 seconds left in the shot-clock to run a play. They have to give themselves a chance to score at least 100 tonight.
Make quick, effective decisions. With six turnovers, Thomas had his worst game as a pro against the Clippers last night. He also only attempted four shots and admitted he was thinking too much, which comes with being a rookie in the NBA. He'll need to be more decisive getting teammates involved, but in finding his shot too.
Control the offensive glass. The Kings rank top three in offensive rebounding percentage. Meanwhile, the Lakers rank top five in defensive rebounding percentage. The Kings will need all the second-chance opportunities they can get if they want to win in Los Angeles.