Pau Gasol had 10 assists Sunday against Indiana.
Some were of the time capsule variety -- I mean, holy &!))#*$ that was a good pass -- others came through pick and roll action, as in this clip, about 30 seconds in.
A significant number, particularly of the five Gasol notched in the second half, came as the Lakers ran their offense through him at the elbow, repeatedly having Kobe Bryant operate off-ball from the strong-side corner. Sometimes Kobe cut straight to the hoop, others he used a screen to free a path to the paint, or alternately popped off the screen and up to the wing for a catch-and-shoot opportunity, always with a good delivery from Pau creating a shot. When Indiana finally demanded the Lakers try something else, Gasol found Matt Barnes cutting from the weakside. All in all, Pau moved enough rock to mistakenly find himself at the center of a federal drug probe (83.3 assist rate!), but it came at a price: He had two shots in the final 23:58.3 minutes and basically disappeared from the low post.
This isn't a matter of screaming for Gasol to get down on the block and demand the ball, either. We're talking about called plays.
After, Gasol lamented the lack of variety.
"I would like to get a little more inside, myself. I always like to have different looks, and be able to attack from different angles. In the second half I didn't have one chance to attack from the post. I was more of a facilitator. I got two jumpers open that I missed, and that was all the opportunities that I had," he said.
"I'm an unselfish player. I'm a good passer, can make good passes and hit the open man. I'm happy if I can average 10 assists a night. I'll be really happy. I don't mind at all, because we're getting good looks. But I can not only facilitate from the high post, I can do it also as I did during the first half at times attracting double teams and finding open guys, and making the offense a little more fluid and easy."
For all the legitimate concern over how Mike Brown would use Kobe and whether Bryant would buy in, it has been basically a non-issue. Since his famously bad game against Denver a few weeks back, Bryant has consistently been given opportunities in places he's most likely to succeed. Perhaps too often, for those concerned about burnout connected to his historically high usage rate.
Meanwhile, Gasol has been asked to make the biggest adjustments, more aggressively defending the pick and roll on one side, while absorbing an even more drastic change in his role at the offensive end. He's lost shots and touches, posting near or career lows in field goal attempts and usage rate, his game drifting more frequently towards the perimeter. Through 18 games, Gasol is averaging more than a shot per game less both at the rim and from 3-9 feet compared to a year ago, but over a shot more between 16-23. Some is on him-- pick any game and you'll likely find moments where Gasol could more aggressively call his own number. Much of it is a still-evolving Lakers offense under a new coaching staff still unsure how best to use the four-time All-Star.
This after leaving a system perfectly tailored to Gasol's talents and intellectual nature.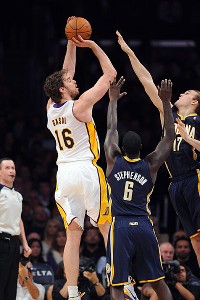 Noah Graham/NBAE/Getty Images
The Lakers are leaning increasingly on Pau Gasol's skills as a passer, at the expense of his scoring.
Derek Fisher understands Gasol's frustration.
"We're trying to do the right things. I don't think we're neglecting guys with intent, I just think we're still limited in our ability to execute offensively with fluidity, and be able to respond and react to what teams are trying to do defensively. Obviously with two seven footers, one of them has to post up, and the other one has to be more high. Based on the skill sets of our two bigs, it's more natural for Pau to be away from the basket and Drew to be lower," he said Sunday. "But I don't think he's wrong in saying what he's saying. I think we can definitely find ways to utilize his skills better."
The inability to fully capitalize on Gasol's skill set is a natural extension of the forces elevating Bryant's usage rate. Because the Lakers lack effective ball handlers, strong pick and roll types, or other wings/guards capable of creating consistently and effectively off the dribble to break down a defense, Bryant is given too heavy a burden. To lighten it, the Lakers are increasingly turning to Gasol as facilitator. It's a great idea in theory, and one I've long advocated because of Gasol's high end skills in that area. Unfortunately, this year's group is using him more to mask weakness rather than press strength.
The reason they planted Gasol at the elbow so frequently Sunday was simple: It worked, and in a way currently vital to their scoring. From the high post, Pau is able to find players working towards the basket, as well as the perimeter. Any opportunity for a shot at the rim has to be taken, because while the Lakers are effective around the rack, they're not there enough. Conversely, while Pau's passing out of the post has been equally adept, the looks he creates from there aren't as valuable because the Lakers, at least for now, can't hit a 3-pointer. Like, ever. (Something that has to improve, or none of this really matters).
Facilitating higher on the floor compensates, forcing defenders up from under the bucket and allowing movement behind them, instead of collapsing the lane to deny a traditional entry pass.
Brown and his staff talk a lot about sticking to their plan, and building towards a more polished product. There's a healthy skepticism regarding how effectively they'll be able to pull it off, between the compressed schedule, lack of practice time, and holes in the roster. There are signs, though, something more sustainable might come. The Lakers have learned how to use Kobe effectively. They've made Andrew Bynum a focal point, one likely to grow more important once Drew learns to effectively combat double teams. Between his work at the elbow and low block (where, like he pointed out, his ability to pass out of heavy defensive attention frees up shots around the perimeter), they've clearly grown to appreciate Gasol's ability as a facilitator and are finding ways to get him more involved in the mechanics of the offense, rather than leaving him to operate away from the ball or float in open space away from the paint.
Maybe-- hopefully, for their sake-- it's a matter of hammering a step until they can repeat it, then moving down the checklist. Perhaps broadening Gasol's scoring opportunities beyond jumpshots is next. From there, it's his responsibility to take advantage.
If they can't, L.A.'s offense won't reach full capacity. Whatever that looks like.