Words won't be minced. The Pistons are a bad team. Yes, second year center Greg Monroe --who could receive Most Improved Player of the Year votes -- and rookie point guard Brandon Knight could emerge a foundation worth building around. But unless they can jump forward in time five or so years, gain seasoning and veteran savvy, then go back to March 6, 2012 to stop the Lakers (like "The Terminator," but with basketball), they can only elevate a crummy Detroit squad so much. The Lakers are a far superior team, which makes this a game that should feature 5-10 minutes of garbage time from Devin Ebanks, Jason Kapono, Josh McRoberts, and Luke Walton.
Then again, being so outmatched, in its own right, makes the Pistons potentially dangerous. The Lakers are coming off a victory against Miami, which makes a battle in Detroit feel anticlimactic by comparison. The game should be pretty one-sided, but those expectations could turn this into a legitimate game. A sham will do just nicely, thank you very much.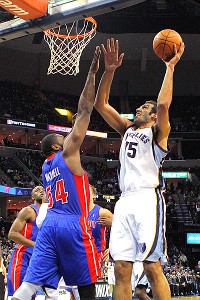 Spruce Derden/US Presswire
The Piston cannot stop Hamed Haddadi. They can only hope to contain him.
For more thoughts on the Pistons, we called upon Patrick Hayes of the True Hoop Network's Piston Powered blog.
Land O' Lakers: I realize there are many to choose from, but if you had to put your finger on the single biggest reason the Pistons are struggling so mightily this season, what would it be?
Patrick Hayes: Yeesh ... like you said, tough question. I'll go simply with defense, though. Heading into the season, the reality was everyone knew the roster had major deficiencies. Lawrence Frank has done a good job with restoring some semblance of locker room harmony and he's given young players Greg Monroe, Brandon Knight, Rodney Stuckey and Jonas Jerebko plenty of minutes, but with Frank's defensive pedigree, I hoped the Pistons would be more competitive at that end of the floor sooner. There are many games where opponents simply do whatever they want offensively with no resistance.
2) LO'L: Monroe appears to be the season's brightest spot. How much has his game evolved, and do you think he can give Andrew Bynum or Pau Gasol problems?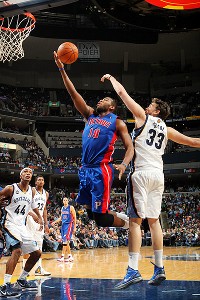 Joe Murphy/NBAE/Getty Images
Monroe vs. the Lakers bigs could be fun to watch.
PH: I'm really excited to see how Monroe handles that front line. He's had good performances against pretty good centers already this year -- Roy Hibbert, Joakim Noah and Andrew Bogut, to name a few. I'm not sure how he'll handle a frontcourt as tall as Gasol/Bynum. Monroe's game has blossomed offensively, but one of his weaknesses is still a lack of explosion/athleticism around the basket. It might be hard for him to get shots off inside against those two. And defensively, he doesn't have much of a chance against either guy. As much as Monroe has progressed on offense, his defense is still lagging behind.
LO'L: What are the strengths and weaknesses of Brandon Knight, and do you think he's capable of providing fits for the Lakers?
PH: Knight has surprised me, in that his shooting is as advanced and consistent this quick. The Lakers will have to account for him at the 3-point line. He's not bashful about shooting them and he's one of the Pistons' few reliable perimeter shooting threats. He's also really fast with the ball and, though he doesn't often look to get all the way to the rim, he has a decent mid-range floater he unveils every once in a while.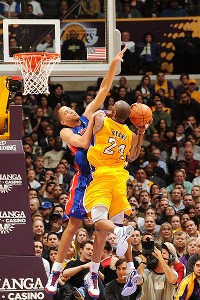 Evan Gole/NBAE/Getty Images
Will this be another high point game for the Mamba?
His weaknesses are passing and turnovers. He gets sloppy with the ball, and although he's taken better care of it over the last month, he can still be forced into careless mistakes with good defense. He's also not setting up teammates that often as the Pistons are really using more of a committee approach to the point guard responsibilities with Knight, Rodney Stuckey, Tayshaun Prince and even Monroe through the high post sharing traditional play-making burdens. As long as the Lakers keep a hand in his face, he shouldn't pose much of a problem.
LO'L: What do you expect as the approach for defending Kobe? I picture a lot of matchup issues beyond just the inherently difficult task of checking him.
PH: Is hopping in a time machine and fetching the Tayshaun Prince from the 2004 Finals out of the question? Honestly, I'm much less worried about how the Pistons defend Bryant than how they deal with Gasol/Bynum. Prince is still a serviceable, lanky defender who will bother Bryant's shots with his length and Stuckey gives the Pistons a big, strong, fast guard capable of good defense when he plays motivated to change up the look they give Bryant. Other than Ben Wallace, who plays very limited minutes, the Pistons don't have a single credible defensive player in the frontcourt who can remotely handle Gasol or Bynum. If Kobe feels like having a restful night, he can just feed the ball into his bigs for easy buckets and most likely win in a blowout. Now, Bryant can certainly destroy the Pistons' defense too, but they stand a slightly better chance if he's shooting a lot than if Gasol/Bynum are getting the bulk of the touches.