At the trade deadline, franchises have a few options. They can stand pat. They can make small moves. They can roll the dice on a major piece to bolster a title run. Or they can blow up the roster like it was a scene from a Michael Bay movie. On March 15, Portland Trail Blazers owner Paul Allen went the Nitroglycerin route. Starters Gerald Wallace and Marcus Camby were shipped to New Jersey and Houston respectively. Head coach Nate McMillan, in the fold since 2006, was given a pink slip. Incoming bodies Jonny Flynn and Hasheem Thabeet) get to fight over who's "Flotsam" and who's "Jetsam," while Mehmet Okur was released to pick up J.J. Hickson off waivers.
In other words, these ain't your six month old kid's Blazers, much less your daddy's.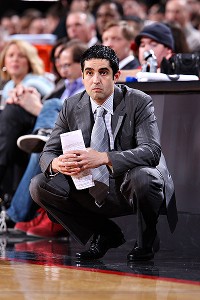 Sam Forencich/Getty Images
The Blazers have demonstrated scattered signs of life under Canales.
Since cleaning house, the Blazers are 2-2. But between a 7-17 road record (one of those L's notched against the Lakers) and the host having dropped just three games inside Staples, the purple and gold appear theoretically perched in the fabled catbird seat. But like all matters throughout this inconsistent season, proof is in the pudding. For more info on the new-look Blazers, we called upon Erik Anderson, a scribe for the True Hoop network's Portland Roundball Society. Below are his thoughts, plus a quick one of my own.
Land O' Lakers: Does new coach Kaleb Canales run a different system than Nate McMillan (if so, how) and is the team playing any harder for him?
Erik Anderson: Portland exhausted themselves playing harder for Canales initially, which led to a Derek Rose-less victory over the Chicago Bulls. Since then, the Blazers are 2-2 including Thursday night's win over the Memphis Grizzlies. After the whole gimmick of getting players to believe in his ripoff of "Jack Byrnes' trust circle," the Blazers have reverted back to their stagnant play that led to the firing of Coach McMillan in the first place.
Canales stepped into his tenure promising the same upbeat offensive tempo McMillan did in the preseason. It's a capricious concept, when it, you know, actually develops. Canales has adjusted the offense slightly, giving players more freedom to analyze the defense and take what presents. This approach led to several Trail Blazers saying they've never had more fun playing basketball after the win in Chicago. If Canales keeps this system of freedom, despite the losses, the Blazers will continue to play hard for him.
LO'L: Since the deadline action, young guys like Nolan Smith and Luke Babbitt have seen considerably more action. How ready are they for increased roles?
EA: Nolan Smith can play. I trust him going forward. But he may be buried on the bench for a while longer. The Blazers' brass have not advocated for a youth movement and Raymond Felton has regained form. The general sentiment around Portland is to "Frank-the-Tank" this season and look for a higher draft pick. Along with New Jersey's Top-3 protected pick, the Blazers could rebuild in a flash with a draft class that is one of the deepest in recent memory.
As far as Luke "the Chalupakabra" Babbitt goes, he still looks very much like a lost a puppy in the vast NBA world. After being a proficient 3-point shooter in college at the University of Nevada, Reno, hitting approximately 42% of his 3-point attempts, Babbitt's shooting stroke has regressed. It looks like a confidence issue, or perhaps fear. This isn't Nevada anymore, Babbitt. Man up; you're being paid $1,768,800 this season, or $221,100 for every made 3-pointer made thus far.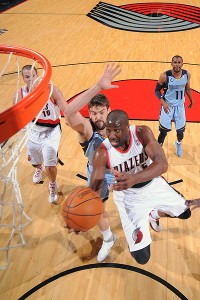 Sam Forencich/NBAE/Getty Images
Felton is playing much better with a change of scenery.
LO'L: He's had a miserable season, but Ray Felton's numbers have improved since the deadline. Is this coincidence, or might he really turn a corner with McMillan gone?
EA: The resurgence of Felton has been insanely better since the conclusion of the McMillan era. Felton is averaging 16.5 points per game, 7.5 assists and 2.75 turnovers (better known as "numbers that wouldn't have led to McMillan's firing") in four games under Canales.
Tensions with McMillan were evident, and Felton even admitted as much in interviews. Granted, being deemed the missing piece of a franchise coming into the season carries lofty expectations -- just ask Greg Oden. Was it fair for Felton to have that kind of pressure? No. Was it fair for him to deal with that pressure by gorging himself out of playing shaping during the off season? No. With that said, Portland couldn't have shopped him any harder without the use of an Adobe program. The fact he's had any confidence since the Blazers' shakeup is an small anomaly in itself.
If he continues to play at this rate, his four-game sample favors comparably to his career high heyday under Mike "the D doesn't stand for defense" D'antoni.
We appreciate the info from Anderson.
And on a final note, it's worth noting Camby's been replaced by center Joel Przybilla, who, from a skill perspective, is nowhere in Andrew Bynum's league. But the dude is a banger's banger, and basically makes his living as a professional irritant. Przybilla is capable of boiling many a big man's blood. Given how Bynum wasn't exactly a beacon of composure in Texas, I'll be watching to see how he keeps his head in the event of non-calls or hard play. With three tech's over two games, the leeway afforded by refs to this often-yappy player may be shrinking.