"Hey Mitch, hey Jim. So the Steve Nash thing was sweet. Great move. But seriously, it's so last week. Literally. It's Tuesday morning. What have you done for us lately?"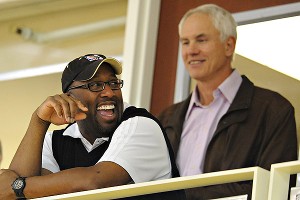 Andrew D. Bernstein/Getty Images
Adding Steve Nash put a smile on Mike Brown's face, but to make the deal pay off, Mitch Kupchak needs to find a few more players.
OK, maybe that's just a little unfair -- though this guy doesn't think so -- but after last Wednesday's Fourth of July acquisition of Nash granted the Lakers independence from slow decline, Lakers fans want to know what's next. It's not a question of greed (or not entirely of greed) from an entitled fan base, either. The driving force is more laudable: People are excited again, justifiably confident this season's Lakers squad can enter the season part of the title conversation. Not that they'll necessarily be favorites, because even sound moves going forward don't likely get L.A. that high up the preseason ladder, but no longer does the hope of a deep playoff run require the same suspension of disbelief taught to drama majors in college.
While the cast certainly could change, the team's top-end infrastructure with Kobe Bryant, Nash, Andrew Bynum and Pau Gasol, is excellent, rich with skill, size, scoring and smarts (and alliteration, apparently). In Nash, they've added an elite-level player without giving up a lick of talent in the process. Bradford Doolittle of Basketball Prospectus writes here that in computer projections of the 2012-13 season, Nash's inclusion adds more than eight wins to L.A.'s total, from just under 46 to 54 on the nose.
Quibble about the first number if you'd like, but the larger point -- Nash is very good, and improves the Lakers significantly -- is clear.
Still, fans aren't naive. Last year, the Lakers were a house of beautiful features built with poor structural support. The gap between the best and the rest of their rotation was simply too large, particularly in the playoffs. To avoid becoming a souped-up version of the '11-'12 team, the Lakers need more stuff, but don't have a heap of tools available to get it. The trade exception used in spectacular fashion was one of the team's few genuinely appealing trade assets. They still have Bynum (for now at least) and Gasol, as well. But the Lakers basically jettisoned about every pick the law allows, and their cap/tax situation means only a mini-midlevel contract worth about $3 million next season and veteran's minimum deals can be offered in free agency.
Let's assume for a minute another home run isn't in the cards. What comes next?
Start by re-signing Jordan Hill.
Despite his strong postseason run, this is less about Hill himself than a reflection of the Lakers' predicament. They can bring him back without using their MML, and going over that $3M contract value. If he goes, the odds of finding someone better than Hill on the market are slim, and anyone close almost surely costs them that "large" exception. Meaning they'd potentially use their biggest dollar free-agent acquisition to replace something they already had. Not ideal. The same logic applied to Ramon Sessions before the Nash trade.
Facilitating his return isn't a slam dunk, though. Holding only limited Bird rights on Hill, there is a maximum that L.A. can pay him by rule -- about $18 million over five years. Other teams can offer more, if they'd like. Should Hill get a bigger number and decide it's better (hard to blame him), the Lakers can't do much about it.
After Hill, finding guys who tick multiple boxes on the shopping list won't be easy, though that reality doesn't make the list any shorter. As currently constructed, the Lakers could really use:
A perimeter shooter, so that Nash, who ideally should be dribbling and orchestrating, isn't transformed into a spot-up threat simply because the Lakers don't have a viable alternative.

A living, breathing backup for Kobe Bryant who doesn't feel like a lab experiment, as Jason Kapono and Andrew Goudelock generally did last season.

A defensive-minded player on the wing; becomes even more true should Metta World Peace be waived via the amnesty clause.

A bench. Like, the entire thing. The non-starters currently listed on L.A.'s roster are Steve Blake, Christian Eyenga, Josh McRoberts, then last season's Round 2 draftees Goudelock and Darius Morris. I'll include Devin Ebanks, expected to return, along with this season's second-rounders, Darius Odom-Johnson and Robert Sacre.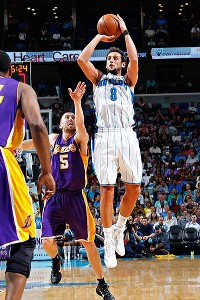 Layne Murdoch/Getty Images
The Lakers need a shooter and a backup guard. If the price is right, Marco Belinelli could be both.
Obviously that's not going to cut it. With four of their five starters over (and in some cases well over) 30, building as much depth as possible is key. Building depth without another surprising trade won't be easy, so the Lakers will have to be very smart in how they go about it, and can't whiff like they did in last season's ultra-abbreviated free-agent frenzy, where the three big acquisitions (McRoberts, Jason Kapono, Troy Murphy) didn't really pan out for a variety of reasons.
I've never been good at the "Who can they get?" game, trying to guess how the market will break on individual players. Some guys always time things well and get paid, others misplay it and are left in the cold (think of how Matt Barnes landed in L.A. a couple of summers ago).
Still, there's a basic reality at work: Unless someone wants to take significantly less money to chase a ring and/or start every home game with "I've Got a Feeling," no player likely available to the Lakers comes without significant warts. (If you don't like the names below, feel free to plug in others from this list.)
In the "Guys who have played with Steve Nash" category, Grant Hill if healthy could be a big addition, but that's a big "if." At some point, guys stop bouncing back. Raja Bell hasn't been a productive NBA player for a couple of years, at least. Marco Belinelli might be an MML guy and is a rock solid 3-point shooter, at nearly 40 percent on his career. It's worth noting his best season from the field came next to an elite point guard in Chris Paul. He doesn't bring much else, but would be a credible backup to Kobe and in the Lakers' lineup has real potential. Jodie Meeks has a similar profile, but from downtown slipped last year to 36.5 percent from 39.7 in 2009-10. Swingman Carlos Delfino isn't great at anything in particular and won't wow as an athlete, but does a few things pretty well. Delonte West still has game, could score off the bench and defends, but comes with well-documented baggage and a very spotty injury history. Craig Smith could factor in as a backup big.
The Lakers won't get greedy, because in this price range perfect solutions don't exist.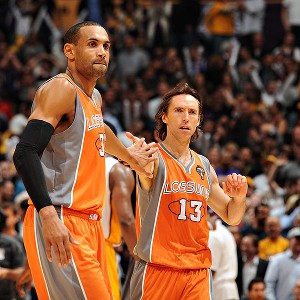 Noah Graham/Getty Images
Does Grant Hill come as part of the Steve Nash package? If so, is he healthy?
With minimum-salaried guys, it's more about skill set than the name. A guy like Cartier Martin has shown potential as a shooter (68-of-174 over the past two seasons, neither of which were spent fully in the NBA) and at 6-foot-7 would add some size to the wing, but is unproven. Dominic McGuire is a high-energy reserve who plays defense and at 6-9 adds even more length, but is a minus offensively and wouldn't provide any pop for the bench.
Classic role players like Courtney Lee, a strong defending wing who shoots the 3-ball pretty well, are likely out of the Lakers' price range -- though if Mitch put in a call, the Lakers wouldn't be the only team making a pitch to play with them for less.
I'd just as soon the Lakers avoid too many retreads. It's one thing to acquire high-functioning old people like Nash, and quite another to place a bet on someone like Rashard Lewis, whose game and body have steadily deteriorated over the past four seasons. A high end D-Leaguer working his tail off to make a name in the NBA would likely provide a better return, even if the name value isn't there. Not every back-of-the-jersey markup is worth it.
Lakers fans may need to show a little patience, particularly with the way management uses the mini-mid. At some point the game of musical chairs will stop, and someone won't be sitting. It happens every year, and could be the best way for L.A. to stretch its dollars. Whatever their strategy, the Lakers need to find some success in the free-agent market. While the Nash deal wasn't easy to assemble, finding enough treasure to fully capitalize on the deal is likely a greater challenge.