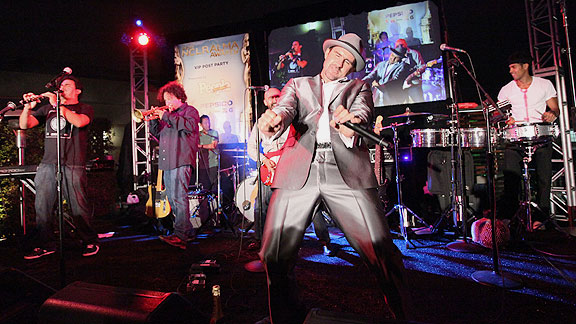 Jesse Grant/Getty Images
Ozomatli has a special place in L.A.'s music, Latino and sports communities.
In 1996, a movement was born at 4th Street and Bixel in Downtown Los Angeles. A community center needed additional funding, and among those on hand to drum up support were several musicians from different areas around L.A. Upon meeting, they decided to form a band called Ozomatli. Saxophone player Uli Bella describes the early days as "chaotic," joking that "whoever showed up was in the band." But they eventually got organized, then developed a rabid club following.
Cut to 2011. Ozomatli has released six records and played countless shows around the world. But they've never lost touch with their local roots. They remain a decidedly L.A. band and look to provide a voice for the city's Latino community. As sports fans, the majority of the band also bleeds blue, purple and gold. They've long been on our podkast radar, and with ESPNLA celebrating Hispanic Heritage Month, the time was right to finally get that ball rolling. Brian and I were joined in studio by Bella, bass player "Wil-Dog" Abers, and drummer Mario Caliere and guitarist Raul Pacheco.
The lively conversation can be heard here. Among the talking points:
- (4:34) The band's musical influences, which can be traced around the globe. As Wil-Dog describes it, "Ozomatli's sound is the sound of when you're cruising down one of the biggest streets of L.A., and all the music that comes out of everybody else's car, that cacophony in the middle, that's Ozomatli.
"All the sounds and cultures that L.A. represents."
- (11:18) Ozomatli considers itself a political band, which by definition risks alienating fans. But despite being generally left-leaning, they're not rigidly partisan. They've played in protest of the Democratic National convention and, despite some outward criticism of the George W. Bush administration, served as cultural ambassadors overseas on its behalf. And similar to how Bob Marley's socially conscious lyrics were balanced by upbeat melodies, Ozo refuses to allow the joy to get sucked out of their music, regardless of subject matter.
- (13:40) Ozomatli aren't merely Dodger fans. The band has actually recorded for the Blue. (They've also cut one seriously funky version of "Take Me Out to the Ballgame.") Fernando Mania played a big role in making Uli a Dodger fan, but baseball's worldwide audience has since grown as diverse as the population of Los Angeles. These days, the sport is a worldwide welcome wagon. Like Raul points out, the Dodger "L.A." is this city's unofficial logo.
We also discuss how the Bryan Stow beating sparked conversation about the Dodger Stadium demographics and -- fairly or not -- the Latino faces in attendance.
- (25:00) What is the challenge of playing to crowds who speak Spanish or English, but not often both? Ozo has songs in either language, which leaves audience members unable to understand handfuls of lyrics. The issue grows even more magnified during concerts in countries where neither language is prevalent. Thankfully, elements like infectiousness rhythms and the natural urge to dance can effectively offset linguistic barriers.
- (32:15) A commonality between Ozomatli and the Lakers is an ability to bring together Angelenos of different races, backgrounds and economic statuses. We've all seen people with absolutely zero else in common instantly bond over their love of Kobe, Magic and West.
Our buddy Ben Harper is another Lakerholic musician. In fact, the two-time Grammy winner has an omnipresent Sling Box on tour so he never misses a game. Impressive, but Ozo can do him one better. They -- and in particular, Mario -- have actually watched games during a concert. During mid-90's tours with the Wallflowers (his old band), Mario would watch VHS tapes of games sent by his dad and arriving days after the fact. That is dedication.
- (35:00) With this interview commemorating Hispanic Heritage Month, the band couldn't help but think about Rudy Garciduenas. The Lakers' long-time equipment manager is a familiar face going back to the Showtime days. But like many former members of the staff, Garciduenas became a casualty of the lockout. In Wil-Dog's mind, this was especially disappointing from a franchise that's always presented itself as "family."
- (38:30) We discuss Pau Gasol's unique place in the L.A. Latino sports community as a Spanish-speaking athlete from Spain, as opposed to Mexico, El Salvador, or other nationalities more prevalent around Los Angeles. And how much do language barriers among English speaking sports reporters hinder coverage of the B- and C-list Spanish speaking athletes around town? As a band with the goal of providing a voice for as many people as possible, Ozomatli understands why this is a difficult task.
- (46:40) Each member of the band cites his athletic heroes.
- (51:20) Finally, Ozomatli share concerns about the tough economic times throughout the U.S. and specifically in Los Angeles.