Not so suck the wind out of Christian Eyenga's Lakers debut, but the Bold Play of Thursday's Game came before it started, when Kobe Bryant decided to sit it out, passing on a chance to beat out Kevin Durant for this year's scoring title.
Nor is a lot of analysis from Thursday's 113-96 loss required. With Bryant, Pau Gasol, Andrew Bynum, Metta World Peace, and Matt Barnes in street clothes, the Lakers aren't very good. Not exactly a shock.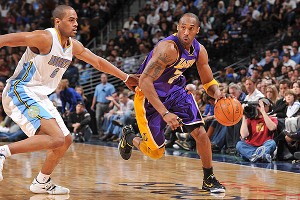 Garrett W. Ellwood/Getty Images
Arron Afflalo's ability to contain Kobe Bryant will be a major factor in the first round.
So instead of breaking down a meaningless loss in a meaningless game, let's look ahead to L.A.'s first round opponent, the Denver Nuggets.
George Karl's crew comes into Sunday's Game 1 (12:30 pm PT, ABC) as one of the West's hottest teams, going 11-4 over their last 15, including four straight victories to end the season. At 18-15, they sport the NBA's fifth best road record, and at +2.9 have a better average point differential than the Lakers. In short, they're a sturdy first round matchup for a shorthanded Lakers squad, one with no stars but scads of B-level talent.
Denver started 14-5 before injuries took them off the rails, and while not completely healthy -- forward Wilson Chandler is done for the year, as is guard Rudy Fernandez -- they should not be taken lightly.
Here's a primer on the Lakers' opening round matchup ...
SEASON SERIES - Lakers 3-1.
1. Lakers 92, Denver 89 (Dec. 31, Staples Center): In Bynum's first game of the season, the Lakers squeak out a win. Drew pops off for 30, while Bryant and Gasol each score 17.
2. Denver 99, Lakers 90 (Jan. 1, Pepsi Center): Kobe goes 6-of-28 from the floor, while six Nuggets score in double figures as Denver takes their half of the home-and-home.
3. Lakers 93, Denver 89 (Feb. 3, Pepsi Center): Bryant was only 7-for-23, but spread around nine assists. Bynum hit 10 of his 13 FGA's, as the Lakers held on to the ball (11 turnovers) and won the glass battle, 47-40.
4. Lakers 103, Denver 97 (April 13, Staples Center): Bynum went for 30/8 with three blocks as the Lakers raced to an early 11-point lead, beating Denver without Bryant in the lineup.
SEASON STATS (through Wednesday's games)-
Offensive Efficiency - Lakers 103.4 (10th), Nuggets 106.1 (3rd)
Defensive Efficiency- Lakers 101.4 (12th), Nuggets 103.4 (20th)
Pace (possessions per game) - Lakers 92.9 (20th), Nuggets 96.6 (2nd)
Rebound Rate (percentage of shots a team rebounds) - Lakers 53.1 (2nd), Nuggets 51.5 (4th)
Turnover Percentage (turnovers per 100 plays) - Lakers 14.2 (19th), Nuggets 14.1 (18th)
5 REASONS THE NUGGETS POSE A PROBLEM FOR THE LAKERS
1. Transition offense. Via Synergy, in transition possessions Denver is the NBA's third best team measured by points per play, at 1.205. Moreover, they push relentlessly. No team in the league has had more transition opportunities than the Nuggets, by a healthy margin of over 100 possessions. While Denver isn't a strong defensive squad, they do force turnovers (7th in defensive TOV%) and are solid on their own glass (9th in DRB%, only .08 percent behind L.A.), two keys in fueling an effective running game. The Lakers, meanwhile, grade out as the 25th ranked team defensively in transition, at 1.171 points per play.
You can see where this could be problematic.
2. Arron Afflalo is a credible defender against Kobe Bryant. In three games this season, Kobe has shot 27.5 percent from the floor. Two of them came early, when he was still fighting through his wrist injury, but last year Bryant was only 39.2 percent in three games. Obviously not all of that can be attributed to Afflalo, but the Centennial High/UCLA product has had some good success against Bryant in the past ... though explaining why isn't necessarily easy. Afflalo is a very hard worker on that side of the floor, but whether based on Synergy numbers or 82Games.com doesn't rate out as an effective defender. Denver has actually been better without him on the floor.
Measuring individual performance on ordinary-or-worse defensive squads can be tough, so it's possible Afflalo is being penalized by poor teammates. It's also possible he's just been a little lucky against Bryant. Still, the evidence is in his favor as he's tended to do solid work marking 24. Karl also has a strong defender in Corey Brewer at his disposal, and just for kicks might even throw super-energetic rookie forward Kenneth Faried at Bryant from time to time, just to change the look and make him face more size.
3. Point guards. The Nuggets have two of them, and they're both very solid. Ty Lawson leads the balanced Nuggets in scoring at 16.7 points per game, and averages 6.7 assists as well. His PER of 19.25 ranks 11th in the NBA among point guards, just outside the top level of 1's. Behind him, Andre Miller isn't as prolific or explosive, but is the dictionary definition of crafty. Together, they give George Karl a lot of options, and both are very strong running the pick and roll.
4. Metta World Peace is unavailable. This we knew, but it's worth noting that in the two games against the Nuggets in which MWP was in the starting lineup -- Feb. 3 and April 13 -- Nuggets small forward Danilo Gallinari was 3-for-18 from the floor. In short, World Peace absolutely dominated Gallo, one of Denver's most talented scorers but ill equipped to deal with his strength and physicality. Gallinari didn't exactly go off in the first two games of the season series, either (in his high point game, he required 16 shots to notch 20 points, and in the other was 3-for-12), but he'll undoubtedly be excited to face the Lakers with World Peace in street clothes. Devin Ebanks and Matt Barnes -- assuming he's healthy -- are willing defenders, but neither have MWP's ability to erase a player from a game.
In the regular season, the Lakers contained Denver's offense relatively successfully. If Gallinari gets comfortable, that could change.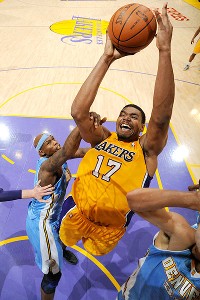 Andrew D. Bernstein/Getty Images
In four regular season games, the Nuggets couldn't stop Andrew Bynum, or even slow him down.
5. The Nuggets do things that can make the Lakers uncomfortable. I mentioned pushing pace, but the Nuggets are also adept at going small with a variety of lineup combinations. Obviously in doing so the Nuggets open themselves up to the Lakers' size, but historically teams able to do it effectively have had success against the Lakers (last year's series against Dallas, for example). While they're not a very good 3-point shooting team (33.1 percent, 24th in the NBA), Denver is adept at spreading the floor and attacking the rim. No team in the NBA takes more shots at the rack than Denver's 34 per game, and only the Thunder and Pacers generate more free throws per field goal attempt.
5 REASONS THE LAKERS SHOULD BEAT THE NUGGETS
1. Star Power. Denver has a bunch of good-but-not-great players. The Lakers have three guys in Bryant, Bynum, and Gasol who aren't just good, but elite. It's a mistake to assume the team with the best player wins, because depth matters, as do matchups. Still, when the three best guys are on one squad, that group has a decided advantage.
2. Length. In four games against Denver, Andrew Bynum averaged 24.8 points, 11.8 rebounds, 2.3 blocks, seven FTA's, and shot 66.1 percent. That's some genuine domination, and there's no reason to think the Nuggets will fare all that well against him in the playoffs. Kosta Koufos is more competent than given credit and JaVale McGee is really, really good at weakside shot blocking, and dunking three balls at once or on multiple backboards, but neither is going to stop Bynum on the block. Gasol, meanwhile, shot 54 percent while averaging 16 points, 10.8 rebounds, 3.0 assists, and 1.5 blocks in his four games opposite Denver.
3. Rebounding. The Nuggets are a pretty strong team on the glass, but all that length in L.A.'s frontcourt doesn't simply mean scoring inside, but a ton of rebounds. L.A. won the battle of the boards in three of the four games in the season series, and in the fourth they were tied at 44 but the Lakers still dominated the offensive glass with 12. Only once in four games did the Nuggets grab more ORB's than L.A., and in that one the Lakers still snagged 14 of their own, they were just particularly sloppy on their own end. The ability to negate a strength for Denver plays to L.A.'s advantage, especially on the offensive end. If the Lakers crash the glass effectively, it can slow down the Nuggets' transition game.
4. Kobe Bryant is healthy. Do I need to explain this?
5. Defense. As in, Denver plays very little, especially for a playoff team. They have allowed the second highest points per game, are 21st in efficiency, 23rd in opponents field goal percentage, dead last in opponents 3-point percent percentage (given the Lakers' woes from beyond the arc, this truly constitutes one of those "something's got to give" type deals), and are tied for 17th in points per shot against (1.2). Historically, teams this weak defensively don't have a lot of success.