This debate would never take place in the NBA.
There, questions about who should win this year's National League MVP would be settled automatically by the standings. It's Step 1 in the weeding-out process. Players, however outstanding through the course of the year, are axed from the short list if their teams tank, while other candidates are elevated despite, perhaps, lesser numbers. Only twice in the last decade (Tim Duncan in '01-'02 and Steve Nash in '05-'06, still known in many local circles as "The Year Kobe Got Screwed") has the winner come from a team not winning its conference. In those years, the Spurs and Suns respectively were both seeded No. 2.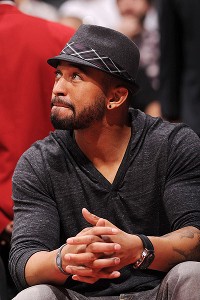 Noah Graham/NBAE/Getty Images
Matt Kemp is a regular in the stands at Lakers games. Will NBA style voting criteria keep him from winning the NL MVP?
Clearly team success has been baked into the criteria.
Say what you will about varying definitions of valuable and whether voters too often become slaves to win totals (they do) and narratives (even more so), at least in pro basketball the relationship between awards and Ws makes some sense. There's nothing inherently egalitarian about the NBA. Generally, only eight or nine guys on a 15-man roster are relevant. Only five play at once, and in unequal minutes. One player almost always emerges as "The Man." He'll get more looks, extra time handling the ball (hence the invention of usage rate) and exert a disproportionate amount of influence on the final score. On bad teams the same rules apply, except necessity often becomes the mother of invention. Someone will get numbers, so it's the payoff helping separate the wheat from the chaff.
If NBA rules apply, Ryan Braun wins over Matt Kemp. He'll win with those baseball writers believing MVPs should play on contending teams, too. Except baseball, fundamentally built around an individual battle (pitcher vs. hitter) in a team setting, doesn't operate like basketball. In hoops a player can, cliche as it is, make his teammates better. The Dodgers fell short, but derisively asking what Kemp did to elevate his squad is absurd.
Ranked 3rd in the NL in batting average (.324).

1st in home runs (39)

1st in RBIs (126)

1st in runs scored (115)

2nd in stolen bases (40)

2nd in slugging (.586)

2nd in OPS (.986)

1st in OPS+ (OPS adjusted for a player's home park, 171)

1st in total bases
And he won a Gold Glove in center field. Even if you think the voting on that award is a little goofy, at the very least winning means he wasn't a butcher. Obviously it wasn't enough to push the Dodgers past the Diamondbacks, but for those who ask what he did to lift the Blue, I give you ... all that stuff I just mentioned. What more was Kemp supposed to do?
Kobe can take the game on his shoulders in the final five minutes with his passing and shooting, and either win it or not. Kemp can only bat when it's his turn. Where Magic Johnson could thread a pass to a player who didn't even know he was open, Kemp can't do anything to make Juan Uribe play well. He can't call his own number, or give himself extra opportunities. He can only be 1/9th of a lineup, and can only catch balls hit to him.
So while it makes some sense to demand the NBA's MVP raise the level of his team and teammates en route to a gaudy win total, in baseball the same construct makes no sense. All it does is allow voting writers the appearance of holding a player to a loftier, more noble standard. (Winning is, after all, the only thing, right?)
The logic simply doesn't hold. Hopefully Kemp, my choice for the award if you haven't yet made the assumption, won't get dinged because baseball writers work with rules better fitting another league.