Believe it or not, the Lakers' Game 1 issues weren't all about pick-and-roll defense or Pau Gasol's lack of "Black Swan." Mind you, those were issues. Big ones, even. But after watching a replay of the game, I picked up on a few other adjustments that could pay dividends for the Lakers in Game 2.
Make it harder for Chris Paul to get the ball back
As frustrating as it was to watch Paul carve up the Lakers' D, it's expected to some degree. CP3 is a master at keeping games on a string and his dribble alive, then picking teams apart. The Lakers have proved capable of better work against Paul during the regular season -- and despite popular belief, against the pick-and-roll all season -- but over (now) 5-7 games, Paul will periodically own them.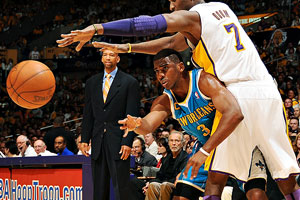 Noah Graham/NBAE/Getty Images
Once CP3 gives up the ball, remain all over him like so.
Having said that, if Paul doesn't have the ball, his ability to wreak havoc drops considerably. Upon a rewind, it was evident how easily Paul typically got the ball back upon passing off. That must stop, and two possessions illustrated how much less effective the Hornets are with somebody else running the show.
Up 14-12 in the first quarter, New Orleans took the ball out after Andrew Bynum's made free throw and Derek Fisher picked up Paul with full-court pressure. Unable to inbound to the All-Star, Emeka Okafor was forced to go in Marco Belinelli's direction. From there, Fisher did an outstanding job denying passes back to CP3, which left Belinelli and Trevor Ariza touching the ball. Ariza ended up at the line after a fouled missed dunk. I'll take Ariza forced to slash and create -- even with the two freebies -- all day over Paul controlling the action.
Later in the third quarter, as Paul ran a curl off ball, Fisher stuck exceptionally well to his side and nearly came up with a steal after Ariza tried forcing the ball to his quarterback. The ball went out of bounds off Fisher, who continued denying Paul aggressively after the inbound, and the possession ended with an Ariza miss.
It may feel like the rock is always in Paul's hands, but his usage rate is surprisingly low, whether measured within his team or even against other point guards. My point? Other Hornets dribble the ball, and whenever humanly possible, leave them no other choice but to do so. The Hornets took serious pains to prevent feeding the Lakers bigs, through fronting or secondary defenders making continual soft doubles. The Lakers should adopt the backcourt version with Paul.
Generally speaking, try to force the ball into Ariza's hands
The L.A. native and former champion Laker is probably the weakest link among Hornets with established offensive responsibilities. He's shooting 39.8 percent from the field, 30.3 percent from deep, and inspired articles with flattering titles like "Is Ariza the worst shooter of last 30 years?" As a result of these low percentages, his player efficiency rating and Adjusted PER rank quite low among Hornets playing 15 minutes or more. Whether it's a matter of Ariza's grasp exceeding his reach or the Hornets needing him to play beyond his skill set, he often looks out of control.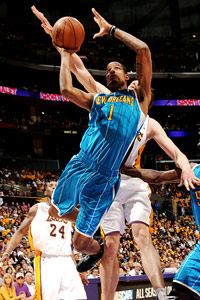 Andrew D. Bernstein/NBAE/Getty Images
Make Ariza do this.
More telling, his numbers against the Lakers are also bad. In 2010, he shot 25.9 percent from the field, 21.7 percent from downtown and needed more than 14 shots to average 11.3 points. This year, the ball went down a little more often against the Lakers (42.9 percent from the field), but Sunday's 2-for-13 showing feels like closer to a preview of future events, considering the likely personal nature of the series.
Many players struggle against their former teams, especially when the parting was acrimonious, and Ariza doesn't appear to be an exception. Ariza is a prideful cat and probably dying for a chance to burn the franchise that "chose" Ron Artest over him. Opportunities should be force fed.
Get into the offense faster
This has been a problem for the Lakers throughout the season -- especially during the April malaise. The Lakers often fritter away too many seconds simply getting the ball across halfcourt, much less before initiating offensive sets. Against most teams, less time spent moving the ball with purpose can be a recipe for low-quality looks (often launched by Kobe as a last resort). But against the Hornets, meandering additionally allows the defense time to swarm the bigs off ball, which makes entry passes and inside-out ball that much more complicated.
As much as the Lakers preach tempo control, this isn't a terribly pressing issue against New Orleans. Only the Trail Blazers play at a slower pace, and slowing the game down helps them play at a comfortable speed. I'm not saying the Lakers should run 'n' gun. They're not the Nuggets, and their ineptitude on the break is often staggering. However, a deliberate pace shouldn't equal time wasted.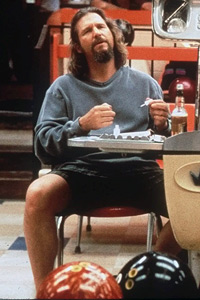 AP Photo
The Lakers haven't been quite "his Dudeness" casual while running the triangle, but often fairly close.
Initiate the sequences as quickly as possible. Move the ball -- and bodies, for that matter -- with urgency.
Be mindful of the Hornets' ability from midrange
When operating on all cylinders -- after the All-Star break, for example -- the Lakers' revamped defensive system can be downright smothering. But as Dave McMenamin explained earlier in the season, it is a philosophy of prioritization:
As much as the defense has improved, there is still a soft spot on the court it leaves open. The Lakers wing defenders do their best at running players off the 3-point line and their big men try to take away the paint, but that still leaves the midrange game open for business.
"You have to give up something," Jackson admitted.
In today's NBA, full of players whose offensive games are not refined enough to connect on pull-up jumpers on a consistent basis, it's a smart compromise by the Lakers.
"We live with those shots, 15-19 [feet], long twos, contested twos," Person said. "Maybe the only midrange guys left in our game are Kobe Bryant and Paul Pierce."
Actually, a few more fellas, too.
A HoopData.com box score shows New Orleans shot 45 percent (9-for-20) from 16-23 feet. It's a very good clip, yet nothing particularly out of character. According to Hoop Data, the Hornets shot 42.3 percent from 16-23 feet this season, fourth best in the NBA and well above the league average (between 39 and 39.1 percent). Among players logging 15 minutes or more and actually taking this shot with regularity, Paul (45 percent), Belinelli (43), Willie Green (43) and Jarrett Jack (41) are all proficient from this area, and Carl Landry (38 percent) just slightly below average. These percentages may be low compared to a layup, but they do reflect a credible degree of success.
This doesn't mean the system needs a face-lift specific to this series. It does mean, however, that several Hornets won't mind being given this area (particularly since New Orleans isn't a trey-happy team to begin with). If that's going to happen, the shots must remain heavily contested. Looks allowed by design and clean looks shouldn't necessarily go hand in hand.