L.A. is now in Day 11 of Ramonpalooza, the festival of appreciation aimed toward point guard Ramon Sessions following his acquisition from the Cavs on deadline day. (My Morning Jacket will be appearing shortly on the main stage.) It's easy to go overboard, but his presence really has represented a sea change for the Lakers.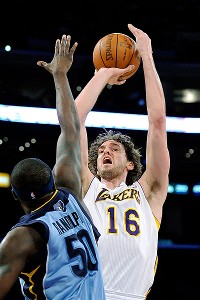 AP Photo/Mark J. Terrill
The matchup between Pau Gasol and Zach Randolph will be key Sunday night.
Friday, we noted the ways in which Sessions has improved the team's offense, goosing efficiency with high-percentage shots either for himself or teammates, many coming in transition, plus an ability to get himself (and teammates) to the line. And this was before he made his debut as a starter, lighting up the Blazers for 20 points and 11 assists Friday night at Staples. The game was significant not only for his impressive numbers but how Sessions affected the action down the stretch. In a still competitive game, Sessions dominated the fourth quarter with eight points and six assists as the Lakers piled up 32 points, all while Kobe Bryant happily took only one shot in the final 12 minutes.
It's a brave new world, folks.
Sunday, the Lakers get another good test against the Memphis Grizzlies, the same team L.A. edged in double-OT not even two weeks ago at FedEx Forum. That night, the Lakers were carried by Andrew Bynum (37 points) and Bryant (34) but only had one other player in double figures (Pau Gasol, with 14). Meanwhile, the Grizzlies got a career night from Marreese Speights, one of six Grizzlies with 10 points or more. Normally, when teams meet twice in a small window, the first game can be instructive. Not here.
The Lakers played that night with Derek Fisher and without Sessions. Memphis was missing not only Zach Randolph, but also Rudy Gay. They've also added Gilbert Arenas as a free agent, giving him real minutes in his first two games. The cast on the floor Sunday will be very different on both sides.
With that in mind, here are three things to watch:
1. Z-Bo vs. Pau Gasol.
In five games since returning from a knee injury, Randolph has been solid: 15.4 points and 7.8 rebounds, while shooting nearly 47 percent in about 31 minutes a night. Pretty good, but not the walking double-double he was in a dominant 2010-11 season. At some point, Randolph will round into form. If it's Sunday, the Lakers (and specifically Pau Gasol) have one more tough cover. Friday against Portland, the Lakers, who rarely do this sort of thing, were forced to bring doubles against LaMarcus Aldridge in the first half before order was restored in the second. If the same thing happens Sunday, the Grizzlies -- not a good half-court team offensively -- might find some lanes opening up that would otherwise be closed. The more extra rotations the Lakers have to make, the more wing players such as Gay can attack or Marc Gasol, who needed 25 shots to get 20 points in Memphis, can get easy looks on putbacks and open feeds at the bucket.
2. Kobe Bryant vs. Tony Allen.
Allen is among the league's most active defenders, one of the few guys capable of making Kobe's life truly difficult. On the ball, he can be very hard to beat, but while the Lakers had periodic success with Bryant operating away from the ball at points this season, with Sessions on board they have the means to do it more effectively and more consistently. Closer to the rock, the potential for good 1/2 or 2/1 pick and rolls could give Allen and Mike Conley looks they haven't seen much against L.A. Bottom line, as Mike Brown and Bryant noted after Friday's win, with Sessions the Lakers have so many more ways to attack, making them much tougher to prepare for.
Still, despite some weakness (see below) the Grizzlies constitute a very solid test for the revamped offense. They'll be at full strength, making them the best defensive team the Lakers have seen since acquiring Sessions, more effective than a Dallas squad missing Shawn Marion. Moreover, no team in the NBA is better at forcing turnovers, and Synergy rates them as the league's second most productive team in transition, meaning mistakes on the offensive end won't go unpunished.
3. L.A. vs. expectations.
Memphis is a dangerous team, one nobody will want to see in the postseason -- unless perhaps the postseason started today. The Grizzlies have dropped five of six overall, including Saturday afternoon to a slumping Clippers squad, and four of five on the road, and are just 9-14 outside Memphis overall. Perhaps it's because they don't score much, averaging only 91.2 points on the road compared to 99.1 at home. Nor have they been very good against teams over .500, going just 10-17. All told, Memphis' talent says it's a game the Lakers could absolutely lose, while the numbers say they really should win.