I'll be honest, I've never really paid the D-League much attention save those moments where players on the Lakers roster were sent down for more seasoning. Even then, I wasn't exactly setting the NBDL's website as my home page. But with labor strife screwing everything up at the NBA level, if your game is professional hoops, for the time being at least the Los Angeles D-Fenders -- back after a year-long hiatus-- are the only game in town.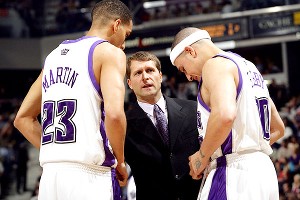 Win McNamee/Getty Images
Unlike most NBDL coaches, Eric Musselman has extensive experience as the head man on an NBA sideline.
The most interesting thing about this year's team will almost certainly be the coach. In Eric Musselman, they have a head man with an unusual level of NBA experience, having patrolled the sidelines both for Golden State and Sacramento. In his first season with the Warriors, Musselman squeezed a 17-win improvement from the previous season, and he finished second behind Gregg Popovich in the 2003 Coach of the Year balloting. But after failing to build on that success the following year, he was let go. Hired by the Kings in 2006, Musselman had the unenviable task of replacing Rick Adelman.
One 33 win season later, Sacramento fired him.
In many ways, then, Musselman resembles the guys he's coaching: Actively trying to make it back to the next level. When we made the comparison in our conversation, Musselman deflected, but I suspect he (understandably) wasn't being completely candid. It's just one of the subjects we touched on, from the difficulty creating a workable team ethic when ultimately everyone on the roster is motivated by personal goals to the challenges Mike Brown faces this season with the Lakers.
Click here for the whole show, or below if you'd rather steer to a specific topic...
3:22- Musselman lays out the challenges inherent in coaching at the D-League level, from the aformentioned challenges in fostering a healthy sense of team play to the stripped down travel.
9:54- Musselman grew up in a coaching family and was hired for his first head coaching job at 23. He's worked under luminaries like Mike Fratello, Chuck Daly, and Doc Rivers. We ask him what qualities make for a successful head coach, and who has influenced his approach to the game.
15:55- On the challenges facing Mike Brown as he takes over the Lakers:
"It's always hard to replace a great coach. I know that from my personal experiences, going into the Golden State situation where they had made multiple coaching changes and really had no stability as far as a coach, it was a much easier environment to come into because you could kind of do things exactly like you wanted. You could change the culture without having a lot of apprehension. The Sacramento situation was difficult for me, there's no question about it. Rick Adelman is one of the greatest coaches that the NBA has, and he had a system that the players were comfortable in. The players had success in it for multiple years in Sacramento and implementing a different style of offense than what they ran, which was kind of the corner series and some Princeton stuff, and they played off the elbows a lot, it was met with resistance at times. And for good reason, because they had been so successful.

But Mike is a proven winner. He proved that in Cleveland. At some point, change is going to happen and players understand that. The one thing with Mike is he's so prepared, he's so easy to get along with, that I think it will be a very, very smooth transition."
One potential obstacle for Brown now that the season, if it happens, is certain to be shorter? Time. He won't have much of it to gain a rhythm with a group familiar with each other, but new to him.
"It can be a work in progress at times to figure out style of play. Again, I revert back to Chuck Daly. He always used to say it took him 50 games to learn his team. I do think that there's some truth to that. After hearing him make that comment, every staff I've been on since then, right around that 40, 50 game mark you start figuring out exactly who you are. So it is a process for every coach in the NBA when you're in a new environment."
From there, we ask whether Musselman will tailor his schemes with the D-Fenders to what Brown does with the big club (not at this point), and about an interesting wrinkle to his home life- he's married to Danyelle Sargent, a writer with Yahoo! Sports. Coaches and media living together? Lambs and lions are soon to follow.
Finally -- remember, we recorded on Friday afternoon, before collective bargaining talks went to h-e-doublehockeysticks-- Andy and I note the dangers for the Lakers in a compressed 82 game schedule. It was basically the worst of all possible worlds, from a competitive standpoint. Now, obviously, that conversation is moot. So while things are still miserable for basketball fans, at least there's a small silver lining for the Lakers.