While the city's collective basketball attention (and the minds of children everywhere) may already be focused on Christmas Day, the Lakers do have one team on the agenda before all the Yuletide fun begins.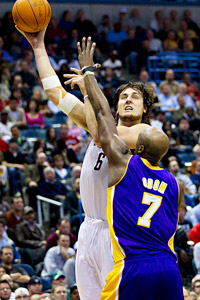 Jeff Hanisch/US Presswire
With Brandon Jennings on the shelf, Andrew Bogut's life gets a lot tougher.
The Milwaukee Bucks are in town Tuesday night. Before the season they appeared to be a up-and-comer in the Eastern Conference- not a title contender but a dangerous team nonetheless. Now they're more a gift that keeps on giving, their largess not simply an act of holiday spirit, but a season long trend. At 10-16, the Bucks, beat up by injuries all season (the latest being surgery for Brandon Jennings) have consistently underperformed. Particularly on the road, where after being completely dusted by a similarly short-handed Portland team Monday night, the Bucks are 3-10.
By all rights, the Bucks seem right for the picking (or hunting, if you prefer a more deer-themed metaphor), particularly in light of the Jennings news, but they're still a genuine NBA team with real uniforms and a team charter. On their more careless nights, the Lakers have struggled with lesser squads. To preview tonight's action, I hit up Jeremy Schmidt, host of the always entertaining/informative Bucksketball blog, who was kind enough to answer some questions about Scott Skiles' hard luck crew:
1. Now that Brandon Jennings is on the shelf, what changes about Milwaukee's offense? They don't score much anyway, and he accounts for a huge portion of the team's assists. How will the Bucks generate points?
Generally ball dominant, Jennings was using 26.2% of the Bucks possessions heading into Monday night. In his absence, his teammates general lack of ability with the ball in their hands was on display. Early on in Portland, the Blazers doubled Andrew Bogut off the ball when the Bucks looked to find him for post-ups inside. Jennings didn't always find Bogut on the pick and roll or drop it off to him on drives to the hoop, but he, more than any other Buck, needed to be accounted for by the defense when sharing the court with the big man.
Now that Milwaukee has one less player that requires serious attention, Bogut is sure to be the recipient of heavy double teaming and an increased amount of attention. Bogut and Jennings have played together for 592:29 minutes this season and Milwaukee is +16 in those minutes. No other player has played as many minutes with Bogut and only Ersan Ilyasova has had a better plus/minus on the court with him. A healthy Jennings allowed the Bucks to be Andrew Bogut's team and for Bogut to thrive.
(Note: For a more in depth look at the Bucks without Jennings, check out Schmidt's post on the topic at Bucksketball.)
2. Milwaukee is a group many pegged as a dangerous Eastern Conference team. Not necessarily title contenders, but certainly a group nobody would want to play in the playoffs. What's gone wrong? Is it as simple as injuries, or is there more?
The injury bug bit the Bucks in training camp and has gnawed at them through this very week. Injuries are difficult for any team to cope with, but they are even worse for a team attempting to assimilate as many new faces as the Bucks. Players like Drew Gooden and Corey Maggette need the ball in their hands considerably more than the players they were brought in as improvements over.
Their additions haven't gone smoothly though, as both key additions are shooting career low percentages from the field. Combine their struggles with John Salmons' inability to replicate the success he had in the second half last season, Bogut's injuries and a bench struggling to find their footing, and you're looking at a 10-16 team.
3. Andrew Bogut seems to have recovered well from his early season injuries. Is he back to full strength? How well equipped is he to deal with L.A.'s size anchoring a depleted squad?
Bogut's said a number of times this season he doesn't expect to be 100% healthy this year, but he's at least performing at a level much closer to the one that had him garnering All-Star consideration early last season. Defensively he anchors Milwaukee and gives them a chance in most games. His size is intimidating for most teams, but the Lakers' big men will be able to hold their own against him. He should be able to maintain a strong front on first shot attempts, but he can't do everything himself.
The Jazz, another squad strong up front, have bullied Milwaukee on the offensive glass this year because Bogut has had to step out and stop one big man while the other attacked the glass. The Lakers could pose a similar problem.
4. Wild Card: Tell Lakers fans one thing about the Bucks they probably don't know that could impact Tuesday's game.
Chris Douglas-Roberts was an outcast by season's end in New Jersey last season, but has recently gained some prominence in Milwaukee. He's taken over the small forward position and produced a couple of solid offensive performances. He's unorthodox and almost always looks to be on the verge of a turnover, but more often than not surprises with a made basket. Douglas-Roberts has been able to step outside and compliment his steady attacking game with an outside shot this season and will likely be the key to the Bucks maintaining anything offensively against the Lakers.
Thanks again to Jeremy for his help. Be sure to check out his site before and after the game for the visitor's take on Tuesday's action.