For the second straight season, the Los Angeles Lakers have been bounced in the second round of the NBA playoffs. Not cause for panic in many markets, but in Los Angeles, where expectations are always stratospheric and Kobe Bryant is far closer to the end than the beginning of his career, it's enough to sound the doomsday horn. The end of a season is (almost) always a disappointing time, but usually comes with a tinge of wait-'til-next-year optimism. To that end, while the goal is not to add insult to Thunder-induced injury, people deserve candor: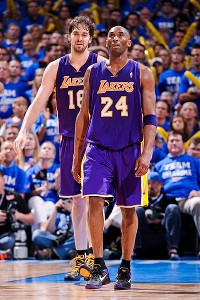 Andrew D. Bernstein/Getty Images
Was Monday's loss the last time Kobe Bryant and Pau Gasol take the floor as teammates?
I have no idea how the Lakers quickly return to a championship level.
Not to say I don't know what they need -- the needs are pretty apparent, and not a whole lot different than the ones from last offseason -- just that I don't know how they get it. Change, likely significant, must come, but unfortunately while the Lakers may be rich in the literal sense, as it relates to assets available to reconstruct a team, they're relative paupers:
The Lakers lack young prospects not already integral to the team's success, have no quality draft picks, or easily moved talent bringing comparable talent in return.

Well over the salary-cap and luxury-tax thresholds, the Lakers have limited tools -- a mini mid-level exemption worth a little more than $3 million, basically -- available in a market thin on quality unrestricted free agents. (Most restricted FA's won't be an option, because L.A. can't offer a contract large enough to dissuade a rights-holding team from matching.)

After next season, the CBA's new SuperTax! kicks in, which at current levels could cost the Lakers tens of millions of dollars.
Good players cost money. The Lakers need more of them at a time when the prevailing pressure is to bring payroll down not up, or at the very least have a rock-solid plan to do so in the very near future.
Enjoy the summer, Mitch Kupchak and Jim Buss!
Having spent years kicking the can down the road in an effort to build a winner, for which management should be applauded, the box in which the Lakers placed themselves in the process has grown incredibly tight. They're still a good team, but one that just lost to a better team. No shame in that, except the standards in L.A. don't tolerate this sort of thing for very long. Moreover, the Lakers are on the way down, while the competition around them is rising. Oklahoma City is a juggernaut. Memphis, despite the early exit from the postseason, is a team with upside, as are the Clippers. A healthy Denver team is a threat. They're feeling good about the future in Utah, too, and is there any reason to believe San Antonio won't again be awesome next year?
This is the context of what could very well be a transformative, challenging and potentially fascinating offseason.
Here are eight questions facing the Lakers' front office as the summer rolls on ...
1. Who comes back?
On the books for next season are Kobe ($27.8 million), Pau Gasol ($19 million), Metta World Peace ($7.25 million), Steve Blake ($4 million), Josh McRoberts ($3.1 million), and Christian Eyenga ($1.2 million). The Lakers hold a team option on Andrew Bynum they will surely exercise, even if they plan on trading him (see below). Ramon Sessions holds a player option for about $4.55 million he said he'll forgo, but that was before his underwhelming postseason performance. The Lakers exercise varying degrees of control over Darius Morris, Andrew Goudelock and Devin Ebanks, but assuming teams across the league don't start tossing money at them, they can probably bring back all three for less than $3 million.
Matt Barnes, Jordan Hill and Troy Murphy are unrestricted free agents.
The Lakers have plenty of needs, and as currently constructed aren't good enough to win a title. Meaning on one level or another, everyone on this season's roster save Bryant is in play.
2. What happens to Pau Gasol?
Lost in the debate about what caused his critical turnover in Game 4 or whether Kobe tossed him under the bus (he did) or how well he'd bounce back in Game 5 (well) is that the role Gasol now plays on this team no longer works consistently. Not for the Lakers, not for Gasol. He was marginalized this season by the emergence of Bynum, by roster shortcomings, and by the end of the triangle offense. He and Bryant weren't on the same page all season. As a result, the Lakers are almost sure to trade him, or at least try. Not because his performance wasn't up to par -- Pau's numbers were good this season, despite a poorly defined role that took advantage of only some of his strengths -- but because he's due almost $40 million over the next two seasons. Moreover, he's one of the two tradable players on the roster capable of bringing back enough midrange talent to help restock the roster in ways free agency won't allow.
The Lakers will miss him tremendously (in ways most casual fans don't appreciate) but face a serious math problem. And remember, they've already traded him once.
3. What can they get for him?
He's supremely talented, versatile and a true team player capable of elevating any good team to elite status, and perhaps of pushing a near-elite team over the top. On the other hand, he won't transform a Brooklyn-esque loser, is very expensive, on the downside of his career, and short of being sent to a team in Spain, won't energize a season-ticket base. Finding a new home for Gasol isn't a simple proposition. The same contract prompting the Lakers to move him will make many teams hesitant to take him on.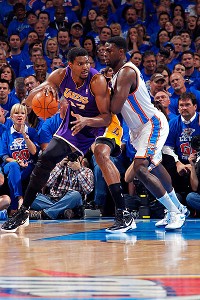 Layne Murdoch/Getty Images
It's possible Andrew Bynum's ups and downs have made him "touchable" as a trade piece.
The beauty of the failed Chris Paul trade wasn't simply that it would have netted the Lakers Chris Paul, though that was definitely a highlight, but that the Lakers would have saved about $40 million in the process. It represented a perfect marriage of talent coming back and long-term financial prudence; something extremely difficult to duplicate. For the Lakers to swap out Gasol and improve both the roster and the books is a tall order. Getting a young star seems improbable, but a package adding quality depth to the roster could make sense for the right team.
4. What about Bynum?
This is a central question for the Lakers not just for the 2012-13 season, but the next half-decade. Healthy for the first time since playing all 82 games in his second season, Bynum was at times unstoppable this season. His averages of 18.7/11.9/1.9 and a player efficiency rating of 23.00 were all outstanding, but they don't necessarily tell the full story of his ability to dominate games. They also don't reveal those nights in which his engagement and effort were lacking -- including during key moments in both playoff series -- or myriad incidents calling his maturity and leadership skills into question. Yes, he's 24 years old, but Bynum is also a seven-year veteran who regressed as his security blankets (Derek Fisher, Lamar Odom) disappeared.
The Lakers will pick up his option, but from there they have to think long term. Still-present health questions notwithstanding, his talent is unquestionably worthy of a major commitment in years and dollars. It's the intangibles that raise real concerns. Can Bynum be counted on to be the franchise's next cornerstone, accepting all the responsibilities that come with the gig?
Indications are mixed to say the least.
There's always the option of picking up the option and letting him play out the season, but it's not ideal. Clarity, whether by way of an extension or a trade would be better. If they put Bynum on the block, what do they try to get in return? Unlike Gasol, Bynum is a young star, only now entering his prime and he could fetch real treasure in return. Would the Lakers move him instead of Gasol? Would they try to flip him for an elite young point guard, or other badly needed pieces? I still think the organization will be reluctant to trade Bynum because players of his size and skill are exceedingly rare, but after the up-and-down year and a spotty postseason they could be more open to the idea.
5. What about Sessions?
Honestly, I didn't see this problem coming. The Lakers made the trade I and others hoped they would, acquiring Sessions from Cleveland at the deadline, and his impact was instant. (Almost literally so, as he scored 13 seconds into his first appearance in purple and gold.) Suddenly the Lakers looked dynamic offensively, and Kobe's load was lightened. While Sessions didn't offer much defensively, he was such an upgrade on the other end of the court that it didn't really matter. Then Sessions slumped near the end of the season, went missing for much of the postseason, and had six disastrous turnovers in Game 5 against the Thunder.
In the end, his confidence and outside shot abandoned him. This was Sessions' first postseason, so perhaps experience will allow him to grow into the role, but the way in which Sessions ended his season sent up major red flags.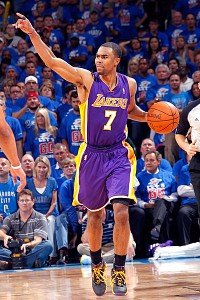 Layne Murdoch/NBAE/Getty Images
Ramon Sessions' Lakers career started strong, but a bad postseason puts his future in question.
Sessions' stated intention before the postseason was not to exercise his player option, making him a free agent. Given the disappointing playoffs, he certainly might reconsider, attempting to play his way into a bigger deal. This wouldn't be a bad deal for the Lakers, allowing them a full season to evaluate Sessions. Should he opt out, though, how much will he cost to retain, and how much will the Lakers be willing to commit? If they let him go, how do they secure a replacement? If he picks up the option, would the Lakers then trade him? As a $4.5 million expiring deal, he'd have value.
6. Who gets amnestied?
The Lakers still have the ability to amnesty a player, removing his salary from their official cap/tax figure (the player still gets paid). If exercised before next season begins, despite his improvement through the season, the leading candidate is Metta World Peace, to whom the Lakers owe about $15 million over the next two seasons. Certainly the suspension costing him six playoff games -- the second straight year he's hurt L.A.'s postseason effort -- will be a consideration. Another candidate could be Blake, owed $8 million through the 2013-14 season.
From there, it's into "They wouldn't do that, would they?" territory. If they can't find a taker, would the Lakers use their amnesty on Gasol? Or even Kobe? Highly unlikely -- if they actually pulled the trigger on Kobe, I'm abandoning the blog and heading to higher ground -- but if the Lakers really decided to commit to financial overhaul, the guys making the most money provide the most relief. If nothing else, the hypothetical reinforces how difficult it is to reconstruct the team around Kobe while he almost single-handedly accounts for half their cap figure.
7. Is Mike Brown in any danger?
He's not going to be fired, especially with so much time and money left on his contract. It really wouldn't be fair, either. Not based on performance, at least. Like a lot of people, I'm not sold on the idea that Brown is an elite coach, or that he's the best fit for the Lakers, but to kick a guy to the curb after the peculiarly difficult shortened season of 2011-12? No training camp, a brutal early-season schedule, near constant and often profound changes in the roster, limited practice time to install new systems on both sides of the ball, and so on? In light of all that, the team's .621 win percentage was pretty good. In the playoffs, Brown's group lost to a better team in a competitive series.
These Lakers may not have overachieved, but the reality is they didn't underachieve, either. Unless a better option is out there for the taking -- today's news in Orlando will have some fans talking Stan Van Gundy -- what is gained by canning Brown? It's possible the Lakers might ask him to bring in different assistant coaches and perhaps make adjustments to his philosophy (particularly on offense), but I'd be very surprised if he wasn't back next season.
The more pressing problem is the roster, which isn't title-ready no matter who patrols the sideline.
8. Could the Olympics impact Bryant's 2012-13 season?
Kobe had a very good season by any standard, but a spectacular one when considering the nearly 20 seasons of mileage on his odometer and the number of injuries he fought at the end of last season. Taking advantage of the extended offseason, Bryant came back healthier than he had been in years, and early in the season the results were spectacular. During the season, particularly midway through it, there was definitely some slippage as his shooting percentage plummeted, particularly in the fourth quarter of games.
In the playoffs, his shooting percentages were often spotty, as were his fourth quarters. Moral of the story: There is in fact a limit to the man's legs. This is not a criticism.
But with that in mind, could the London Olympics impact his performance next season?
I wouldn't expect it to, but while Lakers fans may love watching Kobe play internationally, I think most would just as soon see him resting as much as possible. Nobody takes better care of his body, but it's fair to wonder how long he can keep Father Time at bay. Any additional work, even controlled, relatively low exertion exercises like the Olympics (Bryant knows how to pace himself through a training camp and tournament -- it's not like he's trying to prove himself for playing time) will be scrutinized.
The same questions about fatigue and wear apply to Gasol, of course ... if he's still on the team.