What's been circled for months with a giant Sharpie on a giant calendar is finally here, more or less. Thursday marks this season's NBA trade deadline. That's March 15 (beware!) to you and me.
It's a huge day for the Lakers, not just in how it shapes the fate of this season's team, but what it might say about the direction of the franchise this summer and beyond. Nothing in sports is completely cut-and-dried (including everything you'll read below) and because the Lakers can't make teams agree to trade with them on fair terms or force free agents to sign, matters of player personnel aren't totally in their control. But as I see it, the Lakers have three basic courses of action from which they can choose in the very and reasonably near futures.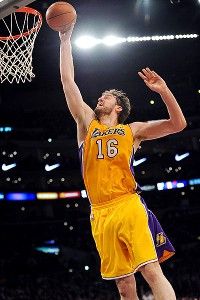 Noah Graham/NBAE via Getty Images
Will he stay (for a while, at least) or will he go? Pau Gasol finds out this week.
Each position has merit, but no matter what side of the fence you fall, the Lakers have some very difficult choices to make now and down the road.
1. Go for broke this season.
PRO -- In the great high rise of roster construction, the Lakers' penthouse is filled. They have three All-Stars, giving them an elite player on the wing along with size and skill in the frontcourt most teams can't match on either side of the floor. They have some reasonably capable role players occupying the bottom floor apartments, as well. The problem is the vast empty real estate in between. An improvement at point guard and the addition of reliable bench scoring (to name two things) could have profound benefits, and can be addressed without moving superstars. Not only would the Lakers tick some empty skill-set boxes, but opposing defenses would be less able to load up on L.A.'s Big Three, comfortable knowing that (more often than not) nobody else can make them pay with any sort of consistency.
CON -- The Lakers aren't exactly rich with high-end assets outside Pau Gasol and Andrew Bynum. L.A. has a generous traded-player exception and an extra (likely late) first-rounder, thanks to the Lamar Odom deal. Andrew Goudelock, Darius Morris and Devin Ebanks have some appeal, but aren't high-end prospects for whom teams move mountains. This creates a few complications. First, there's no guarantee the Lakers have enough good stuff to get a Ramon Sessions-type if another team wants that player more. Not without overpaying, at least. Second, chips cashed in smaller deals can't be used in a potential blockbuster, whether at the deadline or beyond. Third, for an aging team with a closing window, there's a price to pay for giving away access to cheap, young talent. Trading picks and prospects extends the deal with the devil L.A. has been making for a few seasons.
Fourth, there's a very real chance the Lakers could make the moves and still not win, leaving them facing a still-uncertain future with fewer assets available.
2. Hold tight for a superstar.
PRO -- Obviously, it could be a smokescreen, but Orlando continues to say it won't move Dwight Howard at the deadline, and there are plenty of compelling reasons for them to hold tight. As long as Howard is in play, so is Deron Williams.
Guys at that level are very difficult to come by, and most of the league's elite-level players are either locked up in longer term deals or are very unlikely to move. This adds even more value to Howard and Williams, making it worth holding every asset until their fates are resolved for those who want to acquire the team's next superstar now. Moreover, whether it's those two or anyone else popping up on the market, making a transaction of this magnitude is easier to do in the calm of the offseason rather than the frenzy of the deadline.
CON -- Even if the Lakers hold tight to every chip through the deadline, there's still no guarantee Howard or Williams will end up in L.A.. Many believe Howard is lukewarm at best about the prospect of joining the Lakers, and Williams will be tough to acquire even if Howard doesn't go to the Nets and Williams then decides to relocate. Meaning the Lakers could essentially end any realistic title hopes this season by sitting tight, whiff on the superstar hunt this summer, and go into next season with exactly the same problems. The same aging roster, the same holes, and the same financial limitations when it comes to making improvements. Meanwhile, Kobe will be a year older, and the pressure to make a decision on Bynum -- contract extension at big money or trade -- will be more intense.
3. Blow it up and start from scratch.
PRO -- The financial penalties for staying so deep into the luxury tax year after year become punitive under the new CBA. Add in L.A.'s increased obligation in revenue sharing, and it's reasonable for the franchise to pay attention to the bottom line (though not to stop spending altogether), even factoring in its new TV deal. More importantly, if the Lakers don't blow it up, they won't have the ability to restock the roster effectively. No full midlevel exception, no biannual exception, no access to sign-and-trades, no valuable draft picks, and so on. At some point, the Lakers almost certainly have to strip it down to build it back up.
In this regard, the Mayans were right. The day is coming, the only question is when.
CON -- Blowing it up is no fun for fans, and doing it properly puts everything -- and I mean everything, from Bynum to Gasol to the future of Kobe Bryant -- on the table. If Option 3 becomes L.A.'s choice, the faster they get to it, the faster they can get back to elite status. Unfortunately, with Kobe's salary on the books, getting all the way down to the foundation isn't easy without some very difficult conversations.* It's an unpleasant option on a lot of levels, not simply because of what someone like Kobe means to the franchise competitively, financially and emotionally, but because any savings in the short term would be eaten up by the moat they'd have to build around the team facility to keep angry fans out.
*Obviously, with his no-trade clause, Kobe's future isn't a near-term question, but something that becomes a larger consideration in the months and years to come. I've long thought the new CBA makes it significantly less likely that Kobe will finish his career in a Lakers uniform. I'd still bet he will, but wonder about the day when his desire to win another ring butts up against a yet-to-be-articulated long-term organizational strategy for winning the future. There's no guarantee Lakers fans will get the outcome they want.