The 2011 NBA Draft is Thursday afternoon (4 p.m. PT, ESPN). We've spent scads of time taking stock of where the Lakers stand heading into draft day, and now aim to catch up on the rest of the Western Conference.
Today, the Pacific Division...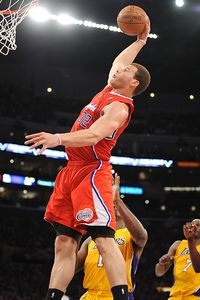 Noah Graham/NBAE/Getty Images
Building around Blake Griffin, a shrewd move or two makes the Clips a challenge for the Lakers in the Pacific.
Los Angeles Lakers
2010-11: 57-25, lost in second round 4-0 (on the odd chance you forgot) to Dallas.
Picks: 41, 46, 56, 58 (Round 2).
Where They Stand: Uncharacteristically uncertain. The Lakers certainly have more questions this offseason than anything faced in the last two. With four second round picks, making significant additions through the draft to a roster still designed to win now is, to say the least, unrealistic. G.M. Mitch Kupchak has said he just hopes to find a player able to stick on the roster. An admirable goal.
As a team, though, the Lakers have plenty of needs, including outside shooting, point guard production, center depth, speed/athleticism, and another shot creator.
Projections (Round 2): Chad Ford, ESPN.com (Insider required)- Nolan Smith (SG, Duke), Malcolm Thomas (PF, San Diego State), DeAndre Liggins (SG, Kentucky), Julyan Stone (SG, UTEP). DraftExpress- Shelvin Mack (PG, Butler), Jordan Williams (C, Maryland), Jereme Richmond (SF, Illinois), Greg Smith (C, Fresno State).
Phoenix Suns
2011-12: 40-42, missed playoffs
Picks: 13 (Round 1).
Where They Stand: Limbo. A surprising run to the Western Conference Finals two seasons ago faded from memory this year, as the Suns finished below .500 and in the lottery. Steve Nash is entering the final year of his contract, while Grant Hill is a free agent. At 34 years old, Vince Carter, acquired in December's big deal with Orlando, is a shell of the shell of himself, and reportedly will be bought out.
The supporting cast has some quality in it. Marcin Gortat was a major score in the Orlando trade, quickly overtaking Robin Lopez in the starting lineup and becoming one of the most productive centers in the NBA. Channing Frye didn't quite meet his lofty shooting stats of 2009-10, but still hit nearly 40 percent of his triples. Plenty of teams would love to have a guy like Jared Dudley.
Role players, though, won't be enough to again lift the Suns to the elite. They need serious help on the glass, landing near the bottom of the league in rebounding on both sides of the floor. Where in previous seasons the Suns were bad more by reputation than actual output defensively, this season they were genuinely lacking, finishing 25th in efficiency. Contrary to their reputation, with a hole at shooting guard and a decision to make on Aaron Brooks, the Suns could find themselves in need of scoring, as well. Certainly an upgrade at the two is required.
Projections: Ford- Tristan Thompson (PF, Texas). DraftExpress- Thompson.
Golden State Warriors
2010-11: 36-46
Picks: 11 (Round 1), 44 (Round 2).
Where They Stand: Westified! After years languishing under apathetic/over-matched sideline management in Don Nelson and Keith Smart along with a terrible owner in Chris Cohan, positive vibes have returned to Oakland. New ownership has injected hope, while new coach Mark Jackson brings energy and panache. And of course, the addition of Jerry West to Golden State's front office adds a critical measure of credibility to the new regime.
Trade rumors continue swirling around Monta Ellis, and obviously trading their leading scorer would drastically re-shape the roster. The Warriors, however, say he's staying. With Ellis and Steph Curry, the other half of GSW's mini-backcourt, surrounded by David Lee and Dorrell Wright, the Warriors can light up the scoreboard. Unfortunately, those guys don't do much to keep the other guys from doing the same. As always seems to be the case, defensively, Golden State struggled on the glass and were among the league's worst squads from an efficiency standpoint. Fixing both is a mantra of new ownership, and they'll likely make upgrades in those areas, whether through the draft, trades, or free agency.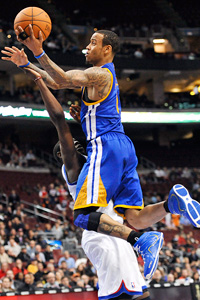 Howard Smith/US Presswire
Whether Monta Ellis stays in Golden State or not, the Warriors have to learn to play some defense.
While Golden State could light it up, no team in the league took fewer free throws per field goal. Some of that is related to their system- why drive to the basket when a quick three is available?- but personnel is an issue, too. Adding players who can draw contact would be a boost to an offense needing more structure.
Projections (Round 1): Ford- Alec Burks (SG, Colorado). DraftExpress- Marcus Morris (PF, Kansas).
Los Angeles Clippers
2010-11: 32-50, missed playoffs.
Picks: 37, 47 (Round 2).
Where They Stand: One Chris Kaman-for-Andre Iguodala deal from being a very solid team, assuming the rest of the guys can stay healthy. Yeah, the Clippers caught a bad break (so unlike them) when the pick included in the Baron Davis-to-Cleveland deal turned into the number one overall selection, but the premise behind the trade was solid. The Clips didn't need another mid-range rookie from a soft draft. They absolutely needed to move Davis' contract, and more importantly, his influence, opening the team up for Blake Griffin and Eric Gordon.
Add in an up-and-coming big in DeAndre Jordan, solid role players like Mo Williams, and young talent in Eric Bledsoe and Al-Farouq Aminu and it gets even better. Finally, G.M. Neil Olshey has done a great job structuring the Clippers payroll, leaving them without burdensome, long term contracts and solid trade chips like Kaman.
In short, the Clippers have a chance to make themselves pretty damn good over the next year or two, if their stars can avoid the injury bug and the front office fills the glaring hole at small forward. Along those lines, Iguodala is an almost comically good fit with the Clips as a true Swiss Army player. He's a great finisher around the basket, rebounds, passes, and plays defense, all while providing a little veteran leadership.
Projections (Round 2): Ford- Josh Selby (PG, Kansas), Giorgi Shermadini (C, Georgia... the country, not the college). DraftExpress- Jeremy Tyler (C, all over the place, most recently Japan), Jon Leuer (PF, Wisconsin).
Sacramento Kings
2010-11: 24-58
Picks: 7, Round 1. 35, 60, Round 2.
Where They Stand: With talent, without direction. In his second season, Tyreke Evans took steps backwards, but he clearly has skills on which to build. As do DeMarcus Cousins in the post, and Marcus Thornton (a restricted free agent the Kings want to keep) on the wing. Jason Thompson still has plenty of potential as an athletic big, and guys like Omri Casspi, Beno Udrih, and Francisco Garcia have value, as well. In a lot of ways, Sacramento, a bottom third team in both offensive and defensive efficiency, were worse than the sum of its parts.
With that in mind, it's not surprising the Kings would find a veteran point guard like Tony Parker appealing. Not only would he significantly upgrade the talent on the team (and cut down on turnovers, a big problem this season), Parker move Evans much more off ball, letting him concentrate more on the stuff he's good at. All while providing genuine leadership and championship gravitas.
You can look around Sacramento's roster and see pretty good-to-high-potential pieces. The parts, though, don't work all that well together, thanks in part to Evans' shortcomings as a ball-mover. Improving them could be a matter of shifting parts around. The Kings need outside shooting (26th in 3-point percentage), and have to get more efficient (27th in points per shot).
Most of all, the Kings must decide if, talented as some of the personnel may be, they have a lot of square pegs for too many round holes.
Projections (Round 1): Ford, Kemba Walker (PG, Connecticut). DraftExpress- Jimmer Fredette (PG, BYU).