Ever since our live show at Media Day, Brian and I have been tracking down the players who weren't directed to our table. First came Derrick Caracter. Then Shannon Brown. Our next victim... I mean, Laker? Rookie Devin Ebanks.
Question: What have the first couple of weeks in training camp been like?
Devin Ebanks: Pretty much a learning experience, really. Still trying to get the plays down. My defensive rotations. And just playing as hard as I can. Right now I'm just trying to do everything right and listen to the coaches.
Q: Phil Jackson mentioned that defensively you were up to speed, but the offense is something you're still trying to catch up to. Right now, are you playing as much on instincts as anything else?
DE: Pretty much. Just using every skill that I learned in college and bringing it to the NBA level. I played that kind of NBA defense in college, so I'm pretty much up to speed on that. Just learning the offense and get my footwork right.
Q: What about the triangle, in particular? Are there areas where you're still learning your spots?
DE: It's really just the footwork part. I think that's the toughest part. Knowing what footwork to use, and the defense to play. It's kind of tough. Everything else, I'm in the flow of it.
(Note: Because Ebanks wasn't initially specific about how footwork is crucial to the triangle, I caught up with him the next day for clarification. "There are certain ways you have to clear out or pivot to make certain things work, provided how the defense plays you," explained Ebanks. "Just using your footwork is important."
Ebanks has never played in a system so dependent on footwork before, but time spent watching a certain 12-time All-Star and listening to an eleven-ringed coach drives home the necessity.
"The prime example is Kobe Bryant. He's the best at it, and he shows it. If we watch film and you look at his footwork, you know why he's the best right now... Coach Jackson is real big on fundamentals, as far as passing and footwork. It's the little things. If you find that, you become a great player.")
Q: What's this experience been like for you, making the shift from college to pro and learning what's expected of you? Not just on the court, but off it as well?
DE: It's great. Like I said, playing with the champions, veterans that have been around. Guys I can learn from. It's been a great experience and they've been good with me.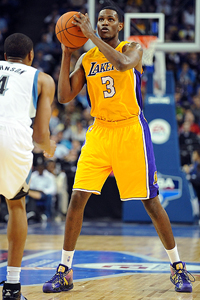 Win McNamee/Getty Images
The rook is still learning what to do with the ball in the triangle.
Q: The knock on you in college was people questioning your outside shot. What have you done to try and fix that?
DE: Just been in the gym. Just putting shots up. That's it. If it's not working, just go in the gym. If you keep working at it, things will fall.
Q: Is there anything mechanical you corrected?
DE: No, it's just getting more shots up. Nothing really wrong with my shooting or my touch. Just keep shooting.
Q: Derrick [Caracter] at one point was going to wear 58 as his number, denoting how he slipped to the 58th pick. You're another guy who, talent-wise, people thought could have gone higher but different questions kept you from going. Does that serve as a motivation?
DE: Yeah, I don't let that bother me right now. I'm on the team that drafted me. I'm happy to be here. And I'm just playing my part.
Q: What does it mean to you to playing with Ron Artest and Lamar Odom, guys from your neighborhood?
DE: It's good. Growing up under Ron and LO, it's a good thing. I got to see what they did during their careers as young guys. And now that I'm with them as veterans, it's a great thing.
Q: How well did you know them on personal level growing up?
DE: I knew Lamar since I was about five or six years old. He used to come back. And Ron lives right down the block, so I used to see him all the time when he came back as well.
Q: What is it about that Queensbridge area that brings the best out of guys in basketball?
DE: It's a tough area. Any type of adversity usually, if you push through it, things will happen. So that's why.
Q: The Trevor Ariza comparisons are pretty constant on every level, from how you look to how you play. How do you take that?
DE: Just kinda laugh at it and keep it moving. I'm here to try to win a third championship, so I don't let it bother me.
Q: Do you see any similarities in your games, though?
DE: Yeah. I can see why people say we're similar. We're both guys who get out there on defense, hit open shots and make some plays. So I see why.
Q: There are two ways you can take it. On one hand, he's a good player. On the other, it could feel like people trying to pigeonhole you.
DE: Just like I've been saying. I laugh at it. I'm gonna hear for the rest of the season, especially because we're the same number (3). So I laugh at it, and don't worry about it.
I consider it a great sign Ebanks is so concerned about mastering footwork, which is about fundamentals. Young players blessed with superior athleticism often don't concern themselves with the basics, relying instead on natural gifts. For a rookie way behind the 8 ball when it comes to knowledge and refinement, the temptation to use his athleticism as a short cut to keep up would be understandable. Instead, Ebanks appears smart and/or grounded enough to realize plenty of sick athletes wash out of the NBA because they're not good enough basketball players.
As the kid rightly notes, if fundamentals are good enough for Kobe Bryant, they're probably good enough for him.
I also got a kick out of hearing Ebanks describe the lockdown he played at West Virginia as "that kind of NBA defense." With all sincere respect to the physical Big East, it ain't. But I'm sure Ebanks knows this, and what's more important is the emphasis he places on that side of the ball. He also arrives in L.A. with defensive credentials, which is a good start. Granted, NCAA skills don't always replicate upon hitting the pros. Shannon Brown, for example, was a Big-10 All-Defensive player, but has emerged more solid than outstanding in the NBA. But desire is the first step, and Ebanks clearly possesses it.
And finally, Trevor Ariza is two seasons and two teams removed from the Lakers, but can't seem to pry himself from L.A. conversations. Last season was all about Artest v. Ariza. With that question now shelved, we've now shifted towards comparing the Hornet with his doppelganger. Just as TA didn't appreciate being linked to Ron-Ron, Ebanks seems equally unenthusiastic. In either case, the commonality is a younger player trying to carve out his own identity, which makes the reaction understandable.
Unfortunately for Ebanks, opportunities to make his own name won't emerge as immediately as last season for Artest. For the time being, Ebanks will have to grin and bear it as the comparisons to Westchester High's favorite son persist. But hey, there are worse fates. I'm always linked to Brian, and believe me, there's no pride inherent with that scenario.