There is a popular saying that a series doesn't really begin until the home team loses. History, however, says that when the home team holds serve in the first two games, the series is over. Courtesy of ESPN Stats & Information, teams up 2-0 have won 94.2 percent of any series. Even the Lakers, among the most successful franchises in sports history, have only won 10.5 percent (2-of-19) after falling into this hole. The last successful bucking of the odds required a miracle shot from Derek Fisher (ironically now playing for the squad looking to eliminate the Lakers). That's what ultimately made the inability to close out Game 2 even more painful. A split in Oklahoma wouldn't have put the Lakers in the driver's seat, but an upset at least would have felt somewhat feasible. Instead, a battle uphill from the outset has taken on the feel of K2.
For more thoughts on Game 3, we conducted an instant-message exchange with Royce Young from the True Hoop network's Daily Thunder blog. Below is the transcript.
Andy Kamenetzky: As much as Game 2 was about the Lakers' failure to execute down the stretch, it was also reflective of the Thunder not giving up and remaining opportunistic. How characteristic is that of their nature?
Royce Young: Very. Game 2 Wednesday was extremely similar to Game 1 against Dallas in which OKC came back from a seven-point deficit with a few minutes remaining, capped by a Kevin Durant game winner. The Thunder have made a habit out of those types of wins. They feel like as long as they have time on the clock, they're alive. Which they should, because at any moment Durant, Russell Westbrook or James Harden can go on a burst and get them back in a game.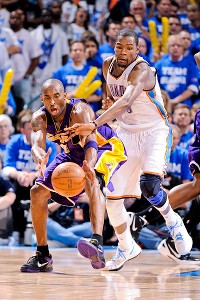 Andrew D. Bernstein/Getty Images
Failure to execute late in the game proved costly for the Lakers.
From the other side, is it like the Lakers to let a lead slip like that?
AK: Unfortunately, yes. Not necessarily at the end of a game, because the Lakers were 10-4 this season in games decided by three points or fewer. But a loss of focus is always a threat to plague them at any moment. All season, this team has suffered inopportune and self-induced lapses. Sometimes, they've resulted in losses. Other times, wins became more complicated than necessary. But either way, the Lakers are a team of bad habits, which makes slippage in the last two minutes not necessarily stunning.
But full disclosure, I was jaw-dropped by this. I just kept staring at the TV with this far-gone look on my face, like Private Pyle during his last scenes in "Full Metal Jacket."
RY: Allow me to be honest, as well: I had given up on the Thunder after Bynum's hook shot went down to make it seven. I just didn't see a way back, not with the way they were executing offensively.
AK: Speaking of execution, you've mentioned before the Thunder's periodic tendencies to go iso-happy and bog the entire offense. Wednesday night felt like one of those nights. Do you agree, and if so, to your eye, what caused it?
RY: I'm not entirely sure the Thunder played all that differently than they did in Game 1, but two things stifled the offense: The pace favored the Lakers, and the shots didn't fall with great regularity. Durant had attempted only eight shots entering the fourth quarter, instead choosing to kick out off his drives. The Lakers adjusted well on Westbrook and forced him into a poor shooting night. And the bailout guy, Harden, wasn't able to get going. That's where that ugly, ugly offense can come from. It's a strange thing, since they're so wildly talented on that end. But sometimes, it just doesn't work. But the Lakers deserve a lot of credit for that.
Brian Kamenetzky: I thought the Lakers' adjustments in the pick-and-roll, with the aggressive trapping and activity from the bigs, frustrated OKC. Coverages were more proactive and consistent, a big change from Game 1. Combine that with the work they did limiting the Thunder's transition opportunities, and it seemed like OKC was frustrated.
RY: And that's the thing with OKC's offense. Frustration is not good. Scoring comes so easy for them that when it gets difficult, they just want to bulldoze through it. Whether it's a forced Westbrook drive that's out of control or a bad Durant pull-up, sometimes OKC just has to tell itself "no."
BK: Except L.A. did all that stuff and still lost! Andy, is there any silver lining?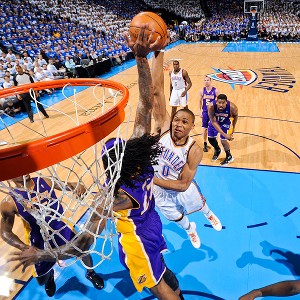 Andrew D. Bernstein/Getty Images
The Lakers did a great job bottling up Westbrook, but needed to do even more to win.
AK: Sure. The Lakers controlled tempo, played outstanding defense against a powerhouse offense, and Bynum continues to score with reasonable efficiency down low. Unfortunately, silver linings aren't good enough when you're the lesser team. The Lakers needed a gold lining, in the form of a win. And the main reason they didn't win, beyond the late-game issues, was their offensive struggles, and that's been a constant in both games. Unfortunately, that seems more likely to continue than holding OKC to the high 70s or low 80s.
I'm not trying to be negative, just honest. It's fantastic the Lakers perhaps solved a few riddles, but down 2-0, that likely does them precious little good in the big picture.
RY: Here's my question looking ahead: Even with Games 3 and 4 being in Staples, the back-to-back favors the Thunder, right?
AK: Absolutely. I think the Lakers seriously risk being swept unless they win Game 3. That's when they'll be (relatively) freshest at home, and OKC is much better equipped to handle consecutive games, between younger legs and lighter playoff mileage. The Lakers also don't want to enter the fourth game trying to avoid both elimination and a sweep in front of their fans. That creates a vibe potentially lousy not just for the players but for the crowd, as well, which could offset the advantage of playing in L.A. The Lakers HAVE to win Game 3.
Then again, road games sometimes bring out the worst in visitors, particularly bench players. How do the OKC reserves generally respond to playing on the road?
RY: Inconsistently. They were extremely helpful in Game 3 against the Mavericks for a big number of points, but that's not a reliable thing. Derek Fisher hit some shots, Daequan Cook can heat up a bit and Nick Collison cleans up garbage. But outside of Harden, the Thunder don't rely much on the bench for huge outputs. And even he had some issues scoring consistently on the road earlier in the season.
BK: In that, they have much in common with the Lakers.
AK: So who wins this thing?
BK: I'm in a strange spot. I don't believe the Lakers will be swept, but at the same time I'm inclined to pick OKC in every game, because they're better. Obviously, I can't have it both ways, so I'll say the Lakers win. In Game 3 last year against Dallas, they played their hindquarters off. I expect a similar effort, with a better result. The series stays interesting a little while longer.
RY: The Lakers, because they so very badly need it. Plus, it fits well into my series prediction of OKC in 5. The Lakers seemed to figure out some necessary things in Game 2, and with the energy of a home arena pushing them, they'll make the plays to finish off the Thunder.
AK: Then it's unanimous. I also had the Thunder in 5, and this was the game I pictured the Lakers winning in a home split. OKC is certainly motivated, but the Lakers are desperate, and sometimes that wins out. I expect that to be the hard-fought case Friday.