Before Saturday's win against the Nuggets, head coach George Karl was asked if he has felt a sense of L.A. becoming more of a "Clipper town." The coach's response hardly painted a city's colors shifting from purple and gold to red, white and blue, but it was nonetheless interesting:
"I saw the game last night and before the game, the place was packed," Karl said. "I hadn't seen that in Laker Land in a long time. I'm talking back to the Forum, probably. The Forum wasn't packed when the Lakers started at the Forum. And I actually said to someone, the Clipper fans are a little [Oakland] Raider-like. A little Raider-like. A little rowdy. A little out there. ... You kind of see a little more blue collar than Hollywood. ... That was the feel on TV."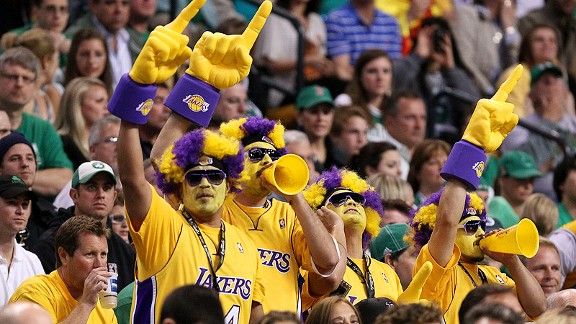 Elsa/Getty Images
When you think of Laker fans, do these fellas come to mind?
Truth be told, there is a bit of a Raider-esque quality to Clippers fans. Not necessarily the most extreme members of the Raider Nation, those cats who always appear on the verge of starting a brawl. (Before any Raider fan gets their spiky shoulder pads in a bunch, if you're not that guy, don't take this depiction personally. But please don't pretend such fans don't exist, because we both know you're lying.) But having attended many a Clipper game, I can attest to that vibe Karl noticed.
Despite decades spent as perennial doormats, Clipper fans are loud, rowdy and mindbogglingly loyal. They seem banded together by outsider status as (this season aside) permanent underdogs, through a communal belief against logic and history. This existence also doesn't lead to rooting with a tail wedged between their legs. On the contrary, Clipper fans wear this reality on their sleeves. Second-lass citizenry is embraced without a hint of apology. There's no affected hipster irony as "justification" for backing the town's B-squad. Nor do the fans laugh at themselves to beat the rest of the basketball-watching world to the punch.
Clipper fans rally around the Clippers because, well, they love their team.
And like Raider fans, this love is offered while acknowledging dysfunction and drama looming around every corner. There's considerably less outward aggression, and I've yet to see anybody at a Clipper game in a Darth Vader mask. But I can see where Clipper fans might see elements of the "Raider" in themselves.
Which got me to wondering, how exactly do Laker fans see themselves?
There are a few prominent stereotypes attached to the Laker fan base, none of which qualify as government secrets:
1) The sports brat reeking of entitlement after 10 championships and 16 Finals appearances between 1980 and 2010 alone. These are fans who don't just consider Dwight Howard in L.A. a matter of "when" rather than "if," but any player on their personal radar as gettable. Why? Because we're the Lakers, and we've seen Shaq land in L.A. at the exact same as Kobe and Kwame Brown turned into Pau Gasol. Thus, matters such a lack of cap space or quality trade assets are considered trivial at best. Ditto a skyrocketing payroll. As the popular saying goes, "Do it, Mitch!"
2) At Staples Center, it's the disaffected celebrities sitting courtside or in the primo sections. (For every Jack, Denzel or Flea, there's a star clearly in his seats to help promote a movie.) Among the non-famous, you've got men decked out in Ed Hardy garb fitted to show off "the guns," sunglasses, and $400 jeans... women dressed to the nines, as if intended to hit a club and made a wrong turn at Figueroa ... and a lot of folks staring at PDAs rather than the hardwood. Worldwide TV audiences have also noticed how it's a crowd typically on the quiet side. I can't say with absolute certainty some patrons feel too "cool" to let loose and risk looking silly, but I've always suspected this as an issue.
Throw in those arriving late because of traffic or leaving early to avoid traffic, and is it any wonder Laker fans have a flaky rep?
3) And finally, you've got the fair-weather types leaping on and off the bandwagon as wins or losses pile up, or getting interested once the playoffs start. And by "playoffs," I mean, "Western Conference finals, or don't bother me."
Do all of these Laker "fans" exist? Of course. They're the same fans every team has, but the Lakers' are as high profile as the NBA offers.
But just like with every team, there are also the unwashed masses and invisible faces. Having worked for years as an L.A. bartender -- often in sports bars -- before embarking on my seventh season hosting Laker blogs, I've interacted with these fans fairly extensively. Thus, I can attest to passion, hardcore dedication and otherworldly anxiety when it comes to the purple and gold.
These are the people who can't afford tickets, but watch each game on whatever TV is available. For some, the same sports bar gets visited for years, always while donning the same "Horry" jersey purchased in 1999. For others, the ones living around the world without regular access to games, they follow the action through the narration provided by in-game chats or Twitter.
They live, die, and panic with every possession, much less each win or loss. They're sweating Jim Buss' steadily increasing influence. They want to know everything possible about a late second-round draft pick, or even a summer league player with absolutely zero chance shot of making the big squad. And a championship means everything in the world, even with so many riches already banked.
In other words, all the stereotypes exist, as well as those shattering expectations.
With that in mind, here's the question perhaps equally simple and complex: If someone asked you to describe the average Laker fan, what would you say? How do Laker fans think of themselves as a base?