With the lockout now ended, we can actually examine questions beyond, "When will we see basketball again?" One topic, of course, is how the Lakers' offense will run under new coach Mike Brown. Since October 2005, we've seen this Lakers core run the triangle under Phil Jackson. Really, that system represents the Lakers' look since October 1999, save a brief period under Rudy Tomjanovich.
It's safe to say the aesthetics under Brown will be different.
How different, you ask?
Well, that's difficult to answer with real certainty. Since July 1, when the lockout began, access to Brown has been limited. When he has been available, league rules have prohibited him from speaking publicly about current players by name. Thus, specific details have been in short supply for quite some time. But we have been offered hints, along with some templates, to stoke our imaginations.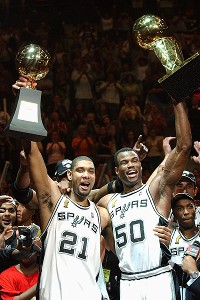 Jesse D. Garrabrant/NBAE/Getty Images
Did Timmy and The Admiral provide the foundation for similar success in L.A.?
During his introductory news conference, which took place before lips were zipped, Brown downplayed the shadow of the triangle. "A lot of people run bits and pieces of the triangle offense," he insisted. "It's just basketball. It's spacing. It's reads. Even Cleveland, we had some bits and pieces of it within our offense." For that matter, he predicted his offense "will have bits and pieces of it that will be incorporated and will be based on the skill set and the comfort level of our players that will determine how much of it will be part of our offense."
Having said that, Brown also added, "We're not gonna run the triangle offense."
So there you have it.
As for what Brown actually will run, a small nugget was introduced that same afternoon:
"A lot that I'm gonna take offensively will stem from the time I was with San Antonio. ... We had two big, skilled 7-footers in Tim Duncan and David Robinson. So we'll do something similar to what they did with a little sprinkle of the triangle offense and a little sprinkle of what I want to bring to the table, also. We'll kinda combine it. But offensively, I think you have to tailor your offense to your personnel. You can't take our offense from team to team to team."
On draft day, amid the Darius Morris/Andrew Goudelock hoopla, Brown expanded these details a bit, offering thoughts on the following:
The role of the point guard in what will presumably be a more traditional offense
"It will be an equal opportunity offense where the 1, the 2 or the 3 can bring the ball up. Because all the smalls are interchangeable. So it's not going to be too much different, because in the past here they had multiple guys, even including Lamar [Odom], bring the ball up. But the one thing we like to emphasize, we like to emphasize attacking the clock. We want to get the ball from the backcourt to the frontcourt within the first four seconds or so, so that we can get to a second, a third and sometimes a fourth option without our backs being up against the shot clock. So we'd like to get the ball up the floor a little quicker than what we've done in the past."
Whether Brown has an idea of how he wants to use Kobe Bryant
"Yes, I do. It fits into what I'm trying to do in our early offense. What I was saying is our early offense is going to be similar to what San Antonio did back when they had the two bigs in David and Tim. Again, there will be some bits and pieces of the triangle involved. But I think the triangle, it's a motion offense for the most part, and a lot of people have bits and pieces of that within their offense. It won't be any different for us, and we'll make sure Kobe's in his comfort zone, or his sweet spots out on the floor."
Do the triangle elements carrying over particularly involve Kobe, how he fits in and how Brown wants to use him
"He can fit in the mix that way. There are some other ideas that I have as to how I'll get him to fit in. But bits and pieces of the triangle, not only for him but for some of the other guys, too. There's a little bit of a comfort zone there, but I have some other ideas of how I'm going to get those guys to get to their sweet spots on the floor to be able to be effective offensively."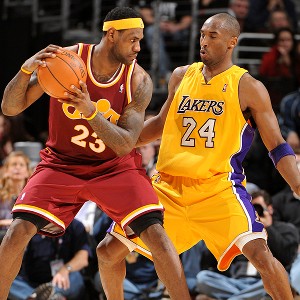 Andrew D. Bernstein/NBAE/Getty Images
What will carry over in Brown's systems from LeBron to Kobe?
The mix for working Kobe on and off the ball
"One hopefully that will keep our opponents off balance. I think he'll be on the ball some. I think he doesn't necessarily have to be a Chris Paul in a pick-and-roll situation, but because he is who he is, he's going to command a lot of attention and draw a double-team whenever he comes off a pick-and-roll. So sometimes he'll be involved in the pick-and-rolls, not only to look for an opportunity to score himself, but to be a facilitator because he's going to draw and attract a lot of attention in situations like that. Then anytime you can have somebody who comes off screens or moves well without the ball, they're harder to double-team, so we'll mix some of those elements in there, too."
Andrew Bynum's desire for a bigger offensive role and whether Brown anticipates creating a pecking order
"It's going to determine itself, with how well guys play. I can't score for any of them. So if they go out and show they can do something, I'm not going to go to Pau [Gasol] if he's having a good night, if he's going for 35, 36, and he's leading us and say, 'No, no no, you've got to slow down and let Kobe pass you.' We're just going to play the game, and our guys are going to play the game the best way to help this team win."
With those details on the table, we dig a little deeper.
NBAPlaybook.com's Sebastian Pruiti is the master of breaking down video. In an effort to visualize what might lie ahead offensively for the Lakers, he created a few offseason posts:
The first broke down several sets from Brown's days in Cleveland, to gauge potential ways Kobe would be used.
The second broke down several sets from the Spurs' 2003 title run, which could provide a template for Bynum, Gasol and Odom.
The third broke down sets from new Lakers assistant/offensive guru Ettore Messina while coaching Real Madrid.
For additional perspective, we conducted a June Q & A with BallinEurope's Os Davis, who blogs overseas action for TrueHoop. A Lakers fanatic to boot, Davis' familiarity with the roster's skill enhances his insights.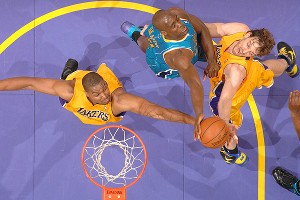 Andrew D. Bernstein/NBAE/Getty Images
How will Brown combine the talents of Gasol and Bynum?
Take a look at all four entries, as the visuals and details provide a nice framework of what the offense at least could look like for the Lakers. From there, I've provided a few thoughts of my own based on issues raised in those posts.
Post entry passes from a big (Pruiti's clip of Brown in Cleveland, re: Kobe)
Pruiti correctly notes the asset Gasol will be at feeding Kobe over the top, and I'd add Odom to that equation. It has been said millions of times, but it's hard to argue any team boasts better frontcourt passing skills than the Lakers. Even Bynum improved over the course of last season, although it's still hard picturing him initiating the offense, much less from this particular starting point.
In any event, no matter how Brown wants the offense to run, count on this to remain a rare luxury.
Lob passes to LeBron/Kobe (Pruiti's clip of Brown in Cleveland, re: Kobe)
These sets look effective in the clip, but there's a catch. While it has demonstrated how Brown could regularly set up Bryant for an alley-oop, the best Lakers player at throwing this pass is Kobe. There's really no close second in terms of guys who have proved themselves effective on a regular basis. So everyone else will have to improve their lobs, or a different 2 or 3 will have to emerge as regular recipient from The Mamba. The No. 1 candidate is probably Devin Ebanks, with No. 2 Matt Barnes, and No. 475 Luke Walton.
Stagger screens (Brown in Cleveland/Kobe)
Honestly, I don't recall the Lakers ever running a staggered set under Jackson. But as the Mavericks proved during the playoffs, it can be awfully effective.
No matter what Brown has in store for the Lakers, you can guarantee he has done a boatload of planning. The man is nothing if not meticulous. Of course, the best laid plans can fall to the wayside without a strong guiding voice. Getting players on the same page wasn't always an easy task for The Zen Master, despite his pedigree. Brown inherits a roster with 17 combined rings, 16 more than he owns, and that jewelry didn't come with him in charge. There are a lot of headstrong personalities at play, and time isn't on Brown's side this season.
Is Brown capable of commanding the necessary respect in a hurry? 48 Minutes of Hell's Andrew McNeill thinks so:
"Not only has Mike Brown dealt with similarities between his time in San Antonio to now in LA -- two legit big men, point guards who can't knock down 3s -- Brown dealt with a variety of egos in his career. LeBron James, Tim Duncan (everybody's got an ego folks, it's just a matter of if it's used as a positive or negative influence), David Robinson, a young Tony Parker. Hell, when the Spurs won the title in 2003, Brown was the one on the coaching staff assigned to Stephen Jackson duty and he lived to tell about it. Brown should be up to the task of handling a Lakers locker room featuring Kobe Bryant, especially if Brown can align himself with Derek Fisher. Where Lakers fans should be concerned is the lack of prep time Brown will get with his team before a shortened season (hopefully) begins. It will be tough for him to implement and teach his system to his new team, but it will be just as difficult to get to know many of the egos he'll be dealing with on a daily basis. That lack of familiarity may be the biggest threat to Brown's chances of successfully navigating this Lakers team back to the Finals."