For any Lakers fan, any NBA finals without the purple and gold is by definition a disappointing series. The Lakers are a franchise that openly cries "championship or bust," and that standard has been enthusiastically adopted by the faithful. Thus, being on the outside looking into a trophy chase always leaves a bitter taste.
However, this particular Finals may really stick in the Laker Nation's craw. The Miami Heat aren't just a super-team distastefully forged, and the Oklahoma City aren't just scary good, scary young and Western conference residents. They both feature foils to the supremacy of Kobe Bryant. LeBron James has long been viewed by Lakers fans as prematurely crowned "King" at Kobe's expense and Dwyane Wade has received favorable Mamba comparisons as well. (That Flash broke Bryant's nose/concussed him during a freakin' All-Star Game doesn't help, either.) In the meantime, Kevin Durant has already lapped Bryant as a scoring machine, but a title could make it impossible to argue, career achievement aside, he hasn't passed Bryant altogether. Thus, either teams basking in championship glory packs a potential double-whammy for Lakers fans.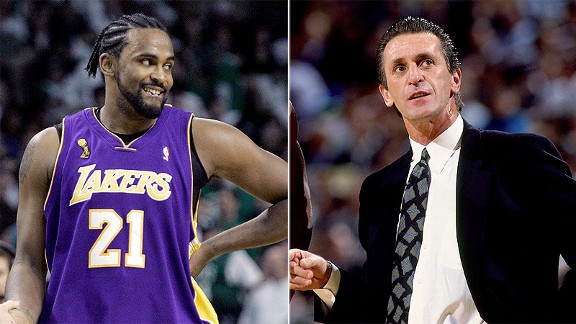 AP Photo, Getty Images
Unless we're talking Smush, once Lakers, always Lakers, right?
Still, from a pure basketball perspective, this should be a massively entertaining series, and I'd hate to see Lakers fans sulk themselves out of any sense of enjoyment. The solution is to tab one team as the lesser of two evils, then root hard against the other. With that in mind, I'm here to help break some ties.
Pros to the Heat Winning
• Ronny Turiaf and Pat Riley, ex-Lakers still held in good esteem amongst the fan base, will get their first and seventh rings respectively.
• Over the last few years, some have questioned James' drive, and whether he's more consumed by his game or brand. Granted, his improved outside shooting and post game have quieted that criticism to some degree. But for those unconvinced, perhaps the championship demons exorcised will result in complacency, along with opportunity knocking for a revamped Laker squad to capitalize.
• Whenever the Heat falter, the rumor mill kicks into overdrive with scenarios bringing Dwight Howard to South Beach. Obviously, all gossip must be treated with a grain of salt, but it stands to reason a title decreases the odds of Miami dealing for Superman, which keeps hope alive for an L.A. landing.
• Realistically speaking, the odds favor this bunch winning one title. I mean, let's just be honest. So if they are destined to break through, it might as well happen during an "asterisk" season, right? With any luck, that will be the only "Heatle" title, and their time together will carry as little gravitas as possible.
• For that matter, they Heat would also win without having to go through either Derrick Rose and Dwight Howard in the East. Let the discrediting process begin!
• Despite logging just 83 minutes in the regular season and (likely) none in the postseason, Eddy Curry will get a ring, making Kwame Brown the lone member of the Brown-Curry-Tyson Chandler "straight from high school into the 2001 NBA lottery" trio without a championship. And Laker fans never tire of jokes at Kwame's expense.
• The Heat knocked Boston out of the playoffs the last two seasons, which didn't just allow Lakers fans to rejoice, but also prevented the Pierce-KG-Allen Celts from tying or even besting the title count of the Kobe-Gasol Lakers. The enemy of my enemy is my friend, as the old saying goes.
• South Beach + June weather + championship parade = wall-to-wall eye candy. And this celebration will be televised. I'm just sayin'.
Cons to the Heat winning
• It's too soon for these guys to break through. Granted, for many basketball fans, "too soon" and "at all" are synonymous when it comes to LeBron, Wade and Chris Bosh lifting the O'Brien. But others could eventually reconcile these guys getting some hardware... after a few more seasons removed from "The Decision" and "Not one, not two, not three.."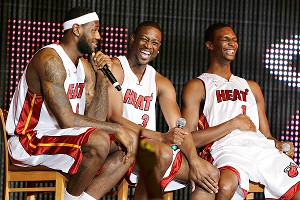 AP Photo/Lynn Sladky
#NeverForget
• Along those lines, "not one, not two..." is the punchline setup that keeps on giving. I don't picture the peanut gallery letting this go without a fight.
• With a second ring, Wade still trails Kobe Bryant by a sizable margin as the post-Michael Jordan two-guard standard. However, he'll inch that much closer, and even at the age of 30, has an opportunity to rip off a run and gain proximity to 24 that's a little close for most Lakers fans' comfort.
• Seeing tears flow through the frames of LBJ's and Wade's lens-free glasses would be a pretty hilarious visual.
• Fans who actually require a tutorial on how to be fans should never be rewarded with a title.
Pros to the Thunder winning
• There's solace found in being taken out by the eventual champions.
• Ancient (Kendrick Perkins) and recent (James Harden) history aside, Lakers fans don't really have an organic reason to dislike the Thunder. Aside from being fun as hell to watch, there may be no young superstar closer to Kobe than Durant in the way he lives, breathes, and sleeps basketball. And like Russell Westbrook, he ain't much of a talker, on or away from the court. And down the line, who's really tough to stomach? Does anybody really "hate" Thabo Sefalosha? Serge Ibaka? That dastardly Nick Collison?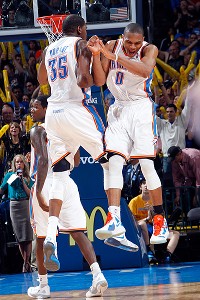 Win McNamee/Getty Images
These guys aren't too bad, all things considered.
From a personality perspective, there are worse pills to swallow. These guys don't exactly go out of their way to rub folks the wrong way.
• Derek Fisher would nab another ring, and while six does best five, as discussed in a recent podcast, there's absolutely no reason for Kobe fans to begrudge this. Only the most literal-minded fools would actually claim this somehow gives Fish the edge on a career. I mean, c'mon. In the meantime, Fish didn't wanna leave the Lakers in the first place and Besties with the Mamba. Kobe's competitive nature may be absurd, even borderline unhealthy, but I'm guessing even he'd be pretty happy for Fisher when it's all said and done.
• If Fish hits a few of his customary big shots to secure that championship, perhaps it'll help dissuade the Buss family from future moves dictated by salary concerns. (Fisher's trade wasn't necessarily a money move first, but the shed salary certainly didn't rank last among the reasons he was shipped to Houston.)
• Either way, OKC winning it all further reinforces the urgency for serious moves. Miami could be a tough opponent for years to come in the Finals, but unless the Lakers can reach the Finals, does it really matter?
• All joking aside, these guys are too young and too talented to keep away from the winner's circle forever. Might as well rip off the band-aid and get at least one coronation over with.
• Gun to their heads and forced to pick a recipient for Kobe's proverbial "torch," I imagine the overwhelming majority of Lakers fans would choose Durant over LeBron.
Cons to the Thunder winning
• These are some pretty confident cats with no tangible proof of being capable of winning a title. Armed with tangible proof, their psyche becomes near impossible to rattle.
• I'll agree to disagree about Harden having "provoked" or "deserved" the MWP elbow (as some Lakers fans maintain), but there's no question dude ain't above flopping. And floppers don't deserve championships. (Unless they're named "Derek" or "Fisher," of course.)
• Save perhaps money (Harden and Ibaka are still under rookie deals), there's absolutely nothing standing in the way of this core dominating the league for years to come. Unless, of course, they blow the Finals, and Sam Presti very uncharacteristically hits the panic button. Granted, losing itself won't be enough. An epic meltdown would be required. We're talking on-court screaming matches! Locker room fistfights! Twitter accounts hacked! But hey, we saw more or less the same behavior from Kobe and Shaq, and they were literally winning titles at the time. Here's to hoping.
• Perkins becomes a two-time NBA champion.
• A title might help the box office prospects of "Thunderstruck," KD's upcoming "Like Mike" meets "Big" project. As an admitted film snob, movies like these must be stopped.
• Royal Ivey has already gotten all the breaks, given how Jay-Z and Beyonce are his parents, family money... oh, wait! I'm thinking of Blue Ivy. Forget it.
• Kobe already conceded the scoring title to Durant by sitting out the last regular season game. Taking away a title on top of that is a rude way of saying "thanks."