On the first day, (the Hypothetical Basketball Trade) God(s) created Andrew Bynum for Jason Kidd. Next, Bynum for Jermaine O'Neal. Then Bynum for Kevin Garnett.
During the 2009-10 season, H.B.T.G. created Bynum for Chris Bosh.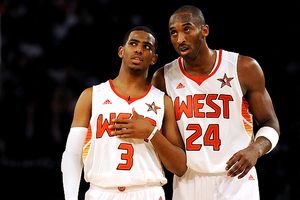 Ronald Martinez/Getty Images
Chris Paul and Kobe Bryant have been teammates on the All-Star team... could they be the same with the Lakers?
Wednesday, he created Bynum for Chris Paul, and he said "Ooooh, this could be good... or at the very least should keep the bloggers busy."
Ken Berger of CBS Sports.com reports CP3, frustrated with his team's direction and inspired by the formation of Miami's SuperTeam has, through members of his inner circle, informed the Hornets of his desire to be traded before the start of the season. Paul, Berger writes, names three preferred destinations: New York, Orlando, and-- wait for it-- the Lakers. Since he's unquestionably their most viable trade commodity, any deal sending Paul to L.A. would almost assuredly send Bynum to the bayou.
I could mention here how unlikely it is to actually happen, but what's the fun in that? It's summertime. Feel free to fire up your speculation machines.
Andy and I had a chance to speak with Berger on Wednesday night, sitting in with A Martinez on 710 ESPN's Martinez and Long Show. Berger does a great job mapping the landscape of the situation, based both on what he's hearing and his analysis. Among the most salient points for Lakers fans:
The Hornets, with a new coach (Monty Williams) and GM (Dell Demps), will try and sell Paul on a new course in New Orleans before any deal is made, only pulling the trigger if it's clear they have to. Paul can't become a free agent until after the 2011-12 season.

New Orleans probably would insist any team getting Paul would have to take on center Emeka Okafor, owed about $50 million over the next four seasons. Adding Okafor to any deal makes things more complicated for the Lakers, thanks to the salary cap rules governing trades (among other issues).

Berger says he believes the Knicks are well positioned to make something happen, more so than L.A.
The details of whether or not the Lakers could make such a deal happen, though, are secondary to a more fundamental question:
Is this a good idea?
I have a well documented man-crush on Paul. I think he's an incredible player with fantastic skills, remarkable internal motivation, and a tangible nasty streak all the greats possess. (Off the court, he's a well-spoken, community oriented guy, always a nice touch.) He's capable of controlling games as much as any player in the league. Plus, Paul is 25 years old. Still a pup. In a vacuum, a Bynum-for-Paul swap has serious appeal. Except we don't live in one of those, because the suction demands too many compromises in lifestyle.
The Lakers are coming off consecutive titles, three straight trips to the Finals, and will be heavily favored next season to reach a fourth. Clearly they're on to something down in El Segundo. Even if Paul seems like an obvious upgrade, is it worth messing with what obviously works?
The questions raised by the possibility of Paul in L.A. are almost dizzying:
On its face, the fit isn't great. How do the Lakers adjust their offense to accommodate him? I think Kobe would accept working off the ball if CP3 was his point guard, but what exactly would that look like? (If Kobe doesn't, there's absolutely no point in making the deal, since leaving Paul off the ball for any significant time is a total waste.)

Do the Lakers change the system entirely? Not that Paul can't run the triangle, but he's an awful lot of point guard for the offense. On the other hand, Phil Jackson has never had a guy like Paul at his disposal, and would surely appreciate the challenge.

On the other other hand, Jackson indicated earlier in the month this would likely be his last season. Even if Paul isn't a great fit now, he might be in two years... assuming Jackson does indeed retire, which isn't an iron-clad certainty.

Would the Lakers be willing to absorb Okafor as the price for getting Paul?

Even taking into account positional scarcity, Paul is a better player than Bynum, but trading Bynum, even if replaced with Okafor, fundamentally changes what makes the Lakers unique: The ability to trot out an incredibly skilled, multi-faceted frontcourt of Bynum, Pau Gasol, and Lamar Odom. Okafor is a good shot-blocker and rebounder but has limited skills offensively and would be a terrible fit in an offense valuing versatility and ball movement.

Assuming Okafor (set to make over $11 million next season) is part of the deal and the Lakers can't involve a third team, who else goes to New Orleans? Can't imagine the Hornets taking Luke Walton. Sasha Vujacic's expiring deal... and what else? If it's Bynum and Lamar Odom (less a financial burden than Okafor) are the Lakers giving away too much frontcourt depth? Trade Machine doesn't think so. Do you trust Trade Machine?

Unless the Hornets can be sold magic beans, there's almost no way the Lakers wouldn't emerge a fundamentally altered team. Altered for the better? Perhaps, but it's hard to be much better than two-time champs.

Does it matter what Bynum does for the lineup when he can't reliably expected to be in it?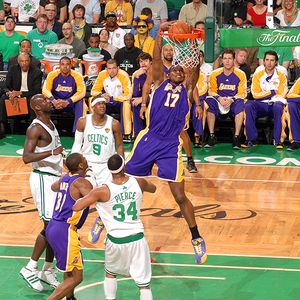 Andrew D. Bernstein/NBAE/Getty Images
Another day, another trade rumor involving Andrew Bynum.
Andy, A and I took nearly three hours of calls on a hypothetical Bynum-for-Paul deal, and honestly I was surprised at the even split of opinion. Many fans pounded their "Mitch, do it!" buttons, while others didn't want to upset the apple cart, even for fruit as shiny as Paul. It's impossible not to dream of the possibilities presented in matching Paul with players as skilled as Bryant and Gasol. Simply running the pick and roll, L.A. would have a series of almost un-defendable options. A 1-2 P and R with Paul and Kobe. Paul with Gasol. Kobe with Gasol. How do you stop that? Obviously Paul would give the Lakers a star around which they can build as Kobe's load needs lightening (it'll happen one day, I swear). Certainly Paul only increases the team's competitive fire.
Increasingly, it's a point guard's league, and CP3 is arguably the NBA's best.
In the end, I doubt any of this will actually come to fruition. Engineering trades of high-salaried superstars in the NBA is an enormous and intricate undertaking. Generally, they fail to happen. Set that aside for a moment. More than most, this one really tickles the imagination, but isn't an easy call. I'm a big believer that the enemy of good is better, that it's much easier to damage a title team with bold moves than improve one, and that the accumulation of All-Stars doesn't necessarily mean the accumulation of titles. Nor do I think the Lakers should be particularly concerned at this point about securing their post-Kobe future. The goal is to win right now, next year and for the two or three following.
Would Chris Paul make the Lakers a better team now?
Does adding a top-five caliber, future Hall of Famer ever make a team worse? As of Wednesday night at 11:30 p.m. PT, I'd sure be interested to find out. I just don't know for sure if it's because I'm convinced the move would truly improve the team/is worth whatever risk, or if I'm just curious to see it would look like.