Depending on who you ask, the Lakers lost a lot of intangible stuff in the wake of Saturday's Christmas anti-miracle. Gravitas, confidence, and pride, just to name a few.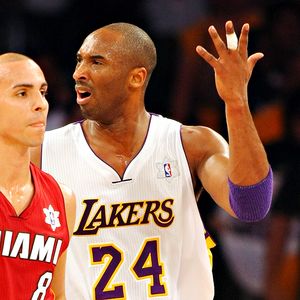 Victor Decolongon/Getty Images
"Wait, we're HOW many games behind San Antonio? Now I'm really ticked."
But as I noted heading in, the Lakers faced real, practical consequences from continued spotty play (beyond prompting Kobe Bryant to stick a boot in places boots don't comfortably fit). During their consecutive title runs, the team reached Christmas with a lead in the Western Conference. Now, after peeling themselves off the Staples floor following the Miami game, despite playing by far the NBA's easiest schedule the Lakers found themselves not just outside the W.C.'s top spot (five back of San Antonio), but the second as well (three behind Dallas), and in a dead heat with Utah for third (with Oklahoma City a scant half game behind).
As a result, Tuesday's game is, particularly by late December standards, pretty massive. Should the Lakers fall six games back of the Spurs, given the difficulty of their remaining schedule* and the quality displayed by San Antonio this season, it would probably take some sort of backslide from the current conference leaders for L.A. to earn a number one seed come playoff time. Simply playing better, which I think they will, isn't likely to be enough.
The Lakers haven't entered a playoff series without home court advantage in two seasons. Only once during the three Finals runs did they open on the road. Go ask the Celtics how '08 turned out. Drawing a straight line from the lack of home court to losing that series, or from that Lakers team to this year's group, is a mistake, but history says unless they climb out the hole in which they've placed themselves it could make a major difference this spring.
Via ESPN Stats and Information:
SERIES WON BY TEAM WITH HOME-COURT ADVANTAGE, since 1983-84 (when the NBA went to a 16-team format)
First Round: 166-50 (.769)
Conference Semifinals: 85-23 (.787)
Conference Finals: 37-17 (.685)
NBA Finals: 21-6 (.778)
Clearly there's a significant link between success and the home court advantage in the NBA playoffs. Not surprisingly, the same principles extend to seeding, as well.
Western Conference Postseason Series Win/Loss By Seed, Since 1983-84
1 Seed: 72-19 (.791, eight NBA titles)
2 Seed: 41-24 (.631, three titles)
3 Seed: 40-25 (.615, two titles)
4 Seed: 15-27 (.357, no titles)
5 Seed: 17-27 (.386, no titles)
I will not scare Lakers fans by revealing the numbers for teams landing lower than fifth because a) it's mean, and b) should the Lakers actually dive that far, we've all got bigger problems.
None of the figures preclude the Lakers from reaching a fourth straight Finals or winning a third consecutive title starting from a seed south of the top. It has been done before, more than once, and can be done again. During the consecutive title marches, L.A. has been a great postseason road team, closing series last year in Oklahoma City, Utah, and Phoenix, and the season before in Denver and Orlando.
But great is a step below dominant, which is what they've been at home: 11-1 last year, 10-2 during the '09 run.
There will be plenty of time to debate what all of this stuff could mean going forward, but it seems clear the Lakers have very likely changed the context of this season in a dramatic way, even with 52 games left on the schedule. Whether they come from behind to earn the W.C.'s best record or enter the playoffs lower down the ladder, the process of winning a third title, for reasons going beyond issues of complacency touched on by Bryant, Lamar Odom, and others Saturday afternoon, is set to be much, much more difficult than the pair coming before.
*Of their remaining 52 games, 34 are against teams either in, or legitimately contending for, playoff spots. By comparison, over their first 30, the Lakers have faced approximately 10 such squads.