"A slice of paper . . . A crepe . . . The walls of a cheap motel . . . Shia LaBeouf's on-screen appeal . . . The 2011 class of free agent point guards."
"I know, I know! Things that are thin!"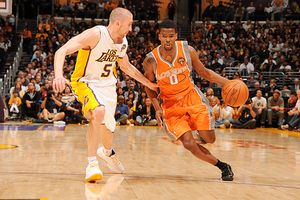 Andrew D. Bernstein/NBAE/Getty Images
Want to see Aaron Brooks in a Lakers uni next year? Buy NBA2K and make a trade with the Suns.
Such is the landscape as we begin our look at potential additions for the Lakers available on the off-season market. That the point is their greatest positional need as measured by on-court production last season doesn't change the reality: It's highly unlikely free agency will do much for the Lakers other than maybe -- maybe -- improving their depth. There are some potentially serviceable players available, but few who elevate the position substantially or add clarity to the current Derek Fisher/Steve Blake rotation.
Here's how it breaks down:
THE CREAM OF THE CROP
Rodney Stuckey (restricted free agent, Detroit)

Aaron Brooks (restricted free agent, Phoenix)
The Pistons have already made a qualifying offer of nearly $4 million for Stuckey. While he's a bad perimeter shooter, he's a big (6'5") combo guard who loves attacking the basket, can defend, and improved his assist rates last year. Is he really a point guard? Probably not, but at 25 years old he's rich with youth and talent. Lakers fans hyperventilate at the site of Brooks, whose career scoring average in 11 games against the purple and gold (17.1) is about five points higher than his numbers against everyone else. Brooks isn't a great outside shooter and his distribution skills are still improving, but man alive the guy is quick, and clearly talented. Just as Detroit did with Stuckey, Phoenix has extended Brooks a qualifying offer, meaning both can match any offer made by another team.
Would either fit well with the Lakers? Doesn't matter. Put these players out of your mind. Neither is likely going anywhere, certainly not for what the Lakers will be able to offer (a mid-level exception, assuming in the new CBA it exists in some form). Short of Jedi mind tricks -- "These aren't the point guards you're looking for, Joe Dumars and Lon Babby..." -- there's very little Mitch Kupchak can do to "make it happen."
So as Obi-Wan told those storm troopers, "Move along."
PLAYERS WHO IN ANY OTHER SUMMER WOULD BE MIDDLE ROAD OPTIONS BUT THIS YEAR ARE ALMOST CERTAIN TO BE OVERPAID THANKS TO SCARCITY AND HIGH PROFILE POSTSEASON SUCCESSES
J.J. Barea (unrestricted free agent, Dallas)

Mario Chalmers (restricted free agent, Miami)
Lakers fans who didn't have a respect for, or perhaps even knowledge of, Barea going into the postseason certainly do after he eviscerated L.A. in the playoffs. Barea is excellent at getting into the paint, is effective in the screen-and-roll, set a career high in assist percentage, and last year was far better around the rim than in previous seasons. Barea's playoff performance wasn't a mirage (he played well during the regular season, as well) but he notably raised his game a great deal in the playoffs, with a PER well above his season and career norms. Maybe that means he's a super-clutch springtime dynamo (something belied by the 16 other playoff games played before last season), maybe he got hot at the right time (my vote).
Mark Cuban won't let him get away without a fight, thanks to Barea's contributions to Dallas' title run, his popularity around the city, and because replacing him will be very hard. I suspect he'd match whatever the Lakers would offer, and unless the money is genuinely better somewhere else, there's no compelling reason for Barea to move. Bottom line, though? Barea is very high on the list of guys likely to get overpaid this summer. He's quality, but has limitations on both sides of the floor.
Chalmers had a great Finals after a somewhat nondescript regular season, but on the other hand, how much is the PG supposed to do on a team with Dwyane Wade, LeBron James, and Chris Bosh? Chalmers is young (25), a competent 3-point shooter, and a solid defender. Miami, in a similar boat as the Lakers when it comes to salary limitations, has extended a qualifying offer to Chalmers and likely would match any reasonable offer. Even the somewhat unreasonable ones, perhaps, since they have little depth at the position or cap flexibility to replace him. Depending on how the market plays out, I suppose it's possible L.A. could make an offer Miami would have no choice but to refuse . . . but why do that for Mario Chalmers?
Both guys could help, but aren't very realistic options. Again, move along.
ON THE PLUS SIDE, YOU'VE HEARD OF THESE PEOPLE AND THEY PROBABLY WOULDN'T COST MUCH...
T.J. Ford (unrestricted free agent, Indiana)

Earl Watson (unrestricted free agent, Utah)

Ronnie Price (unrestricted free agent, Utah)

Carlos Arroyo (unrestricted free agent, Boston)

Mike Bibby (unrestricted free agent, Miami)

Sebastian Telfair (unrestricted free agent, Minnesota)
Watson is a scrappy defender who has been linked with the Lakers in the past, but turns the ball over a ton and has little offensive game to speak of. Arroyo was well above his career marks last season as a shooter, and likely would regress to his mean. Not a good thing, since he really doesn't attack the basket much anymore. Decent passer for sure, but can't defend in the least. Those less than impressed by the efficiency of Fisher and Blake will likely find Price's 2010-11 PER of 5.54 uninspiring. Because he's played for five different teams since Portland made him the 13th pick in the '04 draft, it's easy to forget Telfair is only 26. Easier to remember is the fact that he's never played particularly well for any of them and is a sub-40 percent shooter for his career. Bibby just isn't all that good anymore, and even on a Lakers team short on high-end athleticism would still look slow.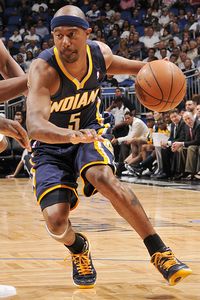 Fernando Medina/NBAE/Getty Images
T.J. Ford is only 28, and was once a high end point guard.
Ford is mildly intriguing, because it wasn't that long ago he was a pretty high level point guard, and while injuries have been a serious question, he's only 28. Last season, Indiana slashed his playing time after acquiring Darren Collison, and Ford by all accounts handled things professionally. His perimeter shooting, always a liability, was a liability once again (19 percent from downtown), and his shot selection has never been great. Still, someone will take a shot on Ford, and could be rewarded with some decent play. Or, he might simply continue descending.
For the right money (i.e. a league minimum), maybe he's worth a flier?
OFF THE BEATEN PATH
Pooh Jeter (unrestricted free agent, Sacramento)

A.J. Price (unrestricted free agent, Indiana)

Ben Uzoh (unrestricted free agent, New Jersey)
Jeter played pretty well in limited minutes for the Kings last season after solid years in Europe, and repeated good showings in Summer League. He's very undersized (5'11") but Jeter has serious quickness, and will work hard with any opportunity he's given. Price isn't a great athlete, and has had a pair of significant knee surgeries, but was productive in his rookie year with the Pacers and sometimes that second year removed from an injury can mean improvement. Is Uzoh any good? I have no idea, but his per-36 minute numbers aren't bad, and at 6'3", 205 has good size.
Will any of these three develop into (or in Price's case, re-establish himself as) solid rotation players? Odds are against it, but given a choice of spending almost nothing on these guys or something near the veteran's minimum for a player like Watson, Telfair, or Arroyo, I'd rather take my chances with these guys.
CONCLUSION
There are other players who fit into these basic categories I didn't mention. (Apologies to the big Sundiata Gaines or Bobby Brown fans out there.) But whether or not I left out your favorite dark horse, what's abundantly clear is how few rotation-quality NBA players are on the market at the point guard position. Among the guys the Lakers can actually get, there's not a lot of value. In a vacuum, throwing in with, say, Ford (just as a "for example") doesn't have all that much downside, except they don't play in a vacuum. The need at point guard might be their highest profile, but the Lakers have others. Rather than devote money and a roster spot to a lesser player, why not try to apply those same resources to a different position where better talent is available for comparable money? Addressing a need simply to say it's been addressed is unlikely to help on the floor and could damage to the team's long-term salary cap health.
In the end, without a trade my guess is the Lakers open 2011-12 with Fisher and Blake, with Darius Morris on the roster in a developmental role. And it's reasonable to believe Blake particularly could bounce back. If the Lakers can improve enough around their existing PG's, they should be ok.