It wasn't easy, but the Lakers have their third straight road win, showing the same sort of grit against the Hornets Wednesday night as they did an evening earlier in Memphis.
Again, it required extra hoops, but again the Lakers prevailed. Not a pretty win, but important nonetheless. Here are six takeaways.
1. The Grizzlies didn't beat the Lakers Tuesday, but nearly managed to do it Wednesday.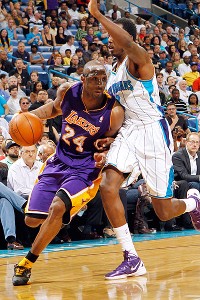 Chris Graythen/Getty Images
Kobe Bryant drove his way to another big night Wednesday in New Orleans.
I don't mean to excuse their first half performance, but taking the floor less than 24 hours after a double OT marathon against the Grizzlies Tuesday night in Memphis clearly had an impact. The Lakers were sluggish, and had a ton of trouble getting their legs under them against the Hornets. They weren't sharp on either side of the floor, evidenced by 12 turnovers in the first 24 minutes and numerous defensive breakdowns.
To their credit, just as it was Tuesday, the Lakers managed to overcome a huge deficit (again, 17 points) for an important win. Unfortunately, it took a lot more energy to get it than hoped.
2. Kobe Bryant remains extremely good at basketball.
33 points, 11-of-11 from the line, five assists, and a pair of steals. The production was outstanding and Bryant attacked the rack throughout the game, but as good as he was, the one number sticking out like neon was 48:38. That would be his workload in New Orleans. A staggering number particularly in light of the 52 minutes Bryant clocked Tuesday night. Forget the whole "For a guy his age" qualifier. For anyone to be that productive playing 100 minutes of basketball in back-to-back games is truly remarkable.
3. The Lakers answered the bell defensively in the third quarter, then down the stretch and in OT.
Early on, New Orleans was hitting shots like they were playing a video game. Jarrett Jack sliced and diced the Lakers whether in the open floor on the half court, hitting his first eight shots, many coming deep in the paint. Meanwhile, his backup Greivis Vasquez nailed all four of his attempts, meaning Hornets PG's were a combined 12-of-13 for 25 points. As a group, New Orleans shot 61.5 percent from the floor. Clearly something had to change in the second half, and it did. L.A.'s closeouts were far more consistent, and the ball pressure was more consistent. Meanwhile, those seams opening up lanes on the pick and roll weren't as wide open. New Orleans was limited to 41 percent shooting in the third, and only scored 18 points, giving the Lakers a chance down the stretch.
In the fourth, the Lakers picked up three straight stops to erase a five point deficit and force OT. In OT, the critical points came on a steal and layup from Metta World Peace, who then blocked Chris Kaman moments later to help ice things. Overall, in 29 minutes of basketball after the half, the Lakers allowed only 47 points and 20 field goals.
4. The Lakers needed their bench, and the bench didn't come through.
Generally speaking, a team's bench isn't expected to play great ball on the road. It's nice when it happens, but can't be counted on. Still, against a 10-win team whose bench currently occupies the starting lineup, the Lakers certainly had an opportunity to shine, and needed to given the minutes piled up by the Big Three in Memphis. Didn't happen. Matt Barnes provided a spark, with 10 points in about 18 minutes, but Steve Blake has more turnovers (2) than field goals (1), and finished with only two points. Two more than Troy Murphy, who played 12 minutes, or Jason Kapono in two. (Side note: The second unit struggles under most circumstances, but needs the ability of Andrew Goudelock to create a shot. Why he he played six minutes on the trip is a mystery to me.)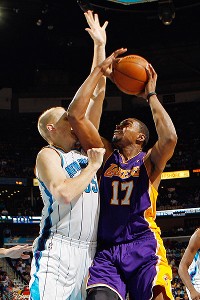 Chris Graythen/Getty Images
Andrew Bynum overcame a slow first half, putting up huge numbers down the stretch.
Blake in particular struggled, missing some good looks, struggling to get the Lakers into their offense, and making mistakes with the ball in transition. Mike Brown had the group on a short leash, for sure, but because they didn't perform well early, the Lakers had to lean on their starters for most of the second half.
5. It wasn't as dynamic as Tuesday's effort, but Andrew Bynum ground out a good line.
He struggled early, but as the game went along Bynum imposed his will on the Hornets. At the half, he had three turnovers against two buckets, but by the end of the game had 25 points and 18 boards, along with four assists and a pair of blocks. Making it more impressive was the effort Bynum showed to get it done. Multiple efforts on misses in the second half. Following shots. Crashing the glass. Huge, huge, huge.
6. Pau Gasol needs again to adjust to Bynum's ascension.
He finished with 18/10/4, but turned the ball over six times, missed 11 of his 18 shots, and after a 10 point first quarter faded into the background. Maybe it's the last days of the deadline messing with his mind, but I think it's probably a matter of Gasol once again having to figure out how to fit in while Bynum is so dominant. To his credit, Gasol doesn't try to stop Drew when he's rolling and he didn't play poorly when it's all said and done (18/10/4 is hardly a disaster), but at the same time Gasol has to find ways to interject himself more aggressively into the game. As it was for most of Tuesday's game, he simply didn't do it. In a season where he's done nothing but adjust, Pau has to do it again or the Lakers won't thrive.
Bold Play of the Game
Down three with 19 seconds left in regulation, Kobe was trying to make space behind the 3-point line along the left wing. Hornets big man Gustavo Ayon came out to defend, and got his hand caught in the cookie jar. Kobe goes to the line for a trio of freebies. All three went down, and Kobe walked away from the line without a shred of emotion. Ice cold, that man. Black Micheal Myers cold.