Selected with the 46th pick in the 2011 NBA Draft, in his first interview with a local press corps unfamiliar with him and his skill set, Andrew Goudelock filled in the blanks. "Unless something happens, unless I gain some kind of disease where I forget how to shoot, I'm gonna keep shooting until the day I die," he said.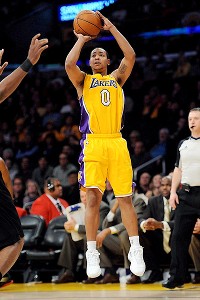 Jayne Kamin-Oncea/US Presswire
Andrew Goudelock surprised many by making the team, and even more by contributing.
Certainly he'd done just that at College of Charleston, where Goudelock averaged 23.7 points a game as a senior, and over four years hit over 40 percent of his 3's. This as an undersized 2-guard. But in the NBA, would he be able to get his shot off? Would he be able to defend guys far bigger than he? (Goudelock is no more his listed 6'3" than I am.)
He addressed that back in June, as well.
"Being competitive on the offensive end also means being competitive on the defensive end. So I'm gonna get better every day," he said. "I'm gonna strap down on defense and if it means I'm gonna have to guard somebody 6'5" or 6'6", I'm gonna have to do that. I'm gonna have to figure it out, just like I figured out everything else."
The last phrase is key. Goudelock carries the shoulder chip of a guy told at every level he wasn't good/big/quick enough to make it, and always found ways to succeed. It's an appealing quality, but nonetheless after the draft a lot was stacked against him. Thanks to the lockout, he couldn't work out at the facility, learn the new system, or gain experience in summer league.
In the end, though, the lockout may have worked in Goudelock's favor, particularly after the Chris Paul trade was nixed by the league. Had it gone through, the Lakers suddenly would have had a full complement of guards -- Paul, Derek Fisher, Steve Blake, and Kobe Bryant -- and no space for him. But it didn't, the Lakers were put in scramble mode. Goudelock showed enough in the truncated preseason to impress Mike Brown and his staff, and voila!
Goudelock was a Laker, and surprisingly enough, the kid came in handy.
STATISTICS
4.4 points per game, 39.1 percent shooting, 37.3 percent 3-point shooting, .8 rebounds, .5 assists in 10.5 minutes over 40 games played.
HIGHLIGHTS
Goudelock hit a pair of triples in the season opener against Chicago, but playing time was hard to come by until Steve Blake suffered a rib injury in December. Pressed into service on a guard-thin team, Goudelock showed he could score at the NBA level, notching 14 points against the Clippers on January 25th, 13 on the 28th in Milwaukee, 12 two days later against Charlotte, and 13 more against the Nuggets on February 3. Goudelock showed confidence from distance, and a willingness to put the ball on the floor to attack, where he'd typically finish with a nifty floater. Still, like most rookies, he was on a short leash, and Goudelock struggled to find minutes as the season went along.
LOWLIGHTS
Not surprisingly, Goudelock struggled defensively, and when asked to play the point as opposed to the 2, had trouble initiating the offense smoothly, and the Lakers lost a lot of possessions. Learning at the NBA level isn't exactly easy, after all. These two issues, along with inexperience, were the big limiting factors on his playing time. He wasn't a turnover machine, but Goudelock struggled to maintain a 1/1 assist-to-TO ratio. In short, there were times he looked a lot like the 46th pick in the draft.
OUTLOOK FOR 2012-13
The Lakers hold a team option on Goudelock for next season, and it certainly wouldn't surprise anyone to see them use it if he's able to show improvement over the summer. He'll certainly need to improve his point guard skills, though at his exit interview Goudelock made it clear he's a 2, and will sink or swim in the NBA as such.
The coaching staff likes him, and the Lakers need young, cheap talent.
GRADE: B
He often looked in over his head this season, but that was to be expected. More importantly, Goudelock showed a knack for scoring, and the ability to create his own shot despite lower than top-shelf athleticism. Basically, he has a knack for it, explaining why Goudelock was unquestionably the bench player fans wanted to get more minutes. Often, I agreed. Overall, it's fair to say he performed pretty well relative to expectations.
Previous 2011-12 report cards: