John Hollinger's first Power Rankings of the season are out, and the 5-2 Heat hold the top spot over the 7-0 Lakers. Explains Hollinger (Insider Required):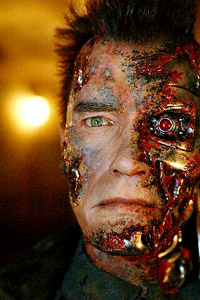 Warner Bros. Pictures
The machines have spoken, and this week put Miami ahead of the Lakers.
"...So how do the Heat outrank the unbeaten Lakers? Well, as I mentioned, the two factors are scoring margin and strength of schedule. Although the scoring margins are nearly identical -- L.A, in fact, has a 0.4-point edge -- Miami has played the more difficult schedule. Heat opponents have a .595 winning percentage when they're not playing the Heat, compared to .524 for Lakers foes. Although it seems odd to place Miami's 5-2 record ahead of L.A.'s 7-0, the Lakers have yet to face a night on their schedule as difficult as Miami's visits to Boston and New Orleans (their two losses), or even the Heat's home date against No. 3 Orlando (a 26-point Miami win). The Lakers' highest-ranked opponent to date is No. 8 Phoenix..."
This will, I'm sure, ruffle a few feathers among the Lakers faithful. Two losses for the Heat, and a perfect record for L.A.? What were Hollinger's computers- and I like to believe he has legions of them, buried deep inside the most secure building in Bristol- thinking? Well, they weren't, which is the point. Don't like the methodology he uses? Find another one, like the SRS ranking at Basketball-Reference, which puts the Lakers above Miami. Or the Sagarin ratings at USA Today which splits the baby in one form or another, but also gives top billing to the Lakers.
Lofty perches atop any of these lists means about as much as leading the Majors in batting two weeks into April, with five and a half months left on the schedule. Less, actually, since at-bats in early in the season actually count towards the batting title, while Power Rankings, human or automated, count towards nothing. It doesn't matter if the Lakers are ahead of Miami, or vice versa. But the big takeaway is that three of the metrics (Hollinger, Basketball Reference, and the more predictive metric at USA Today), put a big gap between Miami and the rest of the league.
Meaning for the time being, at least, it- and you know what it is- may be a lot more than early hype. These are two very, very good teams.