Wednesday night, the Lakers knocked off the Clippers in what was their 19th game of a lockout-shortened 66-game campaign. For those not doing the math at home, one month in the Lakers have already completed 29 percent of their schedule.
A lot of time? No, but by this season's standard not a bad sample size, either.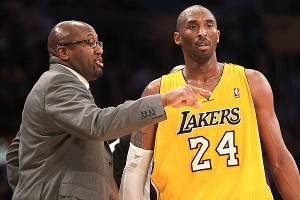 Jayne Kamin-Oncea/US Presswire
Kobe Bryant and Mike Brown have been like peas and carrots.
From a scheduling standpoint, Wednesday also marked a natural dividing line between the home-heavy start and what amounts to a national tour for the purple and gold, as 11 of their next 16 games come away from Staples Center. Put together, it makes for a natural moment to stop and assess what we know about this season's Lakers. When the lockout (tentatively) ended back on Nov. 26, we published a list of 34 questions facing the team this year in the wake of last spring's playoff disaster.
Why 34? Because 20 isn't enough when the league lets you sit around all summer thinking about stuff. Below is that list, each with some answers.
Strap in, people. We've got a lot of ground to cover.
1. Who wins the battle between the well-rested knee of Kobe Bryant (and his ankle, back, finger and general skeletal structure) and a compressed schedule?
Knee? What knee? I thought we were worried about his wrist. (Which, by the way, we're increasingly less worried about.) Meaning 19 games in, the answer is Bryant in a walk. He leads the league in scoring (30.2), a nearly five-point improvement over last season, while maintaining a solid shooting percentage (45 percent). Asked to carry an almost comical burden in the Lakers offense, at least as measured by his league-leading usage rate (35.9), Bryant has been outstanding. And spry. Very, very spry.
Basically, the man is a running, leaping billboard for German medical engineering.
2. Who wins the battle between the well-rested will of Bryant and the authority of Mike Brown?
The relationship between Kobe and Brown has been a success. Bryant has expressed nothing but admiration for his new coach, praising on multiple occasions Brown's work ethic and emphasis on defense, noting the team wants to win for him because they see how much Brown wants to win, too. They know he puts in the work.
Doesn't mean the questions about Bryant's shot selection, balance, or how he's used offensively have stopped, but those would be asked whether the coach was Brown, Phil Jackson, Brian Shaw or Rick Adelman. They are, in sports terms at least, eternal.
To this point, though, one major concern -- Brown's ability to "manage" Kobe, has been a non-issue.
3. What will Brown's system look like, and how quickly will the Lakers be able to pick it up?
Not totally sure, and not very.
In fairness, these are arguably the worst circumstances available for a coach installing and a team learning a new system. No contact for coaches with players in the offseason, a complete joke of a training camp in which new players were added throughout, and a relentless game schedule (18 games in their first 29 days) limiting practice time. Tuesday, the Lakers practiced with contact at full speed.
It was their first such run since the season opened.
As a result, the offense has been developed piecemeal. They've done well getting Kobe to his favorite spots on the floor, but have struggled with other aspects of the flow. Pau Gasol's role is still ill-defined, for example, and Brown's rotations are inconsistent, thanks both to some reflexive tinkering and critical limitations in the roster.
Defensively, the Lakers have adjusted well both to big strategic changes, most notably a more aggressive pick and roll coverage, the bigs, and Brown's attempt to change the team's defensive culture. Last year's slippage is being corrected through Brown's mantra of defense, defense, defense, along with the sting of last year's postseason.
The Lakers have allowed the second-lowest field goal percentage (41.5) and are seventh in defensive efficiency (97.1, a number slipping recently more because of damage done by a sputtering offense). Returns on that side of the ball have been positive.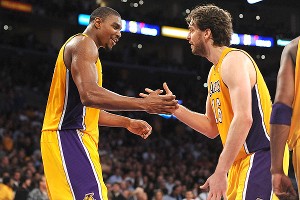 Noah Graham/NBAE/Getty Images
Andrew Bynum and Pau Gasol have had some great moments, but Gasol in particular has had trouble adjusting to Mike Brown.
4. In what frame of mind does Andrew Bynum arrive? Can he, as Kobe said he'd have to, "fall in line"?
Bynum arrived in great shape, and after serving his four-game suspension produced so prodigiously Kobe declared the eating order in L.A.'s scoring buffet had changed, with Bynum moving ahead of Gasol. This was before teams began throwing consistent double teams his way. From there, Drew's numbers have dropped off as he learns to adjust.
Clearly, though, Bynum is highly motivated, and while he'll never be this team's No. 1 option, early returns say he might not have to "fall in line," either. Not as far, at least. More importantly, even on those nights where he's not scoring, Bynum has still rebounded well.
It's hard to complain about 16.1 points, 12.7 rebounds, and 1.9 blocks per game.
5. If Bynum's play outstrips his traditional role in the offense, who loses shots?
In those games when it has happened, Gasol.
6. We think Pau Gasol will be fine. Gasol thinks he'll be fine. But will Gasol be fine?
Still hard to say.
Gasol was great Wednesday against the Clippers, but overall his numbers are down as his role has undergone the greatest level of change. Brown & Co. haven't figured out how best to use him, and with so many players gravitating to the high and low posts (Bryant, Bynum, Metta World Peace) Gasol has been pushed away from the basket. Moreover, because the Lakers lack high-end facilitators beyond Kobe, they've increasingly leaned on Gasol to operate from the elbow, and distribute.
Pau can't simply blame coaching, though. Wednesday's performance underlined ways in which he could have been more aggressive all along, whether by attacking from high on the floor or working faster on the block and not waiting for doubles to arrive. While the talk has focused on low-post touches, what Gasol really wants is a more featured role, with more plays run specifically for him, responsibility to create offense he feels is in line with his skill level, and to have the Lakers play in a way that makes sense for their roster (meaning inside play for Bynum, as well).
He's searching for definition in his role. It's up to Brown to provide it, and then for Gasol to, as they say, walk the walk. The skill level is still there, and as we saw Wednesday, so is the aggressiveness. The latter needs to come more often.
Defensively, Pau has actually been very solid, particularly given the strain of what Brown wants him to do.
7. What happens if Gasol isn't fine?
The Lakers won't win.
8. Given that he's never been a paragon of offseason fitness (save USA Basketball years), what will Lamar Odom look like when camp opens after a long lockout?
Not very good. Moot point, since he was traded to Dallas in the wake of the failed Chris Paul trade.
Of course, since they didn't replace him with anything, Odom's departure left a tank-sized hole in the roster. So there's that.
9. Even if the core remains championship-caliber, the Lakers still have needs, from shooting to backup center to scoring off the bench and beyond. Where does the front office focus its attention in a tiny window for free agency?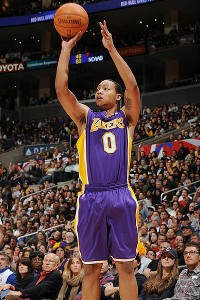 Stephen Dunn/Getty Images
Pressed into service, second-round pick Andrew Goudelock has shown no fear of shooting.
Generally speaking, pretty well. Josh McRoberts was a good use of the mini mid-level, Troy Murphy is $1.3 million well spent, and Jason Kapono made sense as a cheap perimeter shooter. Without any quality options in their price range at point guard, I don't blame Mitch Kupchak for spending elsewhere (and remember, they did trade for CP3).
Of course, none of this can be separated from the decision to trade Odom for, right now, nothing, or not to replace Shannon Brown, leaving Kobe without a backup. Speak of the devil…
10. If Shannon Brown goes, who backs up Kobe at the 2?
Practically speaking, nobody. The Lakers have operated without a legitimate backup shooting guard, and the impact has been substantial. Not just on the bench, but on Kobe's minutes, which are higher than anyone would like.
11. Is Devin Ebanks, who certainly could have used some time in the training facility around the coaching staff this summer, nonetheless capable of being part of the rotation?
Still TBD. Ebanks started the first four games of the season, averaging 5.0 points, shooting 50 percent from the floor, and throwing in 3.3 rebounds in 20.5 minutes. Mike Brown then replaced him in the starting lineup with Matt Barnes, who has absolutely earned the spot.
Since then, Ebanks has basically fallen out of the rotation. Whether he finds time going forward is dependent on World Peace's performance, a spotty proposition, and Brown's willingness to use Ebanks behind Kobe at shooting guard.
12. How much will the incredibly grueling experience of leading the NBPA impact Derek Fisher's performance on the floor?
On the one hand, Fisher has actually been better in some aspects of the half-court offense than I suspected, his assists rising and turnovers generally holding steady. On the other hand, his shooting -- Fisher's main value for the offense -- has been awful.
If he doesn't knock down open perimeter jumpers, as he did against the Clippers Wednesday night, Fisher becomes an even greater drag on an already struggling offense.
Are Fisher's shooting issues related to his work during the lockout? Could be. His offseason routine was obviously thrown off. It could just as easily be a function of age and declining skill.
13. Is Fisher still going to be the starter on a Triangle-less Lakers team? How does Brown handle things if he isn't?
Yes, though Steve Blake was taking a heavier load before his injury, and likely will again after his return.
Minutes are the thing, not who starts. Fisher is going to play, given the alternatives, but there's no reason he has to play "starter's minutes."
14. Can Steve Blake bounce back from his disappointing debut season in purple and gold, in a system with more traditional point guard duties?
Up was really the only way to go, and pre-injury returns were encouraging. Blake's scoring is up (7.3 ppg vs. 4.0), as are his assists (2.8 vs. 2.2). But while he's shooting more (that's good), he's still not shooting well enough (40.2 percent overall, 35.4 percent from 3-point range). He's been better, but the Lakers need more.
15. Enough to start?
Yes, but he won't, which is fine.
16. What happens if he can't?
He's the best point guard they have. If the Lakers are going to rally and make noise this postseason, Blake almost certainly has to at least reach something closer to pre-Lakers career norms.
17. Does a shortened season with more games per week help or hurt the Lakers?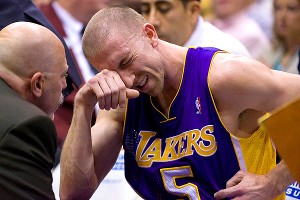 Russ Isabella/US Presswire
Steve Blake's rib injury has caused major problems for the Lakers.
Hurt, but honestly I think the lack of practice time has been a bigger problem than the strain on the legs (which, it should be said, has been a problem). Nineteen games into the season, the Lakers are still, in Fisher's words, "thinking," not playing. Thinking hard, thinking frequently.
As a result the product, particularly offensively, has been choppy.
18. When the trade deadline rolls around, who makes the big decisions for the Lakers: Mitch Kupchak or Jim Buss?
We'll find out, but right now it looks like Buss the Younger.
19. Who does what on Brown's coaching staff?
Far as I can tell (and with a big H/T to Dave McMenamin), Chuck Person, Quin Snyder and Darvin Ham all have teams they scout, and have a lot of interaction with players. Person works on the defense, as well. John Kuester operates the offense. Ettore Messina reviews every game and consults with Brown. Phil Handy works on player development, working out guys before and after practice. Kyle Triggs also does player development, noting he spends so much time in El Segundo he has an air mattress at the office. And uses it. A lot.
20. Untethered from the Triangle, does Metta World Peace's performance offensively improve, or was the system not the problem?
I think it's fair to say the system was not the problem.
21. Who makes 3-pointers on this team?
In theory: Fisher, Blake, Kapono, Murphy, Barnes, Bryant.
In practice: Nobody.
Even after a particularly robust 8-for-16 night against the Clippers, the Lakers are shooting 27 percent from downtown, 29th in the NBA. Among players with over 15 attempts, Kapono, Barnes, and Bryant are all under 30 percent. Fisher was before going 3-of-3 Wednesday (he's at 30.3), and World Peace is at 15.8 (6-for-38).
It's gotten so bad, I hear the local bricklayers union is hitting them up for dues. (Rimshot!)
22. How much help do the Lakers need on the wing? Can the World Peace/Barnes combination (in those times Kobe isn't at the 3) get the job done?
For the record, it should now be called the Barnes/World Peace combination.
Measured against last season's efficiency differential, the Lakers have been better at the 3. Barnes has for the most part given them solid levels of production since moving into the starting lineup. His off-ball movement and activity is vital for a team prone to frequent attacks of stillness offensively. Still, the position has suffered thanks to MWP's near total lack of output. A promising start gave way to a prolonged slump, and not surprisingly, when World Peace went downhill, so did the bench as a whole.
His numbers are miserable, but the last two games have shown at least a glimmer of hope. Against the Pacers Sunday, World Peace scored 11 points, only two fewer than his total output over the previous six games. Wednesday night against the Clippers, he was awesome (three points, five boards, seven dimes, two steals, a block, a +20 on/off rating, and countless moments of intimidation), playing easily his best game of this season and arguably his best since the '09-'10 campaign.
Brown said afterward he believes MWP, overweight when camp opened, might be rounding into form physically. He'd better be, because for the Lakers to succeed World Peace must be an asset.
23. Does Andrew Goudelock have a legitimate shot to make the team? Will there be space for Derrick Caracter?
Both made the 15-man roster out of camp, though Caracter is yet to appear in a game thanks to a knee injury.
Brown took a shine to Goudelock early in training camp, though his spot on the roster was likely sealed more by L.A.'s guard-thin roster than great play. Either way, necessity has earned him spot minutes. Big picture, he's overmatched, and in an ideal world would be playing with the D-Fenders or during garbage time.
That said, at the very least Goudelock has shown he's not afraid. When he plays, he aims to do what he does: Create points. In his successful moments -- Wednesday's 14-point outburst against the Clippers being the best example -- he shows the 3-point range that made him attractive coming out of college as well as willingness to put the ball on the floor and penetrate.
He's a classic "can't play at this level" type who has likely heard it at each of the last four or five levels he's played and found success anyway. Hopefully the Lakers won't need much from him this season, but long term there is potential and Goudelock's a good kid to pull for.
24. Darius Morris surely will have a roster spot, but is there any chance he can contribute, even a smidge?
Blake's injury has forced Morris into important minutes, and like Goudelock is generally and understandably in over his head. Statistically, the Lakers have suffered with him on the floor, something unlikely to change anytime soon (and explaining why for now at least, Goudelock will get his minutes). Still, his length and athleticism stands in stark contrast to L.A.'s other options at the point, and Morris aesthetically plays like a classic 1.
Down the road, Morris could be important. That said ... hurry back, Steve Blake.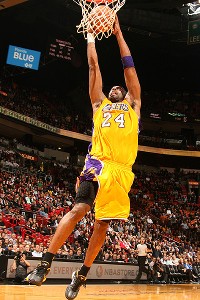 Issac Baldizon/Getty Images
Spry as he may be, through 19 games, Kobe Bryant has piled up minutes at a dangerous rate.
25. Given the increased importance of every game in a 66-game season relative to the normal 82, how do the Lakers measure minutes for their veterans, Bryant and Gasol in particular?
They haven't. Among the larger concerns for the Lakers are high minute totals for Bryant (see below) and Gasol, averaging over 39 minutes in his last 10 games.
Because the rest of the roster is thin, made thinner by periodic injury issues, Brown has leaned more on his stars. The Lakers have to find more production deeper in the rotation, or the top end of the talent pyramid could erode as the season marches on. If that happens, the Lakers are truly cooked.
26. Who are the most viable contenders in the Western Conference, and which ones pose the biggest problems for the Lakers specifically?
As expected, Oklahoma City is the cream of the W.C. crop, and behind them the Lakers fit into a clump of teams all spaced by a couple games in the standings. Denver has been great, aided not by stars but high-end depth. Even without Manu Ginobili, the Spurs have continued winning, as have the Grizzlies despite an injury to Zach Randolph. Dallas is recovering well from a terrible start, the Jazz have surprised, and Portland is right there, too. As are the Clippers, of course.
The formula for hurting the Lakers hasn't changed much. Teams that are able to push pace effectively, can use athleticism to their advantage, and have the ability to, as often as possible, guard Kobe without constant doubles all match up well. Along those lines, the Thunder and Nuggets are very dangerous.
27. To what degree were L.A.'s problems last season based on fatigue and the burden of working toward a fourth straight Finals?
It was a huge factor. There's a reason teams virtually never do it. It's just too much of a mental and physical grind.
28. How much was coaching?
Without a doubt, it was not Jackson's finest season, and this year Brown (albeit with the benefit of a more motivated roster) has done well adding a level of accountability, particularly defensively, that was slipping last year.
29. How much reflected shortcomings in the roster?
A lot, something confirmed by the first 19 games this season because so many of last year's flaws still linger. The team isn't shooting well from the perimeter, and point guard play is still a big problem game to game. This year, though, the loss of Odom has made inconsistencies in the bench even worse. Overall the crop of guys Brown has at his disposal are more limited, in part because the Lakers lack the skill sets necessary to help use them properly.
Meanwhile, it looks like any efforts to fill their holes are on hold until the Dwight Howard thing plays out.
30. Does a compressed schedule throw a wrench in Kobe's plans to practice more relative to the last few seasons?
No, not really. Even with the wrist problem, he's been able to get on the floor far more than in the last few seasons…
31. How much will the schedule allow the team to practice?
…but it doesn't really matter because the team hasn't been practicing. Tuesday marked the first full-speed off-day run since the start of the season. Fortunately, things even out a little going forward. A few extra off days will allow the Lakers more rehearsal time, something they hope translates into better execution on the floor.
32. While Kobe's minutes and shots per game were down last year, his shots per minute and usage rates were up. Does that continue this year?
Oh yeah. This year, in fact, everything is up. Usage rate, shots per minute, assists per minute, and most importantly, minutes per minute. Bryant is averaging over four more minutes per game this season over last, and the workload is going up.
In five December games, Kobe played more than 36 minutes once, averaging 34.4. In 14 games this month, his low for minutes is 36, and six times he's been over 40, including five of their last eight.
This may be impressive, but it's not a constructive development for the Lakers.
33. Is there even a small possibility that Luke Walton is healthy enough to contribute?
His health has improved, and while Walton won't (and shouldn't) get a regular spot in the rotation, he has at least shown the ability to step on the floor and make contributions under the right circumstances. Not enough to justify the salary, but better than a year ago.
34. Even if he is, does he have a role in a non-Triangle system?
Thus far, only as a "break glass in case of emergency" option up front.