In anticipation of tonight's chance to recreate a new Pau-centric winning streak, I participated in a blog exchange with Sam Holako of the True Hoop Network's Raptors Republic. Check out what he had to say about dudes like Chris Bosh, Hedo Turkoglu, and Andrea Bargnani.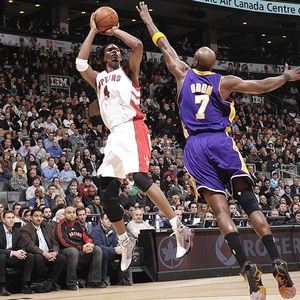 Ron Turenne/NBAE via Getty Images
Chris Bosh will be the focal point of Toronto's attack.
Andy Kamenetzky: Chris Bosh's timing was off during the loss to Philadelphia after returning from injury. How difficult will it be for him to get back in the groove? Is he typically quick or slow to round back into form after missing games?
Sam Holako: I am not worried about Chris getting back into game shape quickly at all. Historically he has missed games every season with a knee injury, but last summer he put on 15 lbs of muscle in a serious work out regimen meant to allow him to avoid certain types of injuries (knee) and be able to get back to form quickly in the event he misses time. He should be a handful tonight for the Lakers.
AK: I read one report Hedo Turkoglu is expected to play against the Lakers. Assuming that's correct, what do you make of his season so far? Was too much expected, or is he (at least according to conventional wisdom) legitimately playing poorly?
SH: His season has been a big disappointment, there are no two ways about it. Expectations for some (I guess you don't hand out 5yr/$50mil contracts if you aren't expecting anything) were high, but he has also not performed up to par. Some of that has to do with his usage by Jay Triano (Raptors coach), and some of that has to do with the type of player he is; a point forward who needs the ball in his hands to be effective. When you consider both our point guards also need the ball to be effective, things get interesting. Interestingly, the Raptors are 4-2 when Hedo has been out with injury. Not saying they are a better team without him, but they are a definitely a different team.
AK: The Raps have dropped 6 of their last ten and The Toronto Star recently wrote about a lack of urgency as they fight to stay in the playoff race. Is focus a problem for this team, especially on the road? Has the "Will he stay or will he go?" situation with Bosh become a distraction?
SH: Bosh's pending free agency is not affecting this team at all. When it gets down to it, the Raptors are a .500 team at best. They don't have the type of talent that comes and fights every game. We are a jump shooting team, and when they don't fall, things get very hard for us. It also didn't help that Bosh was absent for 5 of those 6 games (all losses); had he been around, things would be mighty different.
AK: The Raps give up 105.4 ppg (4th worst in the league) and whether you're talking opponent percentage from the field, the three point line or trips allowed to the line, Toronto ranks in the NBA's lower third. Why do they struggle so much defensively?
Some of the problems are systematic in the approach to defense; for example we switch on every single screen, without fail, and the mismatches get exploited regularly. The rest are personnel; Antoine Wright and Amir Johnson are our 2 of the 3 best defensive players, and they play about 16 min a night each. Bosh is our best defensive player, and he is a solid team defender, but when no one rotates to pick up his man in the low post when he comes over to help, he gets hung out to dry. Our point guards and wings don't play lock down defense, and when they get beat off the dribble, it's mostly through the paint which opens up the floor for almost any type of shot the opposing team can want...
I'm getting depressed.
AK: Is there an "X Factor" Rap, in your opinion?
SH: For me it's Andrea Bargnani; he's 7 feet and can shoot the ball from anywhere. It seems as though he needs Bosh in the low post to give him a couple more inches of room to operate. During the last 8 games (7 without Bosh), his averages were down to 14.8pts 4.8rebs and shooting 44.3% from the field. Those aren't the numbers of someone who would become the #1 option if Chris Bosh leaves this summer (which he wont, he will be a Raptor come opening day next season, book it).
-Interesting stuff, particularly Holako's assessment of Bosh as the Rap's best defender, which certainly doesn't jive with Bosh's average rep. It could be a matter of being measured against a sliding scale of sieves, but whether matched against Andrew Bynum, Pau Gasol, or Odom -and he'll likely spend time against all three- I'm curious to watch his lockdown.
-I'm also predicting rookie shooting guard DeMar DeRozan is in for a brutal night. Young players often get too geeked playing their hometown and the Compton native has been struggling over the last month and change as it is. Brandon Jennings couldn't hit a shot to save his life against the Lakers in L.A. We'll see if DeRozan, excited to be in town, fares better.
ADDITIONAL PREVIEW MATERIAL
-Here are some Lakers-centric Q's I answered for Holako, with topics ranging from Artest-Ariza, Antawn Jamison in Cleveland and Phil Jackson's future.
-Raptors TV Analyst Leo Rautin appeared on 710 ESPN's LA Sports Live to preview the game, with takes on Bosh, Bargnani, and a banged-up Turkoglu.
-Forum Blue and Gold shares thoughts. Ditto the boys at Silver Screen and Roll.