It's easy to forget, given the total disappointment of Sunday's effort against the Suns and Kobe Bryant's strong comments to management about Pau Gasol, that the Lakers have a game to play Monday night. Against no cupcake, either. The Portland Trail Blazers may be slumping, having lost six of 10 and playing sub-.500 ball since starting the season 7-2, but they have tons of talent, match up well with the Lakers, and -- oh by the way -- beat them by 11 in the first meeting of the season.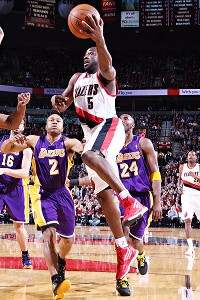 Sam Forencich/Getty Images
Raymond Felton has been a disappointment for Portland this season. The Lakers need that to last at least one more night.
In that game, L.A. had absolutely no answer for Gerald Wallace, who lit the Lakers up for 31 points on 13-of-19 shooting from the floor. Meanwhile, LaMarcus Aldridge scored 28 and Jamal Crawford 17. For the Lakers, the Big Three played well, scoring 70 points on 29-for-50 from the floor, but the bench was nonexistent (14 points), and they got virtually nothing from the point guards and small forwards.
Sound familiar?
It will be the Lakers' last home game before the All-Star break, and given how the week ends (back-to-back games in Dallas and Oklahoma City), a win feels like as much of a necessity as the 32nd game of a 66-game season can. To get a few quick thoughts on the game, we hit up Andrew Tonry of TrueHoop's Portland Roundball Society with a few questions.
1. Ray Felton is averaging fewer than 10 points and shooting under 36 percent in February, and on the season he's 34th in assist-to-turnover ratio. On the other hand, he did have a good game Saturday against Atlanta. Was that a blip or the start of a trend?
Tonry: While he made a few shots on Saturday against the Hawks, Felton did not control the tempo or lead the team in the way a point guard is supposed to. So no, one game does not make a trend. Felton has dug a huge hole to climb out of. After all, point guard is a position most requiring consistency.
2. Which of Portland's high-end players is best suited to thrive against L.A.? In the last meeting, Wallace, Aldridge, Crawford and Wesley Matthews all had nice games.
Tonry: None of those guys. If anyone has a chance to get off, it's newly named starter Nicolas Batum. If I'm not mistaken, the Lakers have terrible guard and wing defense.
3. Defensively, the Blazers have been solid this season (T-5 in efficiency). What's the plan of attack versus . L.A.? In the first go-round, Kobe, Gasol and Bynum all posted decent numbers, but Portland put a lid on everyone else.
Tonry: I have no idea what the plan of attack is. That's kind of the problem, especially on offense down the stretch. It seems unclear who takes the crunch-time shots, not to mention who sets up the guy who takes the crunch-time shots.
Wait, was that a question about defense? All I know is that the Blazers can play defense when they have their heads on straight. Defense isn't really the problem. Make shots, and the defense will follow. At least that's the way things used to be.
Really, it's hard to bank on anything Blazers-wise these days.
4.Which member of L.A.'s Big Three is best suited to thrive Monday?
Tonry: Andrew Bynum. Marcus Camby ain't what he used to be, and Portland's front-line defense of the rim oscillates from fairly lackluster to downright porous.
Thanks to Andrew for his responses.
A couple more things to look for:
1. Shooting.
In the first meeting, the Lakers took an oh-fer in 11 tries from beyond the arc. Sunday in Phoenix, L.A. didn't hit a triple until the third quarter and missed 15 of 18 overall. The Lakers are still the worst 3-point shooting team by percentage in the league (29.7) but at Staples rocket up to 20th (33.1 versus 26.8 on the road). That's not great, but it's a vast improvement and the sort of thing making a difference for a team struggling to score.
Whether it's Kobe effectively using the midpost and getting himself some bunnies or to the line or opening space for Bynum to exploit Camby, the Lakers have to present at least some sort of perimeter threat. When they knock down an open shot or two, the results are huge. They get the points and a psychological lift as well.
2. Matchups.
On Sunday night, the Suns went small, and Mike Brown responded by pulling Bynum for long stretches. The Blazers are equally capable of spreading the floor with guys of smaller stature, sitting Camby and sticking some combination of Crawford, Matthews, Wallace, Batum and Felton around Aldridge in the middle. If that happens, how do the Lakers play it?
3. Energy.
The Lakers had none early Sunday night, and it cost them. You'd think a game against Portland on their own floor would remedy that problem, but then again, you'd think a lot of things about the Lakers this season.