With the Western Conference tighter than James Brown's rhythm section back in the day, every game counts for the Lakers. Which, by definition, made Sunday's debacle against a short-handed Jazz squad an opportunity gone irresponsibly wasted. And which, by further definition, raises the stakes of this two-game road trip even more. The Lakers have been unpredictable all season away from Staples, but could be catching Houston at just the right time. Point guard Kyle Lowry, who's been playing at an All-Star-ish level, is out with a bacterial infection. Scorer Kevin Martin is day-to-day with a strained shoulder, and hasn't played since March 13. In theory, this sets up nicely for a game the Lakers really need to win.
Then again, the same felt true about a game in L.A. against the Jazz, down Al Jefferson and Earl Watson. The Lakers played like a team expecting to win, which could explain the lack of focus resulting in 24 turnovers and some rather porous defense. Better to enter the Toyota Center expecting a bar fight and being pleasantly surprised.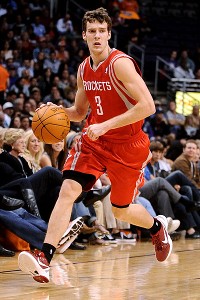 Jennifer Stewart/US Presswire
There's a lot of pressure on Dragic at the moment.
For further insight on the Rockets, we called up Rahat Huq from the True Hoop network's Red94 blog. Below are his thoughts on four questions about Houston's squad, plus one item I'll be curious about.
Land O' Lakers: How does Lowry 's absence affect the way the Rockets operate? Can anybody other than Goran Dragic run an offense?
RH: The short answer: no. The Rockets lost the game in Phoenix when Goran Dragic went to the bench early in the first half with foul trouble. Courtney Lee has taken on the bulk of the backup playmaking duties but he isn't a point guard. Courtney Fortson--signed to a 10-day contract--has been horrific in limited minutes. When Dragic sits, the Rockets fall apart. They need Lowry back as soon as possible if they want to remain this race.
LO'L: If Martin can't play, where do you expect Houston's points to come from, particularly with Lowry (another scorer) also sidelined?
RH: Even when in the lineup, Martin wasn't giving the team much in recent weeks, so his loss isn't the issue - it's losing Lowry that has hurt. The Rockets score the same way they have all year: through running the break and misdirection motion sets in the halfcourt. They've looked to Patrick Patterson in the post much more of late and I wouldn't be surprised to see that continue against LA.
LO'L: What matchup are you most intrigued by on Tuesday?
RH: Chandler Parsons vs. Kobe Bryant. Lee will probably see the bulk of the minutes against the Mamba but I expect Chandler to get a shot at some point. He's emerged as the team's defensive stopper over the course of this year and has given Kevin Durant trouble in wins against the Thunder. A matchup with Kobe would be a great learning experience for the 6'10 small forward.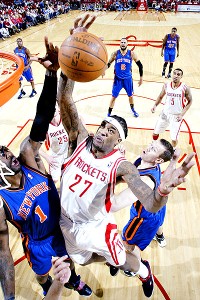 Bill Baptist/NBAE/Getty Images
Hill has potential as a defensive presence, but focus issues linger.
LO'L: The odds don't favor him actually entering the game, but can you describe Jordan Hill as a player after a couple of years as a Rocket?
RH: He's a good rebounder--14th in the league in total rebound rate--and brings some energy in spurts. He also has the length to bother some people defensively in the post. Jordan's problem, and why he didn't make it with the Rockets, is that he lacks focus. He gets lost on the court, missing defensive assignments, not making necessary rotations etc. A team like the Lakers, already having strong areas, can afford to gamble on his talents. But for the Rockets, in a dogfight just to make the playoffs, Hill's mental lapses were not a risk they could any longer take.
In addition to Rahat's much-appreciated insight, I thought it would be worth keeping an eye on Ramon Sessions in his first road game as a Laker. For any new member of a team, this setting poses a challenging test. For Sessions, perhaps even more so. A gander at his splits reveals how much worse he's played away from what used to be his home in Cleveland.
Home: 23 games (two of which likely include Staples Center),11.7 ppg, 44.5 FG, 48.8 3pt, 6.1 assists
Road: 19 games: 8.8 ppg, 33.1 FG, 27.3 3pt, 4.o assists
The discrepancy is pretty noteworthy. Sessions is a young player, and the relatively inexperienced often play poorly in another team's house. He's been treated like a panacea in high tops by L.A. crowds, which provides an adrenalin rush that perhaps offsets any unfamiliarity with Mike Brown's playbook. In Houston, he'll have to avoid being distracted by a sea of boos. It doesn't help matters the Lakers aren't road giants themselves, and the bench unit he'll likely be a part of has been particularly spotty. Thus, his new teammates might not be able to elevate him in a hostile environment. That Sessions plays the game at 90 miles an hour, while fun to watch, could be problematic under these circumstances. It's important he remain under control and avoid the urge to do too much.