Tom Petty noted back in '81 how the waiting is the hardest part. Nearly 30 years have passed, and science has yet to discover a cure for the anxiousness during the countdown to an epic event. Like, say, the quest for a third consecutive NBA title. Thankfully, pins and needles can go the way of the T-Rex, because the season is officially on like Donkey Kong!
The two-time defending champion Los Angeles Lakers will do battle tonight at Staples Center against Houston Rockets. Just seeing their boys back in action would be enough for the Laker nation, but against a team capable of a compelling contest? Bonus! Here are a few items worth watching:
Pau Gasol vs. Yao Ming
This marks the Chinese icon's first meaningful NBA minutes since suffering a devastating foot injury during the 2009 playoffs (coincidentally enough, against the Lakers en route to the first of consecutive championships). Yao will be competing on the roundball equivalent of a pitch count, capped at what's been routinely described as a strictly monitored 24-minute mark.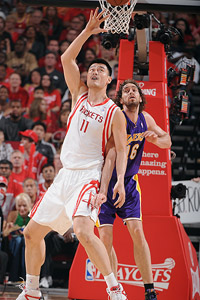 Andrew D. Bernstein/NBAE/Getty Images
The last time these two tangled also marks the last time Yao tangled, period.
While this limit obviously affects Rick Adelman's substitutions and options, Yao is nonetheless present, accounted for, and able to play hard. His presence alone, much less his enviable all-around skills, drastically change the complexion of Tuesday's opponents (who still toughed out a 42-40 record last season minus the services of a true star).
Gasol, charged with the task of slowing Yao, knows this:
"It's always a test to play against Yao. Such a big presence inside. So many moves also. So it's always a challenge. So you have to give your best effort against him if you want to be successful against him."
The meaty task is quite possibly a blessing in disguise for Gasol. As ESPNLA.com's Dave McMenamin notes, El Spaniard's coaches haven't been especially pleased with his exhibition season gusto, and even the player has admitted getting psyched for meaningless October games can be tough after the thrill of back-to-back titles. In fairness, Gasol is hardly the first decorated veteran to feel this way, nor will he be the last. But with Kobe Bryant still on the mend, Andrew Bynum unavailable, and key players still learning the triangular ropes (see below), the early leg of the season isn't just an opportunity for Gasol to further boost his credentials as a player capable of carrying a team through stretches. It's being counted on.
Playtime now over, Gasol can start taking the challenge to heart.
Second Unit vs. Second Unit
There is an interesting dynamic potentially in place during sections of the game played primarily by either team's reserves: The element of unfamiliarity. Matt Barnes, Steve Blake, Theo Ratliff, (and should they get some run, the rooks) are in the midst of learning a new system, plus each others' tendencies and the tendencies of those typically playing alongside them (most notably Shannon Brown). For certain, progress has been made. But the intensity jumps markedly during real games -- much less a game celebrating your new squad's reigning championship -- so they'll have to be even more conscientious about playing as a unit.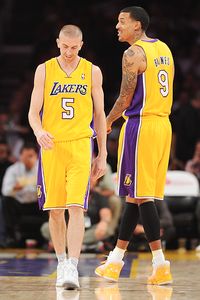 Noah Graham/NBAE/Getty Images
These are just two players from either.
These are just two of several players from either team learning each others' moves as they go.
Of course, the same goes for the Rockets' reserves.
Brad Miller and Courtney Lee are playing their first seasons in Houston, while Jordan Hill and Jared Jeffries arrived late last season in the T-Mac deal. Chase Budinger has a full season in Houston under his belt, but that's also his only NBA campaign. That's a lot of folks still donning name tags in the grand scheme of teammate relationships. Complicating matter further, the Houston Chronicle is reporting underrated backup point guard Kyle Lowry doubtful with back spasms, which can't possibly help staying organized.
Throw in how neither bench unit has a real template for evaluating how the other group operates, and it wouldn't shock me if the reserve-heavy stretches were fairly ragged.
Unfamiliarity, Part II
This contest doesn't just mark the first time the Lakers, by definition, have played against Yao and Kevin Martin as a tandem. It's the first time they've battled Martin in a Houston uni. He was unavailable during a March 27 109-101 victory at the Toyota Center and still King in the season's other meetings. Thus, they've yet to get an up close and personal taste of how Martin operates in red and white. Even more mystery to be negotiated on the fly.
Ring Ceremony Energy
Being presented a championship ring stirs up a whirlwind of emotions; celebratory, giddy, exalting (and in the case of tonight's ceremony at Staples, highly personalized). The official kick off to an NBA season symbolizes a return to business and heightened focus. Both events butted up within 20 minutes makes for a potential clash.
It's always curious to see how reigning champions behave on the court after being presented their jewelry? Are they too swept up in reliving glory to stay on point? Does the jewelry serve as a reminder of why A-Game can't be forgone? For that matter, the bling could just as easily motivate the opposition to bring their best.
If we've learned one thing from movies, the power of a ring can't be underestimated.
Another wrinkle is the mix of Lakers on the roster. Eight will have already experienced this at least once, perhaps a positive towards maintaining clear minds. Ron Artest, however, will be entering uncharted waters. He's nothing if not a player prone towards emotional overload, and considering his ring will eventually change hands, it's even easier to picture a spill over. Plus, five Lakers on the outside looking in. A hodgepodge of players in different stages of career achievement, and the impending result remains to be seen.
A reminder for those with a ticket, the ceremony begins at 7:10! Looking forward to a great season!