When last we saw the Lakers and Jazz pitted against each other at Staples Center, the Lakers avoided an 0-3 hole to start the season by kicking the ever-loving snot outta their guests. The 96-71 loss was an inauspicious start to the Jazz's first full season sans Jerry Sloan and in full "rebuild" bloom. But ever since that drubbing, they've actually been, well, good. 6-3 "good," to be exact, and in the midst of a five-game winning streak. Granted, none of those victims sport a record above .500, but the same caveat can be slapped on the Lakers, whose 7-4 record contains just one win (home vs. Denver) against a team universally considered high end at the moment.
You can't control who the schedule makers place in your path, just the results.
In any event, a win in Utah would surprisingly be considered impressive at this moment. For some insight on the Jazz, we called upon Spencer Ryan Hall of the True Hoop Network's Salt City Hoops blog. Here are some thoughts from Hall, plus a few of my own.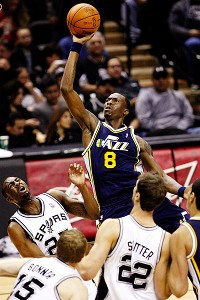 Soobum Im/US Presswire
Count Josh Howard among the surprises in a surprisingly good start for Utah.
Land O' Lakers: Ever since getting beaten badly by the Lakers on December 27, the Jazz have played pretty well. What, if anything, has changed during these winning ways?
Spencer Ryan Hall: Hard to blame the Jazz for being disorganized at the beginning of the season; I'm just surprised they snapped together so quickly. Earl Watson has kind of made it his team and Ty Corbin has created an open rotation that allows any of about 11 players to spark the team on a given night. Josh Howard has been a revelation, something I didn't expect. Also, the team has taken on a shot-blocking identity and somehow is leading the league.
LO'L: When the Jazz played the Lakers, there was absolutely no discernible clue as to how their offense runs. How would you describe it, and in particular, how can it succeed against the Lakers?
SRH: The Jazz offense is still a bit of a mystery. Occasionally and old pick-and-roll will show up, but usually the ball ends up in Al Jefferson's hands on the left side, he waits 10 seconds and then puts up some variety of shot-put/old-man shot that usually goes in. Devin Harris is still figuring out what to do, but the Jazz are succeeding mostly on the back of Jefferson and [Paul] Millsap combining with contributions from anyone else. The surprise factor from the others is what's been fun to watch so far.
LO'L: How is Derrick Favors progressing as a player and how does he fit into Utah's system? Do you see him emerging as someone worthy of either a) the 3rd overall pick or b) Deron Williams?
SRH: Favors shows glimpses of brilliance every game. He's still only 20, but has so much potential. He hit a step-back jumper from the baseline against Cleveland that left everybody dreaming of the next ten years. He's definitely worth the 3rd pick. As for the price of D-Will, I'm satisfied with what the Jazz got in return.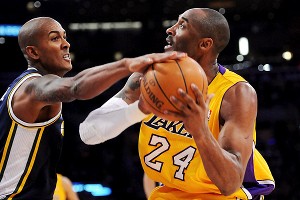 Jayne Kamin-Oncea/US Presswire
Kobe and Raja actually get along now, but expect a battle just the same.
LO'L: What matchup intrigues you most for this game?
SRH: Kobe vs everyone. Even coming off his 48 point game last night, I still don't have confidence that he won't try to have a field day against his old foil Raja Bell and anyone else the Jazz might throw at him. Here's hoping he got it all out of his system last night.
(AK's note: In his postgame media session Tuesday night, Kobe specifically mentioned Bell while mentioning they'd lace 'em up all over again in Utah. Merely an off-handed acknowledgment of who'll start out defending him? Perhaps... but I doubt it.)
LO'L: What is the Jazz's biggest weakness the Lakers can capitalize on?
SRH: The Jazz still revert to fouling and/or playing [Carlos] Boozer-esque ¡olé! defense at times. Most of the guys are capable defenders, but the effort isn't always there. The team struggles with foul trouble, too, so a few quick fouls could change the game plan for the Jazz. Both Favors and Millsap fouled out last night.
1) Luke Walton needs to remain ready
While the highlight of Tuesday's win over the Suns was Kobe's tour de force 48, the biggest surprise was easily Walton's 6/8/3 performance. That the veteran reserve, buried so deep in the rotation he's practically breathing dirt, would get dusted off wasn't necessarily a shock. With Josh McRoberts, Troy Murphy and Jason Kapono all unavailable, Luke getting some burn for the first time in six games was basically inevitable. Actually stepping up, however, was anything but.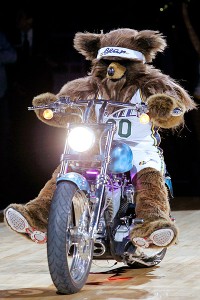 AP Photo/Colin E Braley
It's a chopper, baby.
To put matters kindly, Walton's 54 appearances last season largely fluctuated between "ineffective" and "flat out disastrous." Granted, Walton's actually healthy after two seasons' worth of debilitating back issues, and that makes a huge difference. Still, it's a little early to start necessarily counting on Luke for a positive contribution. And with only Kapono (the player least directly affecting Walton's potential PT) slated for a definite return tonight, Walton may be called to duty again. If so, he must come through with another solid showing.
2) Hostility ahoy
The Lakers have yet to win on the road this season, and tonight's environment doesn't offer an easy opportunity to break through. Energy Solutions Arena is a notoriously nasty environment. The fans are loud, rowdy and, quite frankly, often exceptionally mean-spirited. And unless the in-game entertainment has changed, their mascot, a bear cleverly named "Bear," rides a motorcycle on the hardwood and pumps exhaust in the visitors' mugs. (Full disclosure: I'm actually a fan of Bear. When I attended a game in Salt Lake a few years ago, he walked on stilts while Def Leppard's "Pour Some Sugar on Me" blared, which makes poor manners much easier to forgive.)
The Lakers are a veteran team that shouldn't get thrown for a loop by an unfriendly crowd, but Utah's infamous home court advantage over the past decades hasn't come by accident. Focus will need to be increased and, in particular, the Lakers' penchant for turnovers must be curbed. Road environments are especially unforgiving when the ball is coughed up.
3) Rebounding superiority
The Lakers' size can't just be utilized, as Hall mentioned earlier, to get the Jazz frontcourt into foul trouble. It should also be an asset on the glass. The Lakers currently lead the league in total rebounds per game and rebound differential, while Utah is middling at best. Control of the glass often equal control of the game.