Friday evening, the Lakers kick off their Summer League season in Las Vegas.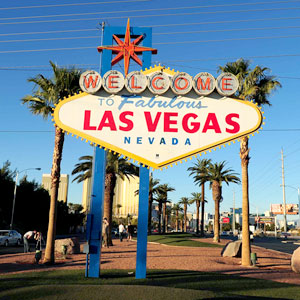 Kyle Terada/US Presswire
It's Summer League time! This year, it's actually worth paying attention to what the Lakers do there.
Because it would be virtually impossible to be otherwise, this year's squad will be more interesting than last season's edition, which included Adam Morrison and a bunch of guys obscure enough to make Google pull a hammy. The 2010 roster, however, includes both of this year's second rounders in Devin Ebanks and Derrick Caracter, at least one of which (Ebanks) seems likely to make the team. With a good showing in Vegas and again in training camp, both certainly could be around opening night.
In short, where last year there were none, this summer roster spots are potentially for grabs.
After Ebanks and Caracter, some interesting names will suit up for the sort-of-purple and gold, the most recognizable being Gerald Green and D.J. Strawberry. Drafted out of high school with the 18th pick by the Celtics in '05, Green impressed with his raw athleticism but was nonetheless shipped to Minnesota in the Kevin Garnett deal and has since been hampered by underdeveloped basketball skills and attitude issues (other than that, Mrs. Lincoln...). Strawberry, son of former MLB star Darryl Strawberry, was a second round pick of the Suns back in '07, but rarely played before eventually being released.
He's since popped up in the D-League and in Italy.
I'd be surprised if Green was in camp this fall. The Lakers have space to carry a wing, but it would require a near catastrophic performance from Ebanks for him to lose out to Green. Strawberry, at least in theory, is a different story. At 6'5", he at least fits the profile of a Phil Jackson guard, lengthy with a good reputation on the defensive side of the ball. Though he's never been a particularly good shooter, his numbers last year in the D-League were reasonably good.
It's far more likely the Lakers pluck an inexpensive veteran from the FA rolls (or even re-sign Shannon Brown) than carry Strawberry as a fifth guard, but the heavy financial burden already guaranteed Dr. Buss this season combined with the stability Steve Blake ought to bring to the backcourt makes the fifth guard potentially less important than it was last season, when nobody really had any idea which guy behind Kobe Bryant would step up.
I was intrigued at the possibilities of Rob Kurz after seeing him on the VSL roster, because he's a big who can shoot (nearly 40 percent in his one NBA stint with the Warriors, and 43.5 percent last season with the delightfully named Fort Wayne Mad Ants in the D-League) . Unfortunately, much of the intrigue came from thinking he was closer to seven-feet tall. Kurz is actually 6'9". That'll make it tougher to stick, but if he can crash the glass and defend a little, the ability to stretch the floor at the forward spot could be useful, and distinguish him from other candidates. Often, a single marketable skill is enough to give a guy a career (see Novak, Steve).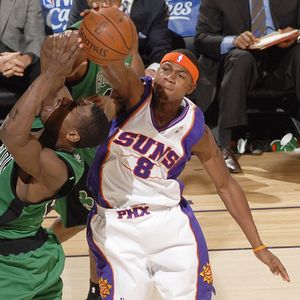 Andrew D. Bernstein/NBAE/Getty Images
Length (he's 6'5") and a strong rep for defense give former Phoenix second-rounder D.J. Strawberry a puncher's chance to grab the fifth guard spot.
If Kurz shoots well, it could certainly get him to training camp and might be enough to move past someone like Caracter, or his equivalent (i.e. an inexpensive big), for what I'm calling the Josh Powell Slot (Which could at least theoretically still go to Josh Powell. I'm just not expecting it.).
It's a shame Kurz isn't a couple inches taller. I'm sure he's heard that before.
Finally, among the guards, Ibrahim Jaaber is easily the most interesting name, literally and figuratively. College hoops fans may remember Jaaber as the guard who led some pretty decent Penn teams into the NCAA's a few years back. Undrafted after his collegiate career wrapped up, Jaaber went to play in Europe, most recently in Italy for Lottomatica Roma. He's become a pretty productive player over there, from what I gather via the Internet (lest you think we're spending the LoL budget sending me to scout players in Italy, though I'm ready to volunteer should such an assignment be available). Jaaber's reputation as a defender is solid, and at 6'2", 170, he seems to qualify as a good change-of-pace behind Kobe, Blake, Fisher, and Sasha Vujacic.
He's not much of a shooter, though, particularly from downtown.
Though born in New Jersey, he carries a Bulgarian passport and has played for the Bulgarian national team as a naturalized citizen. American players with European passports are pretty valuable over there, because they allow teams to circumvent some of the restrictions on carrying US players.
Anyhoo, just as it is with Strawberry, a high-level performance in Vegas combined with a good camp could (again, theoretically) earn a spot on the roster. Asssuming the Lakers don't sign someone in the interim, of course.
The rest of the guys, quite frankly, are there to ensure five players can take the floor at all times.
All told, L.A.'s VSL squad isn't packed with number one picks (their own, at least) or potential superstars, but at least this year provides reasons to pay attention. A nice change for hoops-starved Lakers fans.
SCHEDULE:
Friday, July 9 5:00pm Lakers vs. Pistons
Saturday, July 10 3:00pm Lakers vs. Nuggets
Monday, July 12 1:00pm Lakers vs. Knicks
Tuesday, July 13 5:30pm Lakers vs. Kings
Thursday, July 15 1:00pm Lakers vs. Spurs