Tuesday morning on ESPN's First Take, one topic debated by Skip Bayless and Jemele Hill was the barnstorming tour potentially spearheaded by Kobe Bryant and his agent Rob Pelinka. The plan, as first reported by the L.A. Times, would involve The Mamba and several other Pelinka clients playing a few exhibition games in China, presumably inside the Mercedes-Benz Arena in Shanghai. (A double marketing opportunity for L.A.'s favorite art thief crime-buster!)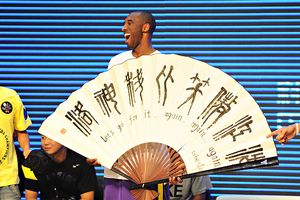 China Photos/Getty Images
Kobe has big fans in China, literally and figuratively.
Hill and Bayless both took issue with this plan for reasons ranging from the consideration owed to each player's NBA team to the "money grab" element to, very specifically to Kobe, the physical risks. On all counts, I think the panelists are overreacting.
Beyond rookies like Derrick Williams who've yet to get paid, I don't think this tour is as much about players making a buck as reminding owners of alternate sources for coin. Whether this truly puts pressure on Jerry Buss and his brethren is debatable -- the money involved can't possibly compete with an NBA paycheck -- but a point of sorts is being made. I understand where people might deem this behavior (at best) greedy or (at worst) irresponsible, but it's no worse than owners essentially asking players to offset entirely the damage from their own poor decisions and a recession. Neither party is above criticism in this CBA battle.
As for (in my mind) the bigger issue, I understand concerns about Kobe's health, given he's got enough preexisting conditions to get denied health care in the "Obamacare" age. We're talking bad knee, bad ankle, bad hand, and the mileage equivalent of nearly 19 NBA campaigns when you combine the regular and postseason. I've been screaming for Kobe to err on the side of caution when it comes to playing through regular season injuries. I've also expressed doubts about the likelihood of Bryant remaining healthy or quite as effective a player moving forward. He undoubtedly needs an offseason to recharge the batteries, and hardcore basketball theoretically runs counter to this goal.
On the other hand, does anybody really expect these barnstorming sessions to be particularly taxing? It would be one thing if Bryant was reenlisting for another Team USA stint. That's serious basketball, more rigorous than he needs right now, particularly with a gold medal already in hand. However, these are exhibition matches, as in "pure entertainment with no real stakes attached." The roundball equivalent of what Apollo Creed's camp envisioned when they arranged to box Ivan Drago. (Yes, that dog and pony show went horribly wrong, but only because the Russian had an agenda.)
Basically, I'm picturing a series of All-Star games, which are hardly a source of blood, sweat and tears. Occasionally guys get competitive during the last five minutes of a close game when pride sets in. But over the preceding 43, it's all about irresponsible shots, non-existent defense and half-speed showboating. Obviously, there have been exceptions, like when Kobe played what was likely his last All-Star game in L.A dead set on snagging MVP honors (not that there's anything wrong with that.) But even acknowledging the mutual love between Kobe and China -- he's referred to the country as "a home away from home" -- I can't imagine the feeling is so strong he'd go bananas in a venue that does nothing tangible for his legacy.
At the end of the day, these "games," staged in a controlled atmosphere, are similar to what Bryant would have likely participated in at some point anyway. An offseason of rest, no matter how concerted, typically involves some form of basketball. Bryant isn't going to ride a stationary bike or put up jumpers for an hour each day, then lay around on the couch "resting." It's important he maintains some semblance of rhythm, particularly if the offseason grows unfortunately stretched out. Assuming he handles the situation responsibly, a caveat applicable to any exercise this summer, I think this tour qualifies as "no harm, no foul."