Jared Dudley and Shannon Brown aren't carbon copies of each other. Brown boasts considerably more elevation, while Dudley's a steadier threat from behind the arc. But there are obvious commonalities. Both are key reserves for teams vying to make the NBA finals. Both take pride in their defense and rarely take possessions off. Both are described as "energy players." Both have become crowd favorites as a result of their non-stop hustle, and in the case of Dudley, unique personality.
And both began making a name for themselves after getting traded out of Charlotte within a two month span of each other during the 2008-2009 season.
Dudley was the least established name among the principles changing squads in his four-player deal. (Jason Richardson with Dudley to Phoenix, Raja Bell and Boris Diaw to Charlotte). Ditto Shannon Brown when he and Adam Morrison arrived in L.A. for Vlad Radmanovic. Brown described himself as a "throw-in" member of a swap making the Lakers his fourth team in three seasons, and had been worried about staying the league. Dudley's time in Charlotte provided more stability (5.8 points per game as a rookie, 14 starts of 73 appearances), but he was still barely on the NBA radar when he was moved to Phoenix during his second season.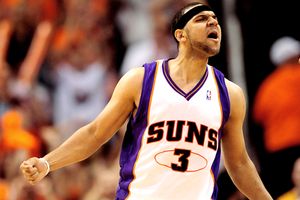 Julianne Varacchi/US Presswire
Jared Dudley's role in Phoenix fits like a glove.
"The trade was definitely for Jason," shrugged Dudley when I asked last week about the swap.
For their part, while the Lakers saw potential in Brown, their deal was primarily to move Radmanovic's longer contract for Morrison's shorter one.
So how did two players considered afterthoughts not just quickly find niches, but with teams better than the ones they left? Because counter-intuitive as it may seen, it's often easier for role players to blossom on a better roster than by competing for time on a lousy team with fewer studs. Obviously, it's not as simple as just landing with a contender. You still have to earn your way on the court. But the setting is often a crucial element, and nobody knows this better than Suns G.M. Steve Kerr, whose career was highlighted with five rings as a role player in the right situation and low-lighted with 12th man stints as a role player in the wrong one.
"I don't think there's any such thing as a role player on a bad team," explained Kerr. "Good teams have role players. Bad teams, the role players eventually start because the starters aren't doing very well and nobody has a role."
Without structure, bad teams can become a free-for-all. Players flail while being asked to perform beyond their capabilities. Or they're intentionally playing beyond their capabilities while in an effort to create empty numbers and inflate their next contract. Either way, role players can get lost in the shuffle as cooperation and cohesion disintegrate.
Personal growth can also be stunted while wallowing in mediocrity. Losing begets bad attitudes, less willingness to continuously work towards improvement. What's the point of extra hours in the gym if half the roster's checked out?
"When you're losing, you pick up bad habits," explains Dudley of these situations. "You might not want to work hard. People are tanking it during games."
Perennially bad teams also have perennially high draft picks, and G.M.'s are constantly in the position of having to justify their decisions. These youngsters, along with the obligatory big name or two eating into the cap, are generally considered the potential saviors for turning a bad franchise's fortunes. A vested interest persists to keep these guys on the court. In the meantime, it's difficult building a team --or saving your job-- around a role player. Those are the guys getting lost in the shuffle.
Even while in the Bobcats' rotation, Dudley viewed his situation in Charlotte as containing the potential of getting squeezed.
"On a bad team, you gotta play the 'right' guys," explained the Boston College product. "On a good team, they're gonna the guys they have to win. They don't necessarily go by contracts. Usually in the NBA, there's a lot of politics going on."
A stable roster with good players, however, eliminates some of these issues. There's an established pecking order and job duties. There are playoff aspirations to keep everyone unified. There's a need for a player willing to provide a spark of energy over a slew of points. And as the saying goes, great players make everyone around them better. When the floor's being shared with the likes of Kobe Bryant, Pau Gasol, Lamar Odom, Steve Nash, and Amare Stouedmire, limits turn less glaring and detrimental. A good team creates the luxury of being able to operate within your skill set.
It's also a great setting to grow as a player.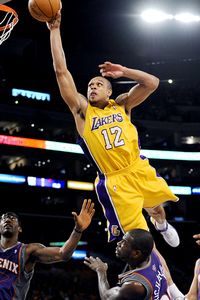 Mark J. Terrill/AP Photo
The right situation transformed Shannon
Brown from fringe player to L.A. favorite.
In a feature I wrote earlier this season, I noted how Phil Jackson felt Shannon arrived in L.A. not even a guard, but a small forward in a guard's body. But whatever he lacked in a definable position, he made up for in athleticism. That, along with a great attitude and a willingness to learn, helped Brown quickly work his way into a championship rotation. Kerr thought Dudley was a decent shooter, but saw his value mostly as a defensive presence. There was no inkling a 45 percent clip from downtown awaited so soon. Of course, it's easy to gain three-point prowess when looks are being set up by Steve Nash.
"I remember in high school saying I wish I could play with that guy," mused Dudley.
Again, all about time and place.
"We thought he was one of those smart players that was gonna hustle and do a lot of things," smiled Suns coach Alvin Gentry of Dudley. "Be a great practice player. And then we stuck him in, and as they say, the rest is history."
Adds Dudley, "Things that I do well are good for playoff teams and teams that are winning. A lot of things that I do don't show up in the stat book."
Everything didn't necessarily work out by pure accident. Gentry and Kerr both maintain Dudley was an important part of the trade for them. "We wouldn't have made the deal without him and they wanted to make the deal without him," insisted Kerr. "They held out on him and we wouldn't do it. He was a significant part of the deal." For that matter, Larry Brown told me the Bobcats "didn't want to lose" Shannon, but he "was just part of the deal."
A player's talent and potential can be spotted, but may never be utilized to their maximum capacity without being in the right situation.
As Shannon elaborated, "Its all about who likes you, who wants you, who needs you. Landing in that right position where you can be successful."