The "Grammy Road Trip" is always a test for the Lakers, and with the team struggling outside of Staples, this year is no exception. Whether for the purpose of molding themselves into a more legitimate force heading into the playoffs or simply forging a record good enough to qualify, this six-game roadie carries stakes. An opener against the Nuggets, possibly the best team on the docket, will set the tone.
For insight into Denver's squad, we called upon Jeremy Wagner of the True Hoop Network's Roundball Mining Company. Below are his responses to four questions about the Nuggets, and here is a link to the Laker-centric tidbits I provided him.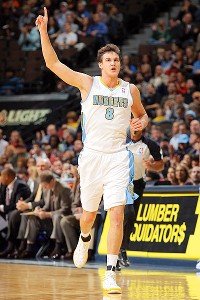 Doug Pensinger/Getty Images
Gallo and the gang have high hopes for the season.
1) Land O' Lakers: People have been in wait-and-see mode after the strong play upon Carmelo Anthony's exit. 20+ games into this season, how good do you think this team truly is?
Jeremy Wagner: I believe it is important to make a differentiation between last season's team and this season's team. Last season's team played with an aggression and purpose fueled by the fresh wound of the Carmelo Anthony trade. Nearly every player had a reason to prove himself. This team does not possess that chip on their shoulder.
What this team does have is a year of growth and playoff experience for young studs like Danilo Gallinari and Ty Lawson as well as some assurances in the form of long term contracts. The players on this roster know they are the foundation of the franchise and that is a different form of motivation.
The 2011-12 Denver Nuggets are a very good team. Good enough to beat anyone. The bajillion dollar question is, are they good enough to beat anyone in a best of seven series?
The good news for Nuggets fans is the team is not built just for this season. They will improve internally and could have some cap space to play with next season depending on what happens with Wilson Chandler when he returns from China.
LO'L: When last the Lakers saw Al Harrington, he was torching Pau Gasol (among others) in space and appears to be having a sixth man of the year type season. What in particular has been working so well for him?
JW: The only noticeable difference between last season's Al Harrington and this season's Al Harrington is he came into camp in better shape. That has made him much more effective on offense. His fresh legs have allowed him to attack the rim and shoot from long range consistently well.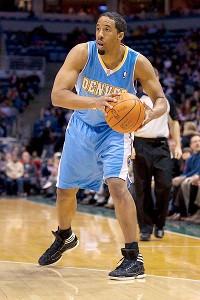 Jeff Hanisch/US Presswire
When the assist total matches Andre Miller's jersey number, Denver's in great shape.
In fact, he has been doing a little too well. Harrington was posting career highs in his percentages. And not just career highs, but percentages that blew his previous highs out of the water. Percentages so out of whack with his career numbers that at his age and with this schedule are likely not sustainable. Still, he has been playing with great confidence and it is not out of the question that he can play well enough to make this a career season.
LO'L: The Nuggets lead the league in assists, but are also among the league leaders in turnovers. How typically prominent a factor is are the dimes in wins, and how much do the turnovers tend to paint a picture of losses?
JW: I keep track of the basic game statistics for Denver and I ran some numbers. Surprisingly, turnovers have no bearing on Denver's success or failure. The two games with their lowest turnover rate of the season were losses and two of the three games where they had the highest turnover rate were wins. There also appears to be no correlation between assist-to- turnover ratio, although the results at the top and bottom are as you would expect. They lost the two games at the bottom of that list and won the game when they posted their best assist to turnover ratio (although they lost the game where they posted their second best ratio).
Total turnovers are no different. The two games with their lowest turnover total? Losses. Their game with the most turnovers this season was a win. Shockingly Denver has had 17 or more turnovers nine times this season and they are 7-2 in those outings.
The one number that is holding true so far is "24." I doubt Kiefer Sutherland has anything to do with it, but the Nuggets are 9-1 when they have 24 or more assists. The number George Karl usually touts is "20," but if you look at games where they accumulated between 20-23 assists Denver is 2-4. (In the four games they tallied 19 or fewer assists, they are 2-2.)
Turnovers are never a good thing, but if the Nuggets are losing the ball as a result of being aggressive and pushing the pace, ultimately the good will outweigh the bad. Controlling the pace is much more important to the Nuggets. Denver is 5-1 when the pace factor is over 100. Playing fast leads to turnovers, but it also leads to easy buckets and Denver runs as well as anyone.
(All stats through 21 games, prior to their Thursday night contest against the Clippers.)
LO'L: Arron Afflalo's offensive stats are down across the board. Has his defense followed and what accounts for the struggles? He's obviously got a big assignment against the Lakers.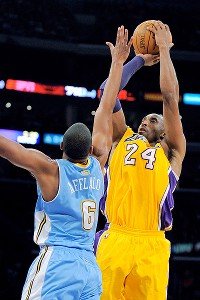 Win McNamee/Getty Images
The Nuggets need Afflalo to rediscover last season's form.
JW: Arron Afflalo first hit the radar as a defender after forcing Kobe Bryant to shoot 7 of 17 early in the 2009-10 season. He took that to another level on February 28 of 2010 when Kobe made only three of his 17 attempts (Kobe still managed 12 assists and the Lakers won). Afflalo was in Kobe's pocket all night. No Nugget had ever made Kobe look uncomfortable before. It was a revelation. Afflalo had played very good defense all season, but that night elevated him to the status of defensive stopper.
He cherished the rep as a stopper, but Afflalo is a driven cat. He works hard every offseason to improve his game. Three seasons ago he showed up as a three point marksman. Two years ago he was better driving and finishing. Last season he was a better passer. The issue is, as his offensive game has grown, his defensive presence has decreased.
This season Afflalo missed all of the abbreviated training camp awaiting a new contract from the Nuggets. He garnered a sizable payday and you can tell he wants to live up to that contract. The one facet completely missing from his offensive repertoire as a shooting guard is the ability to attack the defense and create his own shot. It is clear his goal was to add that to his game this season.
So far the results have not been good.
Afflalo is not built to be that kind of player. I believe he maxed out his talents as a deadly three point shooter, effective at attacking gaps in the defense (after a teammate created a gap for him to exploit) and a high level defender. The problem in my mind is, Afflalo is trying to be something he is not this season and it has thrown the rest of his game off kilter.
At some point he will realize he needs to get back to doing what he did his previous three seasons. Until that day comes, he is going to continue to disappoint and with players like Rudy Fernandez and Corey Brewer on the roster, Afflalo does not have a long leash.
Maybe the chance to face off against Kobe will shock Afflalo back to focusing on defense more than he has lately. If not, he will experience a long night in a short amount of minutes.