Lamar Odom's season was an exception to an old athletic rule that says as you get older your game declines. Not that Odom is "old" at 31, of course. Some even consider 31 part of an athlete's prime years. But it's one thing to perform at a high level at 31 years of age, and quite another to take a sizable and unexpected leap forward. Lamar did did the latter, 12 seasons into a career, which is basically unheard of.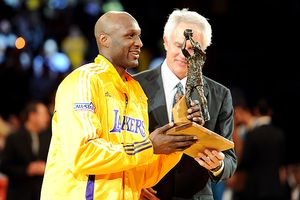 Harry How/Getty Images
Lamar Odom has the hardware to prove 2011 was the best season of his career.
Still, as I wrote in lamenting his failure to capture what I felt was a deserved All-Star nod, Odom's career has always been difficult to pin down. From his unique skill set to the seeming inconsistencies in focus to the way he sometimes forces us to rethink the necessity of a "scorer's mentality," Odom doesn't fit in a box. If anybody was destined at 31 to win the Sixth Man of the Year award while filming a reality show starring his celebrity wife, it would be Lamar Odom.
Odom has been a chameleon throughout his Laker career. More than any teammate, he's been asked to switch positions, responsibilities, and status as a starter or reserve. This season put that versatility to the test, and LO passed with flying colors any way you slice it. Yes, his averages definitely benefited from 35 games in which he filled in for an injured and/or suspended Andrew Bynum. However, his splits demonstrate just how well LO got it done no matter when he made his first entrance.
Starter (35 games)
37.2 minutes, 57.3 FG %, 34.8 3pt %, 10.2 rebounds (2.4 ORB), 3.4 assists, .9 blocks, .6 steals, 2.1 TO's, 16.3 points
Reserve (47 games)
28.4 minutes, 49.4 FG %, 40.2 3pt %, 7.5 rebounds (1.9 ORB), 2.7 assists, .7 blocks, .6 steals, 1.4 TO's, 13.0 points
Beyond the high quality, a metronome would be impressed by the steadiness.
The only notable disparity as a starter is the bump in overall field goal percentage, which certainly could be the byproduct of more court time with Kobe Bryant. However, that's offset by a percentage from three point range that was nearly six percent higher as a reserve. (Your guess is as good as mine. Sometimes, weird things happen in basketball.) Otherwise, the increased production while starting is easily explained as the byproduct of increased minutes, as opposed to fit. Bottom line, L.O. performed at a very high level regardless of how long he spent on the court.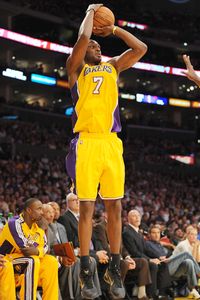 Evan Gole/NBAE/Getty Images
No matter when he checked into the game, LO's shooting was pretty impressive.
Unfortunately, the season wasn't pure roses.
There was little trickle down effect from Odom's excellence for the rest of the bench. Perhaps this was due to Odom's prolonged starting stint, then barely resuming his sixth man role before Matt Barnes missed two months with a knee injury, robbing L.O. and the rest of the bench a sustained opportunity to truly jell. Or perhaps Odom's increased aggressiveness left fewer chances for the other guys to put up numbers. Either way, as someone who embraces his role as second unit captain, I imagine Odom put their failure on his shoulders to some degree. It was also disappointing he couldn't carry his regular season momentum into the playoffs. As our friends at Forum Blue and Gold noted, for all the talk about Pau Gasol's slump, Odom wasn't paying the rent either.
Some will also question whether Odom was among those who fell prey to team-wide distractions. Personally, I think Odom's extracurricular activities were more symbolic of a team-wide need to refocus than problematic for Lamar. Yes, I think "Khloe and Lamar" is beneath a guy of Odom's substance. And I made perfectly clear my opinion of "Unbreakable." But if Lamar wants to partake in what I consider silly projects, that's his business, assuming it doesn't bleed into the Lakers' business. Based on the hardwood results, it's hard to make the claim that it did. It wouldn't surprise me if Odom scaled back the off-court follies in light of the rotten postseason, but I don't think guilt should drive any decisions.
At the end of the day, it's hard to paint Odom's season as anything but successful. Game in and game out, he was as dependable -- often more at times -- as anybody on the roster. In many ways, this was the season everyone has waited for since Lamar became a pro. As he noted during his exit interview,there's an irony to experiencing this success during a season that didn't end with a title. But again, with L.O., not even the positives are guaranteed to honor the script.
Grade: B+ (heavily docked for the playoff fizzle)
Previous report cards