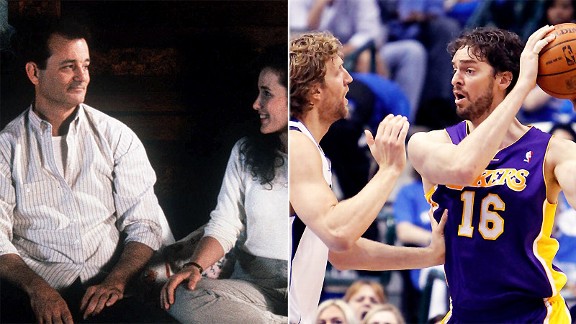 AP Photo
Phil Connors had to win the heart of Rita, while Pau Gasol must win back the hearts of Lakers fans.
In "Groundhog Day," one of my all-time favorite movies, arrogant, self-absorbed weatherman Phil Connors (a pitch-perfect Bill Murray) finds himself inexplicably -- and inescapably -- reliving the same Feb. 2 day. Unable to escape the loop, he reacts to this Twilight Zone-esque situation with disbelief, gluttony and even suicide attempts, but each morning wakes up at precisely 6 am to start again from scratch. But upon resigning himself to this fate, Connors ultimately turns his nightmare into a blessing. He capitalizes on the circumstances to better himself as a person, which leads to the discovery of true happiness, along with the discovery of Feb 3.
As a person, Pau Gasol couldn't be any more different than Phil Connors pre-transformation. Connors is reflexively rude, while Gasol is among the more unfailingly polite athletes in sports. Connors overrates his fame as a weatherman unknown outside of Pittsburgh, while Gasol is grounded despite being a legitimate icon in Spain. Connors' inflated sense of self-worth prompts him to berate his co-workers, while Gasol, whose skills best all but one of his teammates, remains committed toward lifting them even at the expense of accolades for himself.
In other words, Pau hardly needs to relive the same day to gain humanity. However, his NBA life has featured a "Groundhog Day" vibe.
In Memphis, he relived the nightmare of three straight playoff appearances without a win. That Gasol was the Grizzlies' only reliable scoring option may be undeniable, but his postseason reputation nonetheless took a beating.
Upon joining the Lakers in 2008, Gasol got over that winless hump -- and then some -- but being overpowered by the Celtics' front court in the 2008 Finals led to the world questioning his manhood. Two straight titles as a response got folks off his back, while his mammoth work against Dwight Howard in the 2009 Finals, plus his 2010 efforts on the glass (a game-winning putback against OKC, 18 boards in Game 7 against Boston) actually prompted praise for his ... gasp! ... toughness.
At long last, it felt like he'd shed the "Ga-Soft" tag for good. Then out of nowhere, Pau woke up again in the roundball version of Punxsutawney.
A strangely inconsistent regular season paved the way for a disastrous 2011 playoff series, 10 games spent physically out of sync and mentally out to lunch. No Laker has taken more grief for the team's early exit, and unfortunately for Pau, the criticism is largely warranted. Over the course of two series, he settled for jumpers -- often errant -- rather than putting the ball on the floor and forcing defenders to check him. His rebounding was lackluster, his defense often nonexistent. Plus, his mind was admittedly elsewhere as the result of undisclosed personal issues.
Even Phil Jackson, a coach who landed an Audi commercial by virtue of his notorious calm, whacked Pau in the chest to spark a reaction. But alas, no dice.
Thus, here we go again, watching El Spaniard repeat his quest for redemption. So if Phil Connors must relive the same experience to become the best possible person, what's the reason for Pau's repeated storyline? Maybe, for whatever reason, this is simply what it takes for Gasol to remain the best possible player over the long haul.
Maybe this is what it takes for Pau to maintain his often remarkable consistency. Or utilize his exceptionally varied skill set to its highest potential. Or mine the aggressiveness that's actually in him but sometimes goes frustratingly buried. Or dish out physicality before absorbing it.
Maybe this is what it takes to remember, as Kobe Bryant often says, he's one of the best players in the world.
As a result, Gasol will endure the crush of media pundits whose doubts are annoying as "Needle Nose" Ned "The Head" Ryerson. He'll need to crank up his talents to the point where they feel like a new discovery, similar to Phil debuting his skills on the piano. (Fittingly, Pau is no slouch tickling the ivories himself.) And just as Phil pursues the heart of his producer Rita, Pau's now forced to win back the hearts of Lakers fans.
Based on comments during a recent interview with Brian, this is an aggravating experience for Pau. And that's to be expected. Failure to receive a benefit of the doubt is never fun. But for what it's worth to the four-time All-Star-- and Lakers fans as well -- like Phil Connors, on the court, Pau continually comes out the better for having endured a metaphorical Punxsutawney winter.