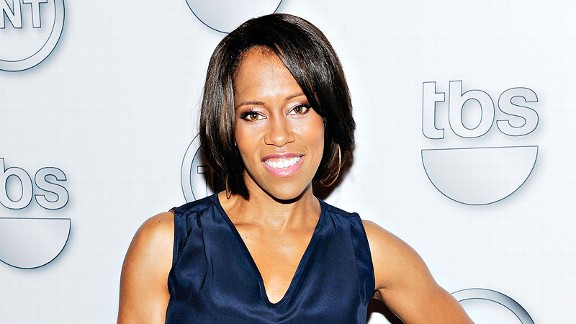 AP Photo/Evan Agostini
A ferocious actresses, Regina King also has excellent taste in basketball teams.
BK and I are both big fans of Regina King (Boyz n the Hood, Friday, Ray, Jerry Maguire, Enemy of the State), whom I've long considered one of the more underutilized actresses in Hollywood. Not that she hasn't found roles. She's steadily worked since being cast in 1985 as "Brenda Jenkins" on 227, and landed a handful of very meaty supporting roles. But no project ever featured her front and center, which is disappointing given her skills at comedy and drama. That changed, however, when she was cast in 2009 as Detective Lydia Adams on Southland, a cop drama set in her native Los Angeles. Critically acclaimed by canceled after one season by NBC, TNT picked up the show, and it's since become a big hit for the cable network.
With the season finale airing Tuesday (10 pm PT), we were pleased to have King on as a guest to talk about the show, her career and the Lakers, a team she's rooted for since the Showtime days. The entire show can be heard by clicking on the module below.

Among the talking points:
King's love of the Lakers, which truly blossomed when Magic Johnson arrived in L.A. The two seasons fellow Westchester High School alumni Trevor Ariza spend in purple and gold were also fun. Less enjoyable, however, was seeing the Three-peat teams squabble, then eventually break up. King thinks this drama was indicative of the last 10+ years in the NBA, where everyone obsesses over "whose team it is."

Celebs who hit Laker games to pump projects rather than watch the game bug "the mess out of" King, especially given how Joe Q. Laker Fan would "cut off their pinkie toe" to sit courtside at Staples.

How Los Angeles itself serves as a character on Southland.

King grew up in L.A. during a period when the LAPD was under heavy -- and deserved -- scrutiny, which she admits fostered distrust towards the police. Upon playing a cop and spending more time around them, however, her feelings about the profession have changed.

It's no secret quality roles in Hollywood for black actors have traditionally been on short supply, with black actresses in particular feeling the pinch. In the 20+ years King has been in the business, how much does she think this issue has improved? "Not as much as one would hope," she admits. Not that race neutral casting is unheard of. For example, the role of Lydia Adams wasn't originally written as a black woman. But there's a ways to go before this becomes more commonplace. Not that race has no place whatsoever in developing projects, but there are factors inhibiting the diversity of faces seen on screens.

One reason is the tendency -- whether by those making, marketing, or watching movies and TV -- to assume projects with a largely minority cast will mostly appeal to audiences of that particular race. But quite often, we see that's hardly the case. Take Friday, which ended up spawning a franchise. In broad terms, it would be regarded as a "black" movie, but as King says, people of MANY races tell her it's their favorite movie. At the end of the day, funny is funny, and humor often crosses color lines. For that matter, so do many human experiences.

Speaking of projects that discovered audiences of all backgrounds, King made her film debut in Boyz n the Hood. She considers the movie universal, because every city has sections stricken with the issues tackled in that groundbreaking movie. In a bit of art-imitating-life, "Boyz" wasn't just set in her native city, but co-starred Nia Long (who graduated a year behind her at Westchester) and was directed by fellow USC Trojan John Singleton. King, however, was more geeked at the time about doing a movie with Ice Cube. And like everyone else, it blows her mind that one of the godfathers of gangsta rap is now a bankable star for family friendly projects.

King coaches the cheerleaders for her son's football team, and is more Pat Riley than Phil Jackson.