The more things change for Matt Barnes, the more they first get better, then turn unfortunately worse before reaching an endpoint that feels, for all intents and purposes, the same.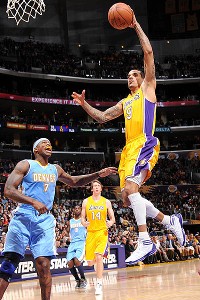 Andrew D. Bernstein/NBAE via Getty Images
Once again, injury tripped up Barnes heading into the postseason.
Last season, Barnes performed as a solid, if not necessarily spectacular, reserve before a knee injury rendered him a stiff-legged shell of himself in the playoffs. Barnes returned this season healthy and determined to make up that disappointment, and largely found success despite obstacles in the way. Everyone not named "Kobe," "Pau" or "Andrew (Bynum)" experienced fluctuating minutes under Mike Brown, but Barnes' roller-coaster ride was arguably the wildest. He's been everything from a bench-warmer to a starting small forward to a key reserve, and in every case, performed admirably.
Barnes began the season buried in favor of then-starter Devin Ebanks and then-bench captain Metta World Peace. But rather than pout, he cheered enthusiastically for teammates from the bench and said all the proverbial "right things." Five games in, Barnes took Ebanks' place, and held the gig until late-January when Brown flip-flopped him and MWP. All the while, his minutes were sometimes difficult to predict. Barnes openly admitted how frustrating this topsy-turvy backdrop could be, but never allowed that to bleed onto the court. In fact, he was arguably the Lakers' fourth best player for the season as a whole.
On a macro level, and without disrespect intended, a career journeyman being the most productive Laker beyond the Big 3 epitomizes why things rarely came easy. Barnes is a nice player, but for a squad seeking a title, he shouldn't end up so pivotal, whether by design or accident. However, that's an "other guys who needed to step more consistently" problem, not a "Matt Barnes" problem. He's responsible for his own actions, and for the most part, rose to the challenge of contributing a fair share. (To put the consistency in perspective, Barnes averaged 7.8 points as a starter and a reserve, underscoring his general reliability in a season marked by chaos.)
What Barnes brought to the table became evident after he badly sprained his ankle in the 64th regular season game. Severely hobbled for the postseason, the small forward gave it his best, but his effectiveness rapidly declined with each game. Barnes is a player who thrives off whirlwind motion, which makes immobility a difficult thorn in his side. And whether because of the ankle or declining confidence, his stroke went missing. In seven games against Denver, he averaged 12 percent from 3-point land, and down the stretch against OKC, the ball in his hands seemed to cause anxiety.
By Game 5 against the Thunder, Barnes was too big a liability to put on the floor, a crummy conclusion to an otherwise quality season.
Statistics
63 games, 22.9 mpg, 7.8 ppg, 5.5 rpg, 2.0 apg, .8 bpg, .458 FG, .333 3-pt
Highlights
Against Denver on 4/13, with players needing to make up for Kobe's absence against a quality opponent, Barnes had among the best games I've ever seen him play: 24 points off the bench. Nine-for-11 from the field. Four triples in as many tries. A halftime buzzer-beater. 10 rebounds. Two assists. Generally speaking, Barnes lent a nice hand while the Mamba nursed his shin injury, notching double figures in five of those seven games. A career 32.9 percent shooter from Downtown, Barnes has long carried a "sniper" reputation I've never quite understood. But in March and April, his respective 38 and 37 percent monthly averages made him look much closer to the real deal.
Lowlights
Barnes began the season on the bench and that's unfortunately the way things ended.
Prospects for 2012-13 (contract, likelihood of being on the team)
As much as any Laker, Barnes is well aware most players can and often will be deemed expendable by their teams. Based on his exit interview comments, Matt didn't seem like a guy counting on a return. If both Ebanks and MWP are retained, I can't imagine Barnes will be. And honestly, he could be out the door no matter who's on the Lakers roster. After a few years taking offers below market value in search of a ring, it sounds like money will play a larger role in signing his next contract. Obviously, Barnes ain't getting a max deal from anybody, but he could command more than the $1.9 million the Lakers paid him this season. Given the tight purse strings these days, I don't know if the front office would give him a raise. Thus, the well-traveled Cali native could be on the move again.
If that's the case, while coming up short in a bid for a title with the franchise he grew up rooting for is obviously disappointing, Barnes can take solace knowing he carved together a credible showing as a purple and gold role player.
Grade
B
Previous 2011-12 report cards: