I am an admirer of Phil Jackson as a coach. I like the triangle. I like the defensive adjustments he's helped implement over the last few seasons. I like his "big picture" approach to coaching. I like the way he empowers players and assistant coaches through massive amounts of trust. I like the way he tries to understand his players on intellectual and spiritual levels. Yes, his tweaks through the media will occasionally backfire (see: Artest, Ron) and there will be the odd substitution pattern now and then. But these are minor gripes, as any coach observed game in and game out would offer. In the grand scheme of things, PJ doesn't get my dander up about much on a regular basis.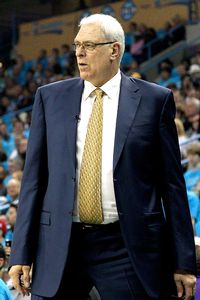 Derick E. Hingle/US Presswire
Even as a great coach, Phil can still make curious decisions
Except one recurrent issue, which presented itself during Thursday's win over the Hornets.
With 5:22 remaining in the game and a 19 point lead, Phil Jackson decided to empty his bench... of starters. Ron Artest, Kobe Bryant, Derek Fisher and Pau Gasol took the floor to relieve Andrew Bynum and The Killer B's. Jackson has a curious habit of using starters late in games iced by any reasonable standard. Sometimes it's a matter of leaving them to play excessive minutes another team's scrubs. Other times, like Thursday, he'll actually go out of his way to put them back on the floor. But whatever the methodology, as I noted on Twitter, it never fails to drive me insane.
Predictably, several tweeps sent responses along the lines of "After 11 rings, you can't possibly question Phil Jackson's judgment."
Actually, yes I can. For that matter, so can you.
I don't care how much success a coach has enjoyed, mistakes will occur, because they're impossible to avoid. Acknowledging this reality doesn't equal questioning Jackson's overall pedigree or resume, which are obviously impeccable. In a broad and even narrowed sense, I trust Jackson's decisions. But that doesn't mean they're all infallible by definition. Similarly, Kobe may have five rings and the best resume of any current NBA player, but he still takes ill-advised shots at times. Ill-advised shots that don't change his Hall of Fame credentials, but ill-advised nonetheless. Jackson's decisions can occasionally -- and legitimately -- be viewed the same way.
Plus, what I'm questioning isn't even X's and O's, strategy or basketball acumen, areas where I could understand fans automatically deferring to PJ. This is a matter of philosophy. Jackson, in my opinion, is taking a conscientious risk with players critical to the playoff run. Playing at the top of their game, no single factor stands to derail a Three-peat more than injury. Kobe, Drew and Barnes are all playing on legs of tenuous stability, and at this time of year, every player is nursing injuries of some kind. There are two goals for the Lakers during this postseason. Win enough games to advance and get out of the series in one piece.
Obviously, injuries are part of the game and fear can't dictate an entire coaching approach. However, whenever potential danger can be avoided, do so. The unknown is a wild card capable of turning a playoff bid upside down. I don't care how many rings Phil has, he can't predict or control the future. Every time Bynum has gone down over the last three seasons, Jackson has been as blindsided as the rest of us.
Illustrating this point even further, Kobe barely worked up a fourth quarter sweat before getting popped hard in the face. Was he okay? Yes, but to me, the end result isn't the point, but rather that Bryant was even in the position of getting smacked in the first place. Had the contact resulted in an eye injury or a broken nose, which certainly isn't impossible, this could diminish the effectiveness of a key player already hampered somewhat by an ankle injury. Why even put Kobe -- and by extension, the Lakers -- in that position with the game seemingly in hand?
I wasn't in New Orleans and thus couldn't ask Phil about his thought process. But from what I've gathered in my time covering Jackson, I'm guessing he was displeased on some level by how the second unit was playing and was concerned about maintaining positive momentum heading into the next series. Watching the game again, I didn't notice anything bad enough the reserves' collective performance to merit wholesale changes. Yes, they endured a few minutes without a field goal and let a 20 point lead dip just slightly. Then again, they also built that 20 point lead having entered the quarter up 10. Thus, I think a benefit of the doubt was in order, especially considering the low odds of the Hornets truly jeopardizing a win with relatively little time left.
As for whatever momentum would be carried forward, had the Hornets gone on a mini-run and cut the eventual margin of victory to 10, at the end of the day, everything should feel the same. Bottom line, the Lakers owned Game 6 (Game 5, too) and a theoretical fourth quarter where the reserves and Bynum were outplayed down the stretch by New Orleans' starters doesn't change that reality unless you're over-thinking matters. If anything, I think Phil did more to express doubts about his second unit, an erratic crew who'll be counted on throughout the postseason, than preserve good vibes heading into the next road.
And if this was simply a matter of Phil wanting the starters to finish the game and nothing deeper, then I disagree with the decision even further. Don't tempt fate with nothing at stake.
In any event, I'm curious how the Land O' Lakers faithful felt about this. Were you displeased by this move as well, or am I making a mountain out of a molehill?