Most basketball fans consider March Madness the ultimate tournament this sport has to offer. But for my money, there is no better roundball tourney than the preseason fiesta that is the Staples Center shootout. Okay, that's a total lie. But it's still fun to see the Lakers ball in their house, even when it's exhibition fare. Here are a few things to keep an eye on during the first leg of the shootout, as the Lakers do battle with the Denver Nuggets. (Chat begins at 7:15 pm PT!)
Technical fouls
This was a recent topic du jour in El Segundo, not to mention among Players Union types and throughout the entire NBA. Wednesday in Vegas, Lamar Odom was T'ed up for keeping an arm in the air too long, an act now considered subversive according to the new "Respect the game" guidelines. Basically, any reaction short of silence or sincerely complimenting the referee on a job well done appears to be a violation. Like many an NBA policy over the years, I imagine this will be be initially followed to the letter of the law, then eventually eased up. But these being the early stages, referees making a "T" with their hands will likely remain a common visual.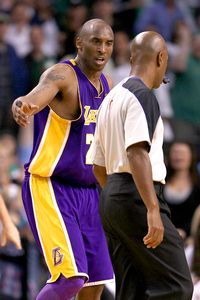 Elsa/Getty Images
Be a robot, Kobe!
With the Nuggets on the docket, I'm curious to see if enforcement hits overdrive. After all, we're talking about two teams more than capable of racking their share of T's. Sure, the availability of some chief offenders (Carmelo Anthony, Kenyon Martin, Al Harrington, and - surprisingly - Chauncey Billups) ranges from questionable to non-existent for Denver. But this is a crew of, putting it kindly, strong personalities, so even half of the usual suspects on hand could equal excessive griping. Or chippiness. Last season's preseason meeting reflected a lack of love lost, and the Lakers' preseason games against FC Barcelona and Sacto (neither particularly heated rivals) turned physical and highly competitive. I'm curious about tonight's tone, whether from players or refs.
And as long as we're discussing tech-gate, I'll offer my two cents. What the league is doing is ridiculous. No doubt, players too often go overboard reacting to calls, but this solution is an equally -- and predictably -- overboard reaction, an approach offering nada towards finding the proper balance, which should be the goal. Just as it's up to players to selectively whine, respect the referees, and act like professionals, referees have the same onus to recognize the difference between authority undermined and a player exhibiting passion fans pay top dollar to watch. (As Odom rightly noted Friday, it's very hypocritical of the league to cut commercials featuring montages of emotion, then penalize players for any form of emotion if it happens to be directed at a referee. You can't have it both ways.)
Again, I expect this mandate to eventually be dialed back, but it doesn't make the DEFCON 1 starting point any less silly. Figure out the spirit and purpose of these rules, tell everyone to behave accordingly, and let common sense prevail. Enough with the heavy-handed reactions to everything. Or at the very least, Stu Jackson should inform the refs if an edict is in place preventing players from showing them up, they in turn will be penalized if games are used as a forum for showing up players. (Yes, Joey Crawford, your ears are in fact burning.) After all, fair is fair.
Sasha Vujacic's absence
In a vacuum, the ETA for Vujacic's recovery from a concussion sustained during Thursday's practice isn't a pressing issue. I pegged The Machine as the fifth guard two months ago, and nothing in preseason (in particular, the strong play from Shannon Brown discussed in our latest PodKast) would lead me to believe I was mistaken. When all hands are on deck, Sasha's butt will be on the bench. But the Slovenian's availability makes it easier to achieve certain preseason necessities, like limiting the minutes of Kobe Bryant and Derek Fisher. (Luke Walton could play a quasi-guard role in a pinch, but he's also out). Phil Jackson made it clear during Friday's practice this situation won't lead to increased minutes for guys who need rest, so how to handle the PT spillover?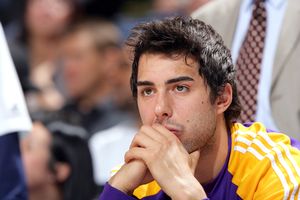 Rocky Widner/Getty Images
This will be Sasha's pose tonight, only in street clothes.
Will Matt Barnes spend a little more at two? (The newbie has practiced at the two and PJ has expressed intrigue at the idea of playing the small forward outside his natural position.) Lamar Odom in a guard role he's comfortable assuming? Is Devin Ebanks an option? How about a few additional minutes for camp fodder Trey Johnson, who would probably appreciate the floor time more than any Laker whose last name isn't "Naymick?" Or is the solution simply more run for Brown and Steve Blake, which wouldn't be the worst thing for two players likely to spend a large chunk of time paired together during the regular season and still in need of learning each other's habits?
We shall see.
Pau Gasol
Phil is infamous for using the media to prod players, and his latest victim is El Spaniard. Phil hasn't been entirely satisfied with Gasol's preseason efforts, particularly in light of Bryant's absence, which provides an ideal time for Pau to step up. After the win in Vegas, Phil described Gasol as "still on vacation," and expressed surprise at a decent stat line in light of some missed easy shots. At Friday's practice, Gasol claimed not to be aware of PJ's comments, but he certainly is now, at any rate. Will a more forceful, commanding performance follow?
Ultimately, it's not critical for Pau to play out of his skull in mid-October, nor is the failure to do so indicative of an inability to come through without Kobe on hand. Literally (during the games Kobe missed last season) and figuratively (during Game 7 against Boston as Kobe struggled), Pau has demonstrated himself capable when games actually matter. But if he'd prefer Jackson stay off his back (and why wouldn't he?), a quality effort against Denver would help.