With sincere respect to the Denver Nuggets, that it took the Lakers seven games to defeat them suggests how well the Lakers must play against Oklahoma City to have even a hope of advancing. Kevin Durant and the gang were the preseason favorites to come out of the West, with some pundits predicting they'd win the whole enchilada. An erratic April cost them a No. 1 seed, but any doubts about their viability were put to bed by an opening-round sweep of the Dallas Mavericks. Matched against L.A., at full strength, the results have been pretty lopsided in OKC's favor. The Lakers enter this series in the unfamiliar position of being underdogs and have their work cut out to pull the upset.
For a look ahead to the series and Game 1, I spoke via instant message with Royce Young of the True Hoop network's Daily Thunder blog. Below is the transcript.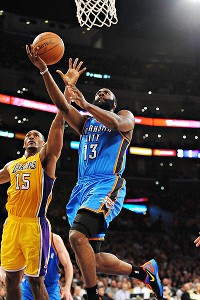 Noah Graham/Getty Images
We meet again, friend.
Andy Kamenetzky: What was your biggest takeaway from OKC's opening series?
Royce Young: I was most impressed with the way the Thunder closed games. Last postseason, Oklahoma City's crunch-time offensive struggles became a well-discussed topic, with Russell Westbrook the focus. This playoffs, it was the opposite. Three big fourth quarters are what won the series in four. Of course, just because James Harden was able to dice the Mavericks doesn't mean it will be so with the Lakers.
AK: As long as you mentioned Harden, might as well jump right into the prominent B-plot. Do you expect any lingering trepidation or animosity from Harden toward Metta World Peace?
RY: I don't think so. Carrying anything like that onto the floor would be too obvious. And it wouldn't reflect well on the team's focus. You're not there to get payback on Metta. You're here to advance. A vendetta in Game 1 doesn't make much sense. Then again, it'll have Thunder fans charged up, and many people feel as if World Peace is feeding the beast with his comments.
AK: Well, I was there as MWP addressed this issue, and actually took his words at face value. Starters never go out of their way for pregame handshakes with opposing reserves, so why would anyone necessarily expect it from Metta? And I honestly understand why he doesn't think now's the time and place for a reconciliation of sorts (if there's even a feud to begin with). These guys are about to enter competition. Frankly, I doubt Harden wants MWP to seek him out before Game 1 anyway. It would be awkward for both.
RY: For the record, I totally agree with that assessment.
AK: In any event, Harden is so important for OKC. You can make an argument he's their most important player, which is why I don't put much credence in the Lakers' double-OT win, Harden missing the second half and all.
RY: Harden's absolutely vital because he's the middleman between Durant and Westbrook. Not having him on the floor turns everything iso-heavy and essentially dissolves the Thunder's offense into "stand around and hope KD or Russ scores." Harden isn't just an extra scoring option, but he's probably OKC's best point guard. He's a wonderful creator for himself and others.
AK: Plus, he's turned into a great wing defender.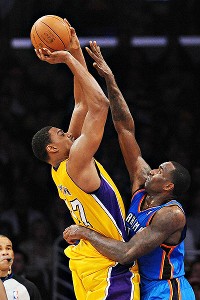 Jayne Kamin-Oncea/US Presswire
Will Perkins' health affect how well he can defend Bynum?
RY: Especially against Kobe Bryant. He absolutely relishes the chance to defend his hero.
AK: Ironic you bring up Kobe being Harden's hero, since so many Lakers fans interpret his trash-talking The Mamba as disrespect.
RY: Harden always says Kobe was the guy he grew up watching. Doesn't mean they have to be best friends on the court, though. I think Kobe would certainly be one to understand that.
AK: Are you kidding? Kobe loves that stuff.
Harden, like his teammates, has been sitting idle awhile. How do you expect the layoff to affect OKC?
RY: I don't necessarily worry about rust as much as them being a bit overeager. Instead of playing their game and settling in, they might be trying too hard.
AK: Do you expect Kendrick Perkins to play?
RY: I'm fairly convinced he will. Perk drools over playing the Lakers and knows his importance. His minutes might be limited, but I'm almost certain his name will be called in the starting five.
AK: If he's limited, would that result in the Thunder going small and running even more? Of course, were I Scott Brooks, I'd run every possession Monday, since the Lakers are vulnerable in transition and not so fresh after a seven-game series.
RY: I think so. Brooks' favorite weapon is to go small with Durant playing power forward. Much in the way Denver used it to success, OKC can too, and I think the Thunder should be able to rebound a bit better doing it. The Nuggets threw a ton of different looks at the Lakers. I expect OKC to guard them a bit more traditionally, don't you?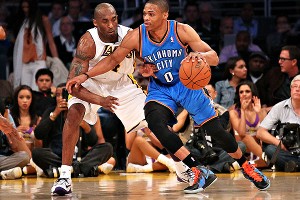 Stephen Dunn/Getty Images
Kobe did a superb job defending Westbrook in their last meeting.
AK: I think it depends on Perk's health. In theory, Perk and Serge Ibaka can operate without as much help against Bynum and Pau Gasol, which allows everyone else to defend his man more honestly. Then again, if guys like Ramon Sessions, Steve Blake and MWP aren't hitting shots, Brooks could copy Karl's approach: Flood the paint, let Thabo Sefolosha and Harden guard Kobe largely straight up, then dare the role players -- who sometimes turn gun shy -- to beat them. Both approaches make sense, but better bigger defenders in Perkins, Ibaka and Nick Collison add an ingredient Karl didn't have.
RY: Like you said, a lot depends on health. Cole Aldrich and Nazr Mohammed aren't stopping Andrew Bynum. But I don't see OKC doubling Kobe. I think they trust Thabo and Harden to do well enough, plus you don't want to open the door for heroics from Blake, MWP or whoever else. The Lakers get dangerous offensively when multiple pieces are clicking.
AK: What matchup intrigues you most?
RY: Kobe guarding Westbrook. Westbrook has historically done extremely well against the Lakers, except the last meeting where Kobe checked him. Westbrook will bully Sessions and is too fast for Blake. Starting the game, you can hide Sessions on Thabo, then readjust when Harden checks in. But if Kobe can hold down Westbrook, the Lakers will slow OKC's offense.
AK: Kobe against Westbrook is a great call, along with Metta against Durant. After a couple of years getting eaten alive by then-Ron Artest, the Durantula has recently fared better. Then again, MWP wasn't in nearly the same shape or playing as well during the first two or three games this season. I'm curious to see if he can carry his April rebirth into this series and that assignment.
So finally, who wins Game 1, and the series?
RY: I think the Thunder come out popping. They're anxious, and as long as they don't sputter early, I think they're going to play well, especially with the Lakers having endured such an arduous battle with the Nuggets. I've also got the Thunder in five. I think it's a pretty favorable matchup for OKC. Obviously, when No. 24 is on your side, you've got a shot. But I think those two Thunder wins showed OKC plays the Lakers well.
AK: I agree on both counts. Getting tossed right back into the fire against a team with fresher, younger legs does the Lakers no favors. Frankly, the pace of this series is brutal for L.A. I debated "OKC in 6," and think the games will actually be very competitive. If the Lakers bring their A-game every night, they could make matters pretty interesting. But at the end of the day, I think OKC is just better, and "better" can be hard to overcome.