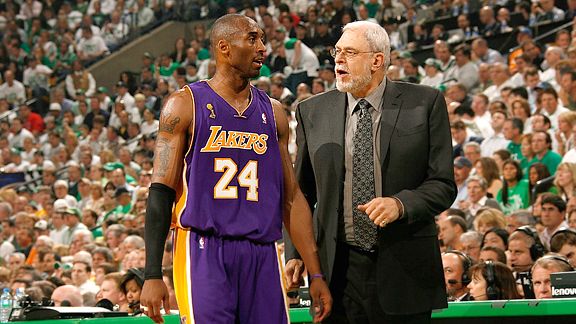 Getty Images
Phil Jackson and Kobe Bryant talk on the sidelines during Game 1 of the NBA Finals, June 5, 2008.
From the moment he entered the league 13 seasons ago, it was abundantly clear Kobe Bryant had the talent to become a player who could score at will. The "Next Jordan" tag was predictable, but the bumps in the road that followed were anything but. Kobe's competitiveness and desire to put up points often alienated teammates, divided fans and sparked a media backlash, even as all three parties couldn't help but marvel at his ability. Since the Threepeat years, a combination of maturity and better teammates has helped Kobe carve up defenders more efficiently and selflessly, with greater variety. Bryant's transformation from wunderkind oozing with talent (too much for his own good at times) to controlled master has been fairly remarkable, to the point that, as JA Adande writes, everything now seems so easy. Below are stories of Kobe Bryant's evolution as a scorer, recounted by those who coached him, played with him and tried to guard him:
"When I first came here, Jerry West shared with me a story, something he thought I should know. Kobe called him up on our first road trip or something, and asked him, "How did you and Baylor both score 30 points a game, and share the basketball on the team?" Because obviously (playing together) with Shaq, Kobe was concerned. He was very concerned about how he was going to be looked at in the history of the game, that he wasn't going to ever reach 20 points a game in scoring average. He knew and felt he should be one of the best players in the game. I had a little prejudice about that, so when Michael Jordan came to visit LA- he wasn't playing that year, he started playing again the next year- I had him sit with Kobe after the game in the Chairman's Room and talk to him about how to use the offense in the right way.
If you break it apart or you transgress or violate some of the principles of it, you destroy the function of the whole system. There are times to do it and places to do it, and he had a tendency to do it in his desire to score and have an impact on the game. Now he knows how to do that without disrupting what we're doing, and it fits into the system rather well."
More Evolution of Kobe Bryant:
--Phil Jackson has won 10 NBA championships as an NBA head coach, including four with the Lakers.