Last week was a big one over in the Land O'Lakers in regards to Hollywood. Hopefully you had a chance to listen to our conversations with Breaking Bad's Bryan Cranston, and veteran character actor J.K. Simmons (The Closer, Oz, Juno). If not, I'd encourage you to do so.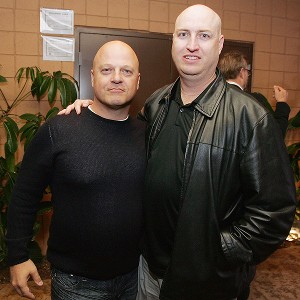 Mark Mainz/Getty Images
Shawn Ryan (right), writer and executive producer of The Shield (among other things), hangs with Michael Chiklis, who played Vic Mackey in FX's iconic cop drama.
We also had the chance to speak at length with Shawn Ryan, the highly influential writer and producer of programs like Lie to Me, The Unit, and most importantly, The Shield, easily one of the most groundbreaking shows television has seen over the last decade. Over the course of 88 episodes spanning from 2002-2008, The Shield, which aired on FX, fundamentally re-wrote the rules for scripted drama not hidden behind a pay wall, as other landmark shows like The Sopranos had been.
We ran the gamut over about 75 minutes, talking TV, why some shows thrive while others fail, and how he handles the critics. A native of Rockford, IL, Ryan, who can be followed on Twitter here, is also a huge booster of Chicago sports. We touch on that city's sports culture, how Steve Bartman was treated, Phil Jackson (Bulls version) vs. Phil Jackson (L.A.), and more.
And of course, we get deep into The Shield, and not just because it's Andy's favorite show.
Click here to listen to the whole show, or use the links below to jump around.
Among the high points...
5:38- On making a city into a character, as he's done on The Shield, Terriers, and The Chicago Code. Why is L.A. such a great city to shoot?
10:08- On how he uses music in his shows.
14:27- The comeback of scripted TV. How The Shield helped play a role, and the challenges of producing envelope pushing, edgy programming on a station still needing to sell commercials.
21:15- Does he dwell more on success or failure? How does he react to critics? In his business, what is a good "batting average" for successful shows vs. ones that fade away?
29:06- On the nearly infinite number of ways a good script can go bad.
31:40- What makes Chicago unique as a sports town? Would winning ruin the charm of the Cubs? Plus some thoughts on Bartman, and how Cubs culture differs from Lakers culture.
43:45- Phil in Chicago vs. Phil in L.A.
57:20- What does he watch on TV, and why?
1:04- The evolution of "The Shield" into a serialized show after its first season. Why was that such a risk?