Love him or hate him, few athletes have loomed larger on the L.A. sports scene than Shaquille O'Neal. (See what I did there?) He was a centerpiece (again!) of the Threepeat Lakers, but with success came plenty of drama, most notably thanks to a partnership atop the roster with Kobe Bryant rarely lacking tension.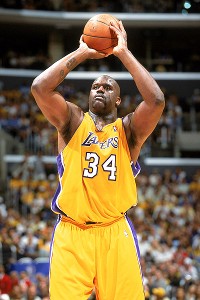 Andrew D. Bernstein/NBAE/Getty Images
Some Lakers fans still love and appreciate Shaquille O'Neal. Others just appreciate. And some like him as much as Shaq liked free throws.
In his new book "Shaq Uncut: My Story," written with esteemed basketball writer Jackie MacMullan, O'Neal details his life in L.A., from his relationships with Kobe and Phil Jackson to how Jerry West jumped on an opportunity to import him from Orlando, and his lingering bitterness towards Mitch Kupchak.
MacMullan joined us this week to discuss the book and O'Neal's career and, no surprise, we focused a great deal on O'Neal's tenure in purple and gold.
Click here to listen to the whole show, or jump to a specific topic by clicking the links below...
2:00- How Shaq's childhood impacted his personality.
A great deal of attention has been paid to those sections of the book about conflicts with high profile figures like Kobe or Pat Riley, but arguably the most interesting stories come at the beginning. Shaq's youth was a rugged one in which he was mocked because of his size, and teased because of a stutter. Then there was the harsh physical discipline meted out by Phillip Harrison, in every way but biologically his father. Shaq fiercely defends Harrison ("Sarge," as he's commonly known), and MacMullan notes O'Neal was a tough kid to control. "Shaq was a juvenile delinquent, let's be honest here. Stealing cars, he was throwing spitballs at teachers, he was bullying kids at school. He wasn't really what we would call a model citizen when he was a kid. So when he messed up, his father answered with his fists, and sometimes his belt," she says.
There was an upshot to all the misbehavior, notes MacMullen. The amount of time Shaq spent "in punishment" (sent to his room) helped form the imagination and creativity eventually becoming O'Neal's trademarks. She explains how Shaq's behavior as a pro reflects those formative years.
Shaq writes in glowing terms about Jackson, who came to the Lakers when O'Neal desperately needed help overcoming the perception he couldn't win in crunch time. "He thought, "You know what, this guy [Jackson is] a winner. He's a proven winner. I need a ring, and I think this is the guy who's going to get me one." He had to make a decision to jump in with both feet and totally buy what Phil was selling, and that's what he did," MacMullan says.
9:20- On Shaq's sensitivity.
Says MacMullan, "I think he's a very sensitive guy, and I don't think there's anything wrong with it." He's willing to cop to those things he clearly screws up-- using a mock Chinese accent while talking about Yao Ming, for example-- but struggled with criticism of his play. "For him, that was difficult. He felt like whenever the team won, it was expected because they had Shaquille O'Neal, but whenever the team lost it was all Shaq's fault," she says.
Where he really struggled, she says, is in dealing with those around him who were "type-A, with tunnel vision. Eyes on the prize, that were very focused on one thing, and one thing only, and that's being the best and winning a championship." Kobe and Riley, for example. "He couldn't understand their mentality," MacMullan says. O'Neal believed you could have fun and still win.
12: 00- On what Kobe and Shaq have in common.
The seemingly endless sniping between the two can be traced to major differences in their respective wiring, but their similarities were arguably just as damaging. "They're both very big on positive self talk, they both have a reservoir of belief in their own abilities," MacMullan says. "Both of them are extremely stubborn, and saying I was wrong."
If only they managed off the floor as well as they did on it. "When the two of them were on the court together, I think they were able to put all the other nonsense aside," she says. "When they showed up for practice, there was no conflict." It was after practice or in the locker room following games where the problems grew, as the two traded barbs through the media. And when it got bad, it got bad, as MacMullan describes.
15:00- How fair is it to say Shaq wasted some of his potential? That Shaq and Kobe wasted the potential of their time together?
In short, very. For both questions.
17:00- Why was Shaq "The Big Bridge Burner?"
Shaq has a tendency to leave places on bad terms. Why?
In Miami, MacMullan points to real conflicts between O'Neal and the Heat's medical staff, and the belief Riley thought he was faking the problem with his toe, one the Phoenix medical staff was able to better diagnose and treat once O'Neal arrived in the desert. In Orlando and L.A., events conspired with Shaq's natural sensitivity, pride, and tendency to pop off verbally when he felt threatened all led to plenty of ill will when he changed addresses.
21:20- On the respect he has for Jerry West, and their relationship today.
"The reason he loved Jerry West is because [he] just clobbered him. When Shaq messed up, Jerry West was the first one in there telling him, "You screwed up." Remember the whole thing with [Utah center Greg] Ostertag, Jerry West was down there five minutes later. "This is not acceptable." When Shaq tore up the locker room after they lost to the Utah Jazz, Jerry was in there [telling him] "What kind of leader are you? Do you know how many times I lost to the Celtics?" Jerry really resonated with Shaq, and he had a tremendous, tremendous amount of respect for him. He would really do almost anything Jerry West told him to do, and there are very few people in Shaquille's life that qualify under that heading."
29:00- Andy and I weigh in on the book, and our take on the Shaq/Kobe relationship.
While it's undoubtedly disappointing they didn't do more together-- titles were clearly left on the table-- given their personalities, in many ways it's amazing they did as well as they did. On the one hand, it's tough to succeed on a roster with a pair of intensely competitive, intensely prideful alpha males. On the other, from a socialization and wiring standpoint they were in a lot of ways polar opposites.
Put it all together, and it's probably fair to say from the moment the two of them were put together, the clock was ticking.