It was just a few weeks ago Laker fans were worrying about a spiral into the abyss, but a six-game winning streak coupled with Sunday's win over the Thunder has allowed folks to breathe easier. And with the two-defending champs currently trending northward, another Western Conference elite has taken their places as the worrisome squad du jour.
The Dallas Mavericks, at one time second best team in the West, is in free fall mode, entering Wednesday's contest against the Lakers on a six-game losing streak. True, there were extenuating circumstances to the bad run. Dirk Nowitzki missed nine games with a sprained knee (and was ejected in his return against Memphis). Tyson Chandler a pair with an illness. And Caron Butler is out for the season after undergoing knee surgery. But as the losses pile up, so do the reports of hustle lacking and a fragile mentality permeating throughout a franchise with an established pattern of melting in adversity.
To get an idea of what's ailing Mark Cuban's team and the game, I caught up with Tim McMahon, who covers the team for ESPNDallas. You can hear the entire interview by clicking the module in the box to the right, but below are some choice excerpts from our conversation. As you'll see, MacMahon doesn't pull many punches.
"It's one thing to play poorly," says the scribe about the Motown loss. "It's another thing to absolutely play with no heart or no effort. The stench of quit, we could smell it from Dallas when they were all the way up in Detroit."
MacMahon, on what's gone wrong during the bad stretch:
"They've had some medical woes, without a doubt, but I think what's really happening is this team is starting to feel sorry for itself. They're bad without Dirk. They're worse without Caron Butler. And you add the Chandler thing into the mix and I think you've got a team that right now feels helpless, like they aren't good enough to win. And that's pathetic for a team that started out 24-5. But you know what? Forget the 24-5 start. This team has lost six straight games.
"It's disturbing. There's no question about the fact that this is disturbing."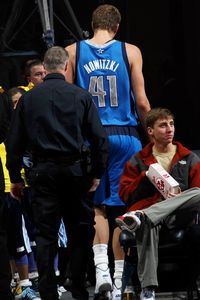 AP Photo/Nikki Boertman
Frustration led to Dirk getting tossed against the Griz.
MacMahon, on whether someone can step up in Butler's absence:
"It's not a position fit, (but the injured) Roddy Beaubois is the one guy who can really at least fill the scoring void that Butler had. But again, we're talking about a guy that hasn't even been through a practice this season. Just started shooting jump shots. Just starting to run a little bit. Still, And oh, by the way, as Dirk Nowitzki pointed out (Tuesday), this isn't a kid who averaged 18 or 20 points a game last year. This is a guy who had a handful of flashes of brilliance. He was a fringe rotation player last year. He's still only 22 years old. What he really is is an undersized shooting guard. But there is a ton of pressure on this kid to come in and really perform at a high level, because they've got (only) two proven scorers on this team.
"But honestly, their biggest problem right now is the deterioration of their defense. They were a very good defensive team at the beginning of the season and that's completely gone away lately."
MacMahon, on the cause of the bad defense:
"Tyson Chandler is clearly the key to this team from a defensive perspective, but even going back last year, for the first month and a half of the season, they were a pretty good defensive team. They had some injuries, specifically Erick Dampier. People can laugh at this, but Erick Dampier's knee starting acting up and suddenly the Mavericks morphed into a horrendous defensive team. A Nellie-ball kind of defensive team.
"That to me is a disturbing trend and it makes me wonder if this team is mentally tough enough to sustain the kind of commitment that they need to be, forget about an elite defensive team, to be a good defensive team.
"And hey, Tyson Chandler is the key to this, but you know what? They gave Brendan Haywood millions of dollars this summer because they thought he was going to be their starting center for the next five or six years, so when Chandler goes out, you still have a guy that you're paying about eight million dollars a year. It shouldn't be that drastic of a drop off."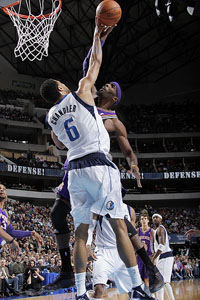 Glenn James/NBAE/Getty Images
Tyson Chandler is doing his part defensively, but are his teammates as dedicated to the dirty work?
MacMahon, on why the Mavs are scoring less than last year (96.7 ppg, down from 102 ppg last season):
"They were on a nice little groove there for a while before Dirk went down, but really, the concern about this team offensively is the guy best at creating his own shot is a seven foot power forward who's not exactly known for his athleticism. Dirk is the only guy on this team you feel like, if you put him in an iso situation, he can get you a bucket. That's why, going back to Roddy Beaubois, he's so important.
Roddy is a very creative, dynamic, explosive kind of player. He can shoot from three, but more than anything, his ability to create, to beat guys off the dribble, is something this team is sorely missing. Jason Terry can give you that a little bit, but really, he needs a pick to get his shot.
And quite frankly, Jason Kidd's shooting is killing this team right now. He had worked his way from being a bad shooter for most of his career (to) really being a really effective shooter. A guy who's been above 40 percent from three-point range for the last few years and forced teams to respect him as a threat. He's shooting a career low 34 percent (from the field) right now. I don't care how many assists the guy is getting, how good he is at running at offense, if you put that out there, just in terms of spacing, you're gonna have all sorts of problems."
MacMahon, on the matchup that most intrigues X Factor:
"The matchup that most intrigues me is Tyson Chandler and how the Mavericks are going to use him. When they traded for him, Donnie Nelson talked a lot about how (Chandler) is a guy that gives us a chance to match up with the Lakers. He's big enough to bang with (Andrew) Bynum, but he's a guy whose athleticism and mobility gives us a chance to match up with (Pau) Gasol.
"At the time, I was thinking, are you kidding me? You're talking about a big man, the last couple of years, he's had all sorts of foot and ankle injuries. I didn't put a whole lot of stock into it. But then you see the way he's played for most of the season and start saying, 'Okay, maybe there's something there.' So I'm curious to see not only how Chandler plays against the Lakers, but also how they use him. How much he'll be matched up against Gasol. That sort of thing."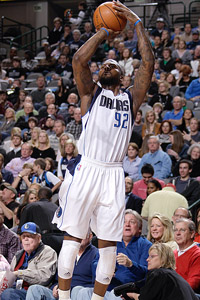 Danny Bollinger/NBAE/Getty Images
Stevenson brings more to the table than bizarre ink and funny quotes.
"A huge X-Factor for the Mavericks all season is DeShawn Stevenson. I don't know if a player that's been in the league for ten years can be considered a "Most Improved Player" candidate, but he's gone from the end of the bench to the starting lineup for the season. Ranks among the league leaders in three-point percentages. Really, along with Chandler, sets the defensive tone.
"They pulled him out of the starting lineup these last few games. I think that's a mistake. He has been struggling with his shot, and really, that's the only threat he is offensively. But they've got to get him going again to really have any chance to compete with the Lakers, because not only does he need to get in there, knock down some threes and space the floor, he's by far their best bet to keep Kobe from having a "typical Kobe against the Mavericks" kind of night."
(Plus, I'm of the opinion it's bad form to bench a guy with an Abe Lincoln neck tat. Not to mention, unpatriotic.)
MacMahon and I discussed plenty of other topics, which the Lakers' December malaise, Ron Artest and our 2008 period on Mark Cuban's "banned" list, which inspired my open letter to the owner.
I also had a couple of other thoughts about the matchup:
- The Mavericks' collectively poor body language makes this game intriguing from a mental perspective. Along these lines, Dallas' lackluster loss to Detroit may have been sub-rock bottom, but don't blame Dirk, who racked 32 points on 10-of-17 shooting. Dude's still getting it done, even if his teammates aren't. But he's nonetheless as frustrated as any Mav, so I wonder if Phil might opt to sic Artest on the big German.
Ron-Ron surrenders several inches to the seven footer, and either Lamar Odom or Pau Gasol is the more natural cover. (Not to mention, capable of defending Nowitzki.) But Artest could be quite effective and in the meantime, he's more capable than any Laker off forcing Dirk's agitated state into a boiling point even he can't negotiate.
- Finally, given the way Dallas rolled over against a starting lineup of Rodney Stuckey, T-Mac, Greg Monroe, Tayshaun Prince and Chris Wilcox, I think an early big lead against the Mavs would be a huge plus. It's a great goal in any road setting and the Mavs will probably be more inclined to fight with the Lakers in their house. But I have my doubts as to how much they'll truly believe a win can be scraped out.