After three consecutive games, plus a day off to recharge, the Lakers are back at it Thursday night against the Knicks. The purple and gold will try to even their record against a New York squad on the back end of a back-to-back, which began with a loss to the Warriors. For a better look at Thursday's opponent, I tracked down Jared Zwerling (ESPN New York) for some insight.
(Also, here are my responses to Jared regarding the Lakers.)
Andy Kamenetzky: Small sample size acknowledged, but do you get a sense Carmelo Anthony and Amare Stoudemire have a better sense of how to play with each other? How does the dynamic work, with both needing the ball?
Jared Zwerling: By playing with each other, do you mean being on the same court together, because that's where the similarity starts and ends, for now. At this point, the Knicks are more stationary than what's sold at Kinko's. With Chauncey Billups gone, Mike D'Antoni has been using Anthony as his point-forward, like K.C. Jones made Larry Bird on his 1980s Celtics championship teams. That has gotten Knicks fans excited, but the team has shied away from its trademark pick-and-roll, which is a main component of D'Antoni's offense. That's mostly due to a brand-new team still adjusting and not in rhythm yet. When they do run it, it's been mostly Anthony and Tyson Chandler playing the two-man game, with Amare Stoudemire positioned on the weak side for the jump shot, or even the 3-pointer, which he's been knocking down.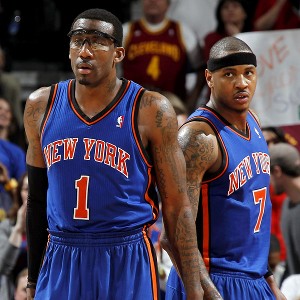 Gregory Shamus/NBAE via Getty Images
Melo and Amare are still an experiment in chemistry.
D'Antoni has Chandler mostly setting screens because of his 7-foot-1 size and long arms, so there's better spacing and ball movement, and his two superstar scorers can get more open on separate sides of the court. But the offense is not there yet. The majority of the time Anthony or Stoudemire have the ball in their hands, they're going iso on their respective defender. Anthony is more of the ball-stopper because his game is centered around his patented face-up quick jump shot from midrange. He doesn't need a screen to score, whereas it's more helpful for Stoudemire, who's used to playing that way from his days with Steve Nash.
The thing is, Anthony is such a good scorer -- he single-handedly led the Knicks over the Celtics on Christmas Day -- that the Knicks sometimes settle on dishing the ball to him and then standing around watching him go to work. Overall, Anthony and Stoudemire will never be a play-off-each-other duo like LeBron James and Dwyane Wade because their games are suited to shine separately on different areas on the court. They need their teammates in between them to get them the rock. Anthony and Stoudemire will have to adjust more to the flow of the offense and help the Knicks play more of a team game. Through two games, they're averaging only 16 assists per game.
AK: How big a difference-maker can Tyson Chandler be defensively, considering the other folks on the floor? How much of that falls on Mike D'Antoni?
JZ: Chandler had an immediate impact on Christmas Day. He had six blocked shots and helped the Knicks limit the Celtics to 17 points in the fourth quarter. His rebounds were low (three), but he made his presence felt by protecting the help side, contesting and altering jump shots, defending the pick-and-roll and communicating on screens and switches.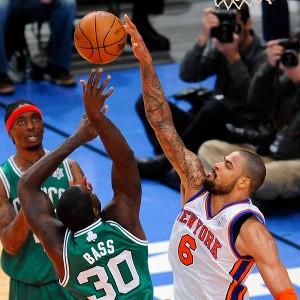 AP Photo/Bill Kostroun
Tyson Chandler will look to improve the Knicks' D like he did in Big D last season.
The Knicks haven't had a defensive center like Chandler since Marcus Camby from the 2001-02 season, and that's exactly what they needed. Last season, the Knicks were third worst in points allowed (105.7 per game) and tied for fourth worst in rebounds per game (40.5). While Anthony is a strong rebounder for a small forward, Stoudemire isn't a 10-plus rebound guy. In fact, he was playing out of position last season at center. The Knicks needed a legit middle man who could change games on defense and be a dominant window cleaner. The Knicks made the right move by using their amnesty rights on Billups to make room for Chandler.
They also made the right move hiring Mike Woodson as their lead defensive assistant coach. Critics are always quick to judge D'Antoni's defensive approach, but he proved some doubters wrong by almost upsetting the Celtics twice in Boston during the first round of the 2011 playoffs with solid team defense. However, it's not a secret that D'Antoni's coaching weighs on offense, and now working with Woodson should help his team play consistent D, not just in spurts.
AK: The Lakers may be (deservedly) the NBA's poster boys for weak point tandems, but the Knicks have issues of their own. With Iman Shumpert and Baron Davis nursing injuries, the cupboard consists of Toney Douglas, Mike Bibby and ... Jeremy Lin? How much of an effect do you expect this to have on the Knicks moving forward and against the Lakers?
JZ: Simply having Anthony and Stoudemire, the Knicks will be able to compete in most games. But with the shortened season, the team's lack of a true, tested point guard will affect the team greatly, especially in the final period. Anthony and Stoudemire won't always be able to close out on their own, even though they are two of the best finishers in the game. And with games crammed side by side, energy will be spent more than ever. They will need a proven facilitator at the one to bail them out at times.
Baron Davis is that guy, but he's out for about seven more weeks with a herniated disc in his back. Toney Douglas is not that guy -- he's really a combo guard -- but he's the starter for now. As the starting point guard, Douglas continues to look disoriented running the half-court offense. He looks shy with the ball outside on the perimeter and doesn't attack the screen with crafty ball control. Instead, he picks up his dribble too quickly and settles for simple, post-up passes. He's not making big, game-changing plays. Even worse, Douglas' offense was nonexistent Wednesday in the Knicks' 92-78 loss to the Warriors. He finished 3-for-11 (six points) with two assists and two turnovers.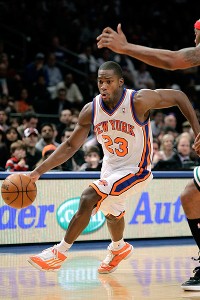 AP Photo/Kathy Willens
Toney Douglas needs to develop in a hurry for the Knicks.
Overall, the Knicks point guards just simply don't have enough experience yet formulating themselves with their new teammates.
AK: Which Knick not named "Carmelo," "Amare" or "Tyson" is most capable of swinging a game for the Knicks in either direction, and why?
JZ: Iman Shumpert would be my pick, but he's sidelined for about three more weeks with a sprained right MCL. The rookie can play, and when he returns he could finish as the Knicks' third-leading scorer. But with Shumpert out, I'll go with -- surprise -- Douglas. Even though his specific point guard play is suspect, his shooting is not. He led the NBA in 3-pointers made after the 2011 All-Star break (68). His points production is inconsistent, but when he's hot, watch out. On Christmas Day, he scored 19 points and the Knicks won; on Wednesday against the Warriors, he scored six points and the Knicks lost. Most of the time when Douglas scored more than 15 points in a game last season, the Knicks won. No matter how many knocks he gets as the starting point guard, Douglas will always be the Knicks' X factor for his sudden scoring outbursts.
AK: The Knicks will be on the second end of a back-to-back against the Lakers. How much do you see that affecting them?
JZ: After playing "an awful game" in Oakland, as D'Antoni described it, the Knicks will be back with a vengeance in Los Angeles. Also, being that it's the Lakers, the Knicks should bring the same intensity they displayed against the Celtics on Christmas Day. Since Stoudemire arrived, the Knicks have always played up to the better team.