Billy Bob Thornton's Hollywood breakthrough came in 1996 with "Sling Blade" (which he also wrote and directed), where he played a mentally challenged man with a dark past trying to re-acclimate himself into small town society after being released from a psychiatric hospital. The film, beyond showcasing Thornton's skills as a multi-talented artist, reflected his sensibilities as someone with a love for storytelling. This instinct also comes through in the music he writes, and now as an author as well.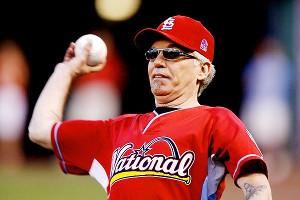 Dilip Vishwanat/Getty Images
Thornton's slider comes with Bob Gibson's seal of approval.
Thornton's new book (co-written with Kinky Friedman) "The Billy Bob Tapes: A Cave Full of Ghosts" tells the story of his life, marked by an endless stream of odd characters and a path taking him from small town Arkansas to L.A. For our local readers, he'll be signing copies at the Egyptian Theater tonight at 6:15 pm PT, followed by a screening of "The Man Who Wasn't There" and "A Simple Plan" (my personal favorite of his movies).
The show can be heard by clicking on the module and a list of talking points can be found below:

- (1:45): An Arkansas native, Thornton grew up a huge St. Louis Cardinals fans -- they have an in-state minor league affiliate -- and became an excellent high school pitcher. He even got a tryout in the Kansas City Royals system, but it was short-lived as he suffered a freak injury 30 minutes into the day. Thankfully, life has turned out pretty well for without baseball, and he can still throw as hard as Jamie Moyer!
- (7:20): Besides, who needs the Major Leagues when you can play elaborate "games" of baseball alone on a tennis court?
- (9:03): Not only has Thornton gotten the chance to meet his idol, the legendary Bob Gibson, but he even threw out the first pitch at Busch Stadium with the Hall of Famer playing catcher. Lotta pressure, but Thornton managed to groove a slider for a strike.
- (11:01): "The Billy Bob Tapes" reads like a collection of casually shared stories. As a result, the prose sometimes rambles in unusual directions before circling back to a conclusion. Thornton explains why he chose this style, along with the connection between storytelling and Southern roots.
- (16:00): Speaking of stories, Thornton is not particularly impressed with those Hollywood studios tend to crank out these days. Too many "products" are being made, and not enough movies of actual substance. Compounding the problem, audiences aren't demanding better and in Thornton's eyes, technology and social media has created a vapid, self-obsessed culture.
- (25:00): Bear in mind, Thornton doesn't think everything needs to be high art. The goal is simply to create smart entertainment, rather than cater to the lowest common denominator or the easiest marketing campaign.
- (28:00): In "The Billy Bob Tapes," Thornton describes "Sling Blade" as the only movie where the finished product was exactly what he envisioned. But despite everything stated above, he remains confident complete artistic satisfaction will be experienced again down the road.
- (30:21): At almost age 57, is Thornton too old to make his Major League debut as a middle reliever on the worst team in the league? (Or a plan I deemed "Title X?")